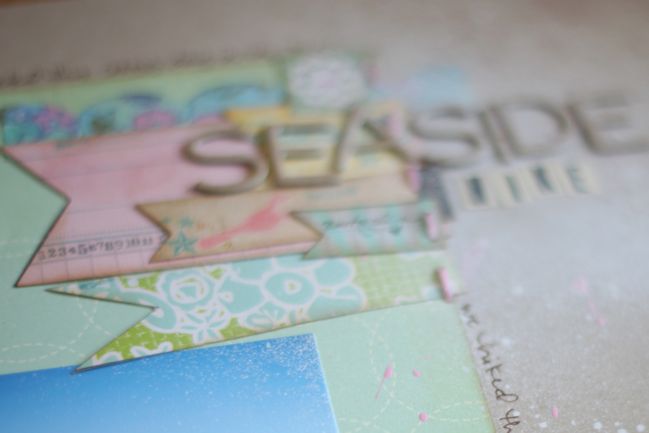 A few weeks ago I came across an image that made me want to scrapbook. It wasn't a picture of a scrapbook page, it wasn't the image itself that I wanted to scrapbook – it was this image from Pink Suede Shoe with its explosion of colour and pattern that made me wonder why I was sat at my computer when I could be cutting and pasting plenty of pretty paper onto a scrapbook page. And so I did what any scrapbooker would do… I pinned it on Pinterest.
I say that in jest, of course, but seriously: Pinterest is fabulous, right? If you've joined, I'm here, by the way. If you haven't joined, think about it! It's a bookmarking system for images you find on the internet – and those have existed in several forms for a while now. But Pinterest takes that idea and does it very well: first, by letting you create categories for your images so you can go back and find the things you bookmarked so easily, and second, by maintaining the links back to the posts where you first found the image. No more not remembering where you saw something – the image links back to the original source. I use it primarily for bookmarking things I want to try or otherwise want to return to, which makes it quite time-efficient, as it saves me the time I normally waste trying to remember something from six months ago (or let's be honest: I probably don't remember even if it was yesterday). There's also the second side of Pinterest, and that's following what your friends and other Pinterest members are adding to their boards. That part really does offer up a host of amazingly inspiring pictures and projects on all sorts of topics… but it can also become anything but time-efficient, because there is a near-infinite amount of material you can view. I try my best to save that for little ten minute sessions so I don't lose myself to the world of pretty things on the internet!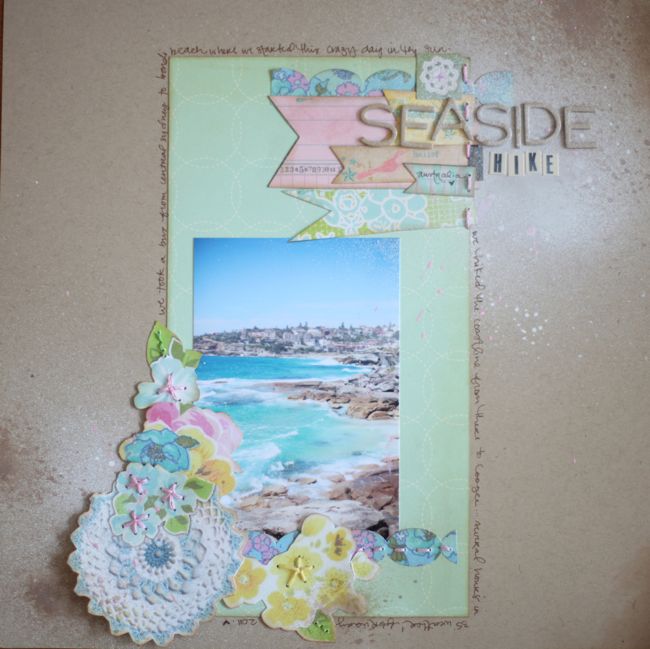 On Pinterest, I do have a scrapbooking category for layouts I see and want to reference later, but it's the other categories that I really like to use for scrapping inspiration – taking some small element of something and letting it translate to paper and photos. That's exactly how that image inspired this layout. All those little flags gathered up there in the corner behind the photo – it's something I've already found myself using on additional layouts. And it's not the only pin that has been making the translation to paper. This image makes me want to try something oversized and in an unexpected colour on a scrapbook page. This makes me want to try something with extra-bold typography and spring colours… possibly with our printing press, which is sitting sadly neglected lately. This photo makes me want to plan a layout in advance and hold the title in the picture. Just a little insight into how outside inspiration works for me.
This week, I want to know how it works for you. I'm hosting a challenge at Two Peas that ends this Thursday. Take inspiration from something outside the scrapbooking world – absolutely anything you like. Use that inspiration to make a paper or digital scrapbook page, a card, a tag or anything crafty. Upload it to the gallery at Two Peas and be sure to select the weekly challenge box in step four of the upload process so you'll be entered for a Two Peas prize.
And here I would love to hear about how your inspiration process works! Do you prefer taking ideas directly from finished scrapbook pages? Do you like something that gives you a starting point, like a colour combination or a sketch? Do you like taking bits of pieces from non-papercraft things and turning them into a scrapbook design element? Or do you really not even think about all this and just enjoy gluing pieces of paper to other pieces of paper in an aesthetically pleasing manner?
Have a beautiful – and inspirational – week!
xlovesx

Read more about: two-peas-in-a-bucket
02 May 2011

Next post: Scrapbooking giveaway winner
Previous post: 4x6 Photo Love :: April 2011