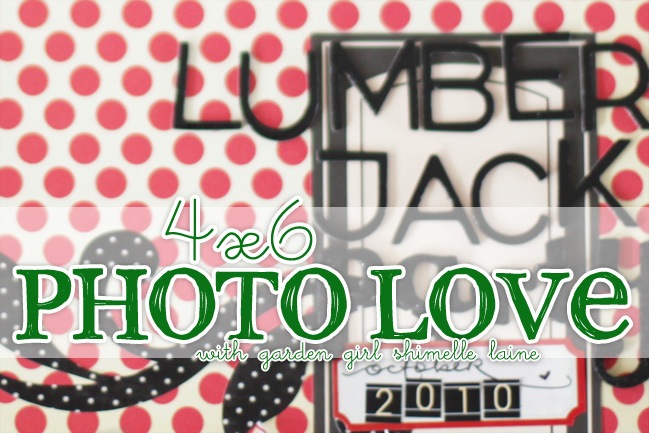 ©twopeasinabucket.com. Click here for supplies and class details or click here for the message board thread.
Have you checked out the latest edition of 4×6 Photo Love? In the fourth prompt of the year, we're scrapping with four 4×6 photos. It's a design concept that features just three photos at first glance, but the title is actually a card that opens like a door to reveal journaling and an addition photo. This month's video shows how the page comes together with either portrait or landscape photos and how to customise your page protector to make this page work in your album. Have a look:

I love simple interactive pages like this that allow you to add just a little something unexpected to your layouts – it makes your albums a bit like a pop-up book when you turn the pages.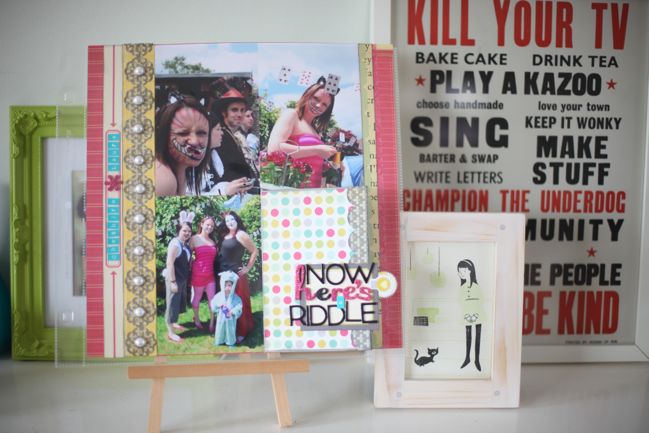 The first example uses four portrait photos and the journaling tells the story of how Laura was the logical choice for the Cheshire Cat, as I have never known someone to contort their smile into so many silly faces! She will probably kill me for scrapping that, but I figure if she's going to make those faces for the camera, then she knows they will end up in my scrapbook, right? The pink, turquoise and yellow paper range here is Upcycle by Cosmo Cricket.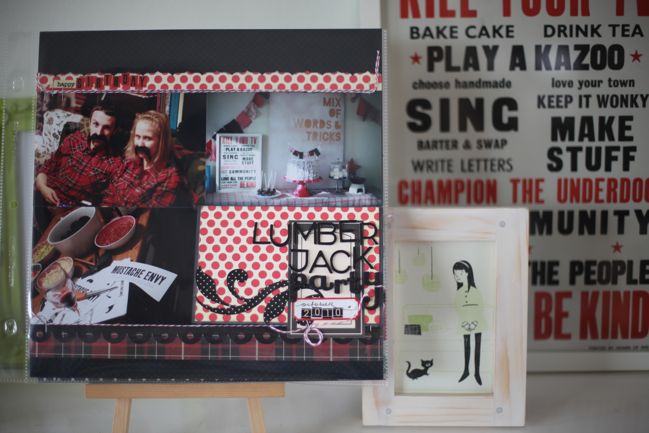 And this is the page I walk you through in the video. This page uses a mix of supplies, including October Afternoon, Cosmo Cricket, Jenni Bowlin Studio, Echo Park and Bazzil's dotted cardstock. I love the baker's twine for adding a little something to borders on a page. It's available in so many colours now.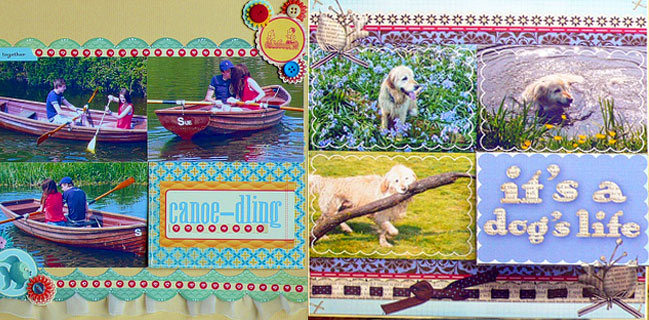 The creative Karen Moss is my special guest this month, and she used this month's design concept to create both a paper page that follows the steps in the video but also a genius digital page that layers two printed copies of the same digital page (with just one change – swapping the title for the photo) to create a page that is both digital and interactive. I so happy to share her work and I hope you will add her ideas to your bookmarks.
So now it's your turn! Throughout this month, I challenge you to create a page with four 4×6 photographs and an interactive title box. As an added incentive, you have two chances to win a prize too! When you upload a picture of your completed project to the scrapbook gallery at Two Peas, make sure to check the box for the 4×6 Photo Love challenge in step four of the upload process. Then come back to this post and leave a link to your page here in the comments. One person from all the entries at Two Peas and one person from all the links here will be chosen and each wins a gift certificate to go shopping for your favourite stash! You need to upload and link by the 29th of May for both chances to win. (I also have winners to post here for earlier class participation – look for those later this week!)
Would you like to receive an email reminder each month when my class is live? If so, please send an email to shimelle at gmail dot com with this subject line: 4×6 Photo Love Reminders. (Copy and paste that subject line, as you won't get added to the list unless it's just like that! Thanks!) You'll get one message each month when the class has been posted – no other mailings and I would never, ever sell your email list or anything else evil, I promise. This month's message will go out later today.
So what four photos will you choose? Can't wait to see what you create!
xlovesx
PS: As this is a free class and it lasts all year long, I'd love for you to invite a friend to join in the fun. Click the share button, reblog the video or grab the badge there on the left for your blog's sidebar. Thanks!

Read more about: 4x6-photo-love two-peas-in-a-bucket
02 May 2011

Next post: Finding inspiration for scrapbook pages
Previous post: Scrapbooking giveaway day