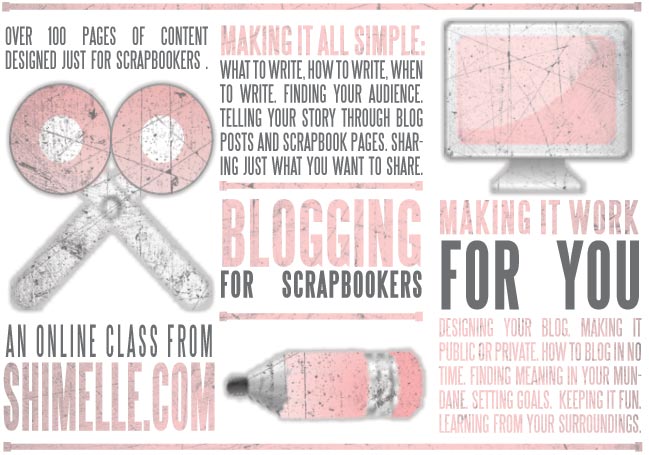 In the autumn of 2009, I taught a funny little class here at shimelle.com. That class was Blogging for Scrapbookers. I call it funny because when I was working on that class, the first few people to discuss it with me responded along the lines of That sounds cool, but do you think it will be very popular? Guessing that scrapbookers just wouldn't really be thinking all that much about blogging. I call it funny because actually it is one of my most popular classes ever. Apparently plenty of scrapbookers were thinking about blogging!
Of course, times change and technology moves quickly! So much has progressed since that original class – different blogging options have become popular, existing blog platforms have upgraded or changed their interface, social networking platforms like Twitter and Facebook changed how we interact online. And things have been changing in the scrapbooking world too: we have fewer print publications, more online opportunities and crafters around the globe are still discovering this hobby for the first time. What does all that mean? It means it's time for something new.
This spring, I'll be teaching a sequel class to Blogging for Scrapbookers called… well, Beyond Blogging for Scrapbookers. Because we're going to start right where the original class finished and move beyond that into a whole new realm wherein blogging and scrapbooking are the best of friends at every level.
So yes, there's a new class. But it also seems like it would be ideal to have a refresher of the original class, either as a brush up or as a prep course if you didn't take it the first time. If you haven't taken Blogging for Scrapbookers, sign up now and participate in the class from the 21st of March to 10th of April. If you have taken Blogging for Scrapbookers, you can join in again at no extra cost (and you should have an email in your inbox that has instructions on opting out if you prefer).
Blogging for Scrapbookers includes 15 PDF prompts and 2 workbooks: one that covers all the technical stuff for getting your blog up and running and customising the design and another with a full year of blogging topics specially designed for scrapbookers. You can read more about Blogging for Scrapbookers here.
Click here to sign up for the first class, Blogging for Scrapbookers:

Then there's a one week gap to gather your thoughts, tie up loose ends and get excited for the new class, Beyond Blogging for Scrapbookers. That class starts on the 18th of April and runs until the 8th of May.
Beyond Blogging for Scrapbookers is a completely new three week journey through the blogworld, with each prompt designed to help you get the most meaning out of what you post, how you post it and how you share those posts with others. We'll look at what makes some of the most successful blogs so amazing and how you can set and achieve goals that are just right for you, whether that is to write more meaningful content, get more readers for your blog or increase the conversation that goes on in the comments of your blog posts. Since this class doesn't start until the 18th of April, I'll expand more on the specifics as we get closer to that day, but if this sounds like it's right for you, you can go ahead and sign up and just wait for class to start!
And actually, there's one more thing that some of you may want to add beyond that. From the 16th of May to the 16th of June, I'll be leading a very special month-long extension of these classes that is just for crafty entrepreneurs. This isn't about scrapbooking, but rather about how you can use a blog, social networking, online classes and more to develop your crafty business. It's perfect for etsy shop owners, bricks and mortar store owners, crop organisers — anyone who wants to focus on bringing in more customers and increasing the participation of their existing customers in the world of crafty small business. Numbers will be limited for this group to keep it small, helpful and friendly. If you're interested in this option, email me (shimelle at gmail dot com) and I'll send you all the details!
I know this was a class that made lots of friendships — can't wait to see some of those familiar faces along with new bloggers too! If you have any questions, please leave a comment or send me an email and I'll be happy to help!
xlovesx
Please note: Class registrations may take up to 24 hours to process, though they are usually processed much faster! If you do not receive a welcome email within 24 hours, please email me and I'll be happy to help! If your paypal account does not match the email address you would like to use for prompts, you can leave a note with your preferred email – that's no problem! Otherwise, your prompts will be sent to the email address indicated on your paypal account.

Read more about:
08 March 2011

Next post: Blogging for Scrapbookers :: 10 Reasons to join us!
Previous post: An Online Scrapbooking Class for the Holidays :: Journal your Christmas