Today, the first of November, is the first day of the year that I allow myself to jump into the Christmas season. And that's because it's the day every year when I get out all my Christmas journals and finish my masterplan for this year's book. A book that starts one month from today, on the first of December. Not just any book: a Christmas journal.
Journal your Christmas was a little something I started many Christmases ago. The first year it was just something I did on my own as I used my notebook and pen to get through the end of a rough year, determined to take back my Christmas and enjoy the holiday magic once more. And you know what? It worked. It worked so well that others asked what I had done to make the holidays so happy and I told them. They asked to be part of it. The next Christmas, a small group of us completed the very first Journal your Christmas online class. Every year since, Journal your Christmas has grown and I've loved meeting so many new friends and learning about Christmas traditions around the world as a result.
This year, consider yourself invited to join the fun.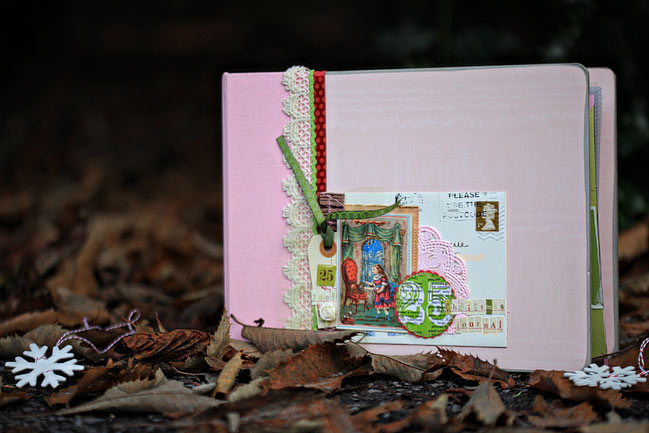 Every year, Journal your Christmas includes daily prompts from the 1st of December to the 6th of January, the twelfth day of Christmas. The 37 illustrated PDF files are delivered straight to your inbox so you can read them over your first cup of coffee and mull over each topic for a full day. There's also an archive of the class materials online in case you can't get to your email or in case something dreadful happens to your computer. And like every year, you can go it alone or be as social as you like, with a private discussion forum where you'll find other Christmas journallers who will cheer you on and share your excitement, but if you prefer to stick to the prompts only, that's completely fine too. And like every year, if you're participated once, you can join us every Christmas for as long as you like at no extra cost.
In addition to ideas for writing topics and styles and notes on photos not to miss, the 37 prompts include more than 300 scrapbook pages to inspire your crafting creativity.
Every year, I change it up a little to make sure there is something new for those of you who keep coming back. This year, those goodies include:
…By request, the return of the photography focus. 37 talented photographers share their tips and examples for taking your best photos throughout the holiday season.
…A brand new digital kit, including 50 papers, 5 full alphabets, 20 square and 20 rectangular page templates, 20 square and 20 rectangular quick pages and more than 100 embellishments. We're talking crazy amounts of stuff to download from the forum. If you're a paper scrapbooker, much of this kit is suitable for printing out and adding to your book.
…A selection of step-by-step crafting tutorials for Christmas projects and journal embellishments.
…An online chat party to get things started at the beginning of December.
For those who are joining us again, the class outline remains the same but the prompts are refreshed with new examples and additional content, including tips for how to revisit a prompt you have written about in a previous year.
Like all online scrapbooking classes at shimelle.com, Journal your Christmas includes
…permanent access to all class materials
…private forum for discussion and sharing your work
…prompts delivered straight to your inbox
…ongoing membership — pay just once and participate as many years as you would like at no additional cost.
Because membership is permanent, that means if you sign up this year, you also get access to everything from years past, which includes last year's digital kits, printable accents and workbook, along with last year's prompts. All of those things are ready and waiting for you on the forum when you sign up, so if you want to get started before the first of December, all you have to do is click to download and you'll have everything at your fingertips!

Journal your Christmas is suitable for daily creativity if you like or it can be followed on your own schedule. Originally, the idea was to create as many journal entries as you liked in the first year, then come back the next Christmas and add a few more, and on and on for as long as you wished. Many have opted for daily entries as a way of keeping track during a busy season and maintaining just enough time for reflection and creativity even when there's plenty to do. Everyone is equally welcome, whether you plan to make one page or thirty-seven. Or somewhere in between!
You don't need any special supplies to participate in Journal your Christmas. You'll be encouraged to use what you have and love – there is no set style you 'must' follow, and in fact you'll see a wide variety of styles represented in each day's prompts. There are guidelines included to help you gather what you will need so you can have your supplies together throughout the project, even if you need to pack up your crafting gear to make way for holiday guests or Christmas decorations. But you certainly don't need to use a certain album, papers or anything else. New or old or a mix – whatever supplies you would like to use, they are perfect.
You can pay by credit/debit card or Paypal account. If you would like your prompts to come to a different email address than the one on your Paypal account, please be sure to leave a note in the message to seller section with the email address you would like to use. Orders can take up to 24 hours to process, though we are usually quicker. If you haven't received your class registration after 24 hours, just email me and we'll make sure your registration is completed and ready for you to get started!
If you participated last year, you don't need to do anything to join us again. In about a week you will receive an email with some updated info and reminders for you.
Over the next few weeks, I'll share a few more sneaky looks at what you can expect this year, so keep your eyes open throughout November. You can also see some examples from past participants here. I really did pull out all my supplies and complete my masterplan today, and that means tomorrow I have a special post with notes on the supplies I am using for my album this year. If you have any questions, feel free to ask them in the comments and I'll get right back to you with an answer! I can't wait to get into the holiday spirit with new faces and alumni in this year's class!
xlovesx

Read more about:
01 November 2010

Next post: Online scrapbooking classes :: Blogging for Scrapbookers 1 & 2
Previous post: Online Scrapbooking Class :: True Stories - Journaling for Scrapbookers and Bloggers