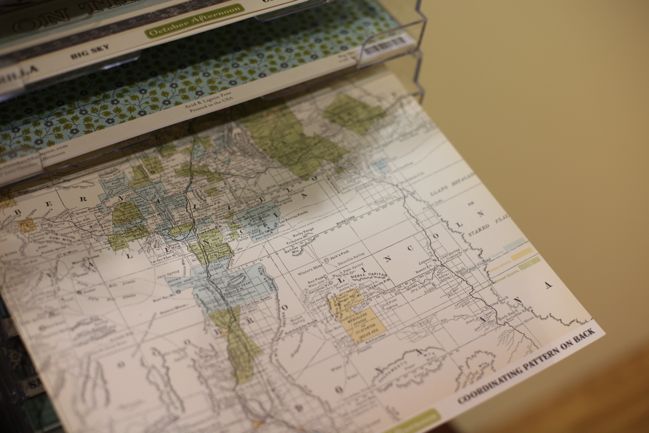 I have to admit I did something really stupid at the October Afternoon booth. I forgot to take a picture of the front of the booth, which was built to look like the front of an old wild-west saloon, complete with those swinging doors. This really isn't an acceptable omission and I can only hope you will look past it and instead focus on the pretty paper. If you were shopping for saloon doors, I'll never be forgiven.
Apparently I was distracted by map papers. Because I love them.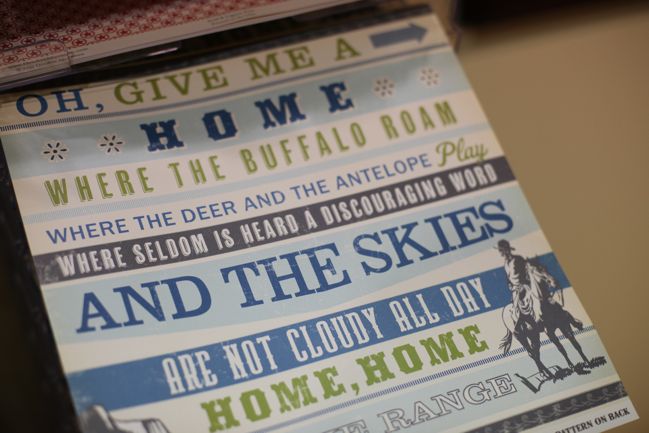 There's also paper with the lyrics to the Kansas state song. I'm glad they stopped where they did, because the next verse talks about zephyrs and I'm not really sure how well that would appeal to scrapbooking consumers. And let's not even mention how terrible the third verse is. But as it is, I think it's pretty cool as a paper. This is from the Sasparilla collection, which is cowboy themed and also features quite a few playing card elements.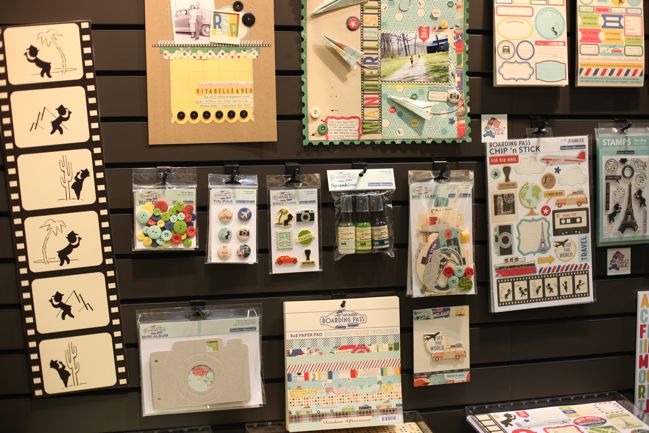 Okay, let's look at collections. This is Boarding Pass, which was actually introduced at CHA Winter, but hasn't really hit stores yet. It's a travel line with rich reds, blues and greens.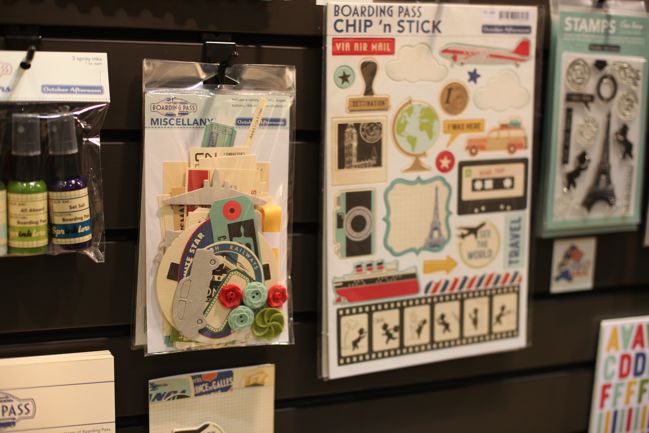 That miscellany pack has elements that look like old travel tickets and suitcase stickers. There's even a British Rail die-cut.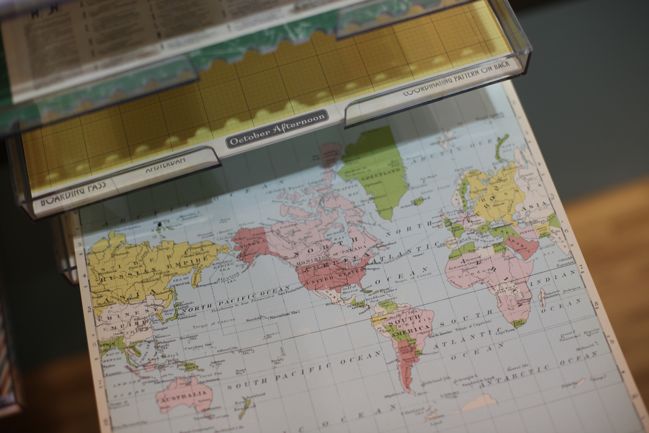 More map paper – yay! (And I am particularly happy to see world maps. There are a lot of map papers that just cover the states and I like being able to choose from the whole globe. But I'm an oddball, I know.)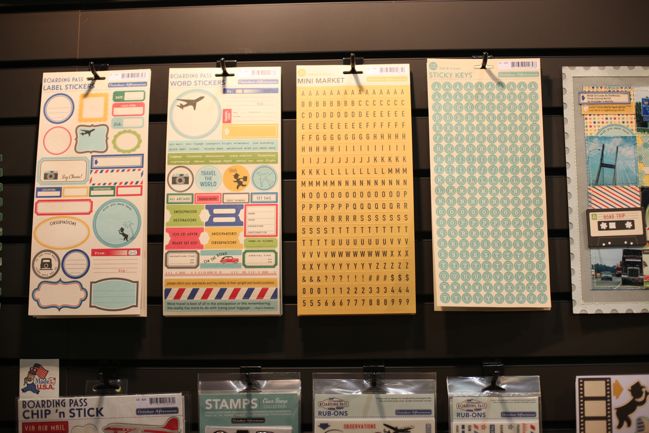 The stickers from Boarding Pass – labels, words and letters on boxes or circles. I love the minimarket letters (the boxes) and I pretty much buy every colour they release.

Softer colours and silhouettes in the Farmhouse collection. Silhouettes were a huge trend at this show.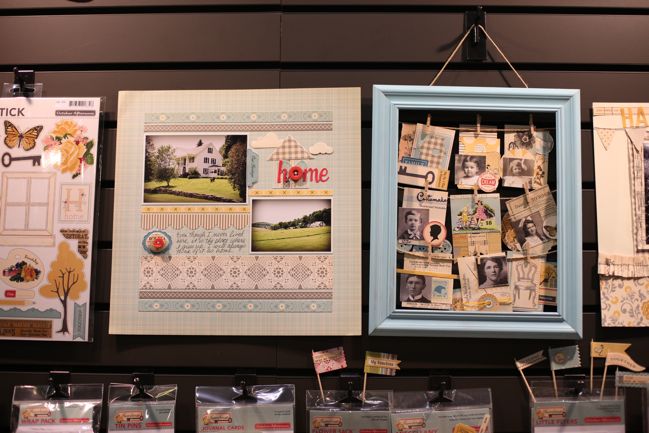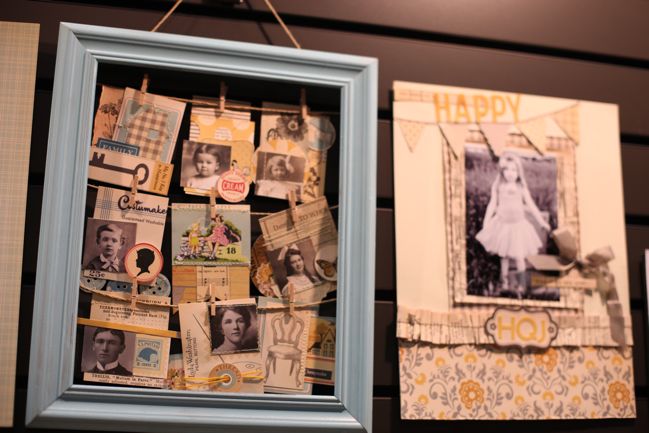 Gorgeous projects from the October Afternoon design team.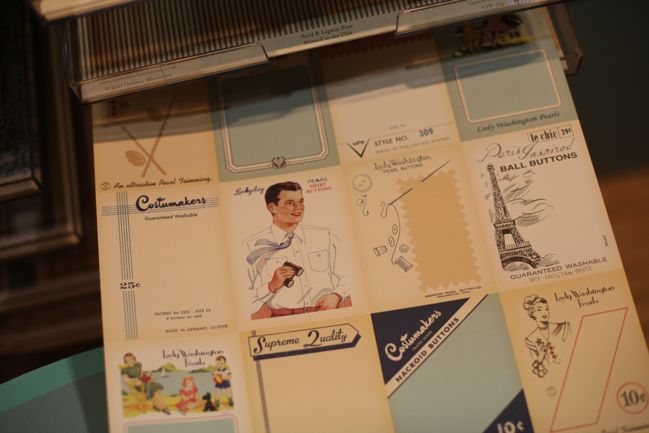 I love papers you can cut apart like this (still Farmhouse collection). The boxes are a good size for both cards and scrapbook pages, and I like that paper is usually cheaper than die-cuts.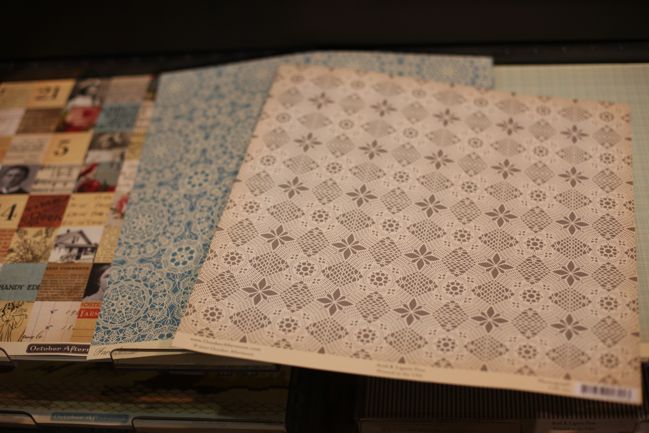 New colours in doily and lace papers, plus a different look in those one-inch squares and a subtle cross-hatch on the far right. I've used their older doily papers a lot, and I love that there is a grey lace. I can't get enough grey patterned paper.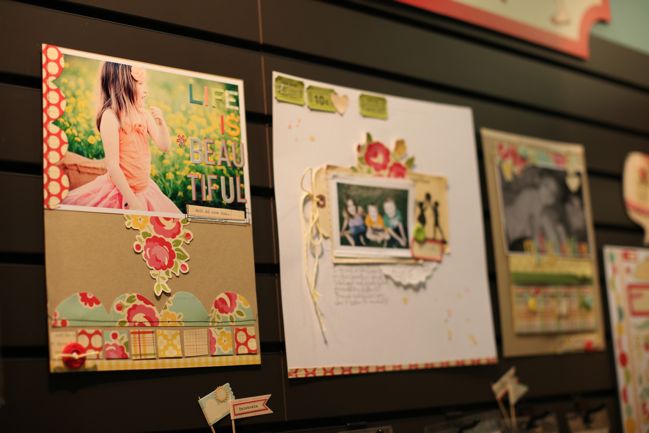 Sidewalks is a line with a bit of a childhood theme but without being overly cartoony. There are both masculine and feminine elements in the set, and it's just a little bit fifties without being over the top. Like this a lot and I'll be using it on grown-up pages too, I think.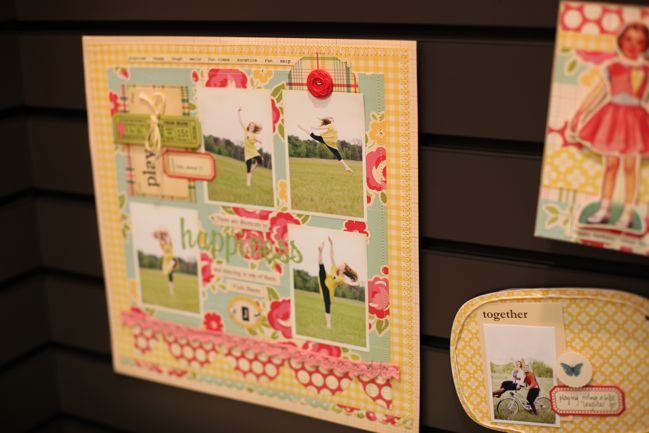 Aside from the lovely products, I just wanted to share this layout from the October Afternoon design team because the photos are so cool. I'm guessing they are the result of a mother asking her daughter to dance in the grass (although they could be professional shots – or mum could be a pro photographer. I honestly don't know.) and the pictures look so lovely and spirited, and I think they will be very special to that dancing girl many years from now. Just cool, yeah?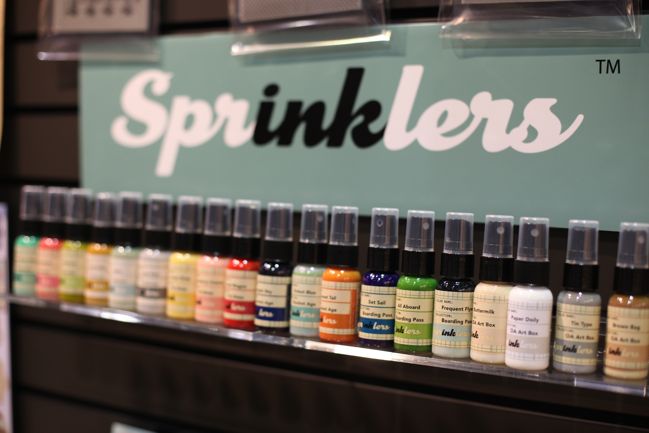 Many companies have mists – at October Afternoon, they are called Sprinklers. This is the full colour line up now, so it's pretty extensive. They are matte finish. I haven't used these yet, but they have not one but two shades of grey, so you better believe they are on my wishlist.
Boarding Pass should be the next of these lines to hit stores, then others over the coming months. Click here to shop for October Afternoon products!.
xlovesx

Read more about:
22 July 2011

Next post: CHA Summer 2011 :: Candi by Craftwork Cards
Previous post: CHA Summer 2011 :: Jillibean Soup