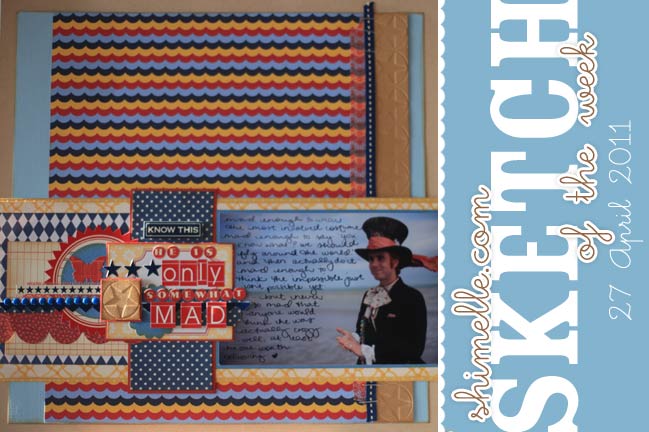 I have a feeling you're going to tell me two things about today's sketch.
One, it's a day late.
Two, it only has one photo.
And some of you just don't do one photo.
But here's the thing… I like one photo.
I like that I can show more pattern and colour from a lovely piece of paper. I like that the photos don't fight for attention. I like that there's more room for journaling. I like that no matter what the size of the photo, provided it's 12×12 or smaller, there's a way to make it work.
Then again, I have not a nerve in my body that urges me to catch up with what I scrapbook. Because if I did, this would be pretty scary: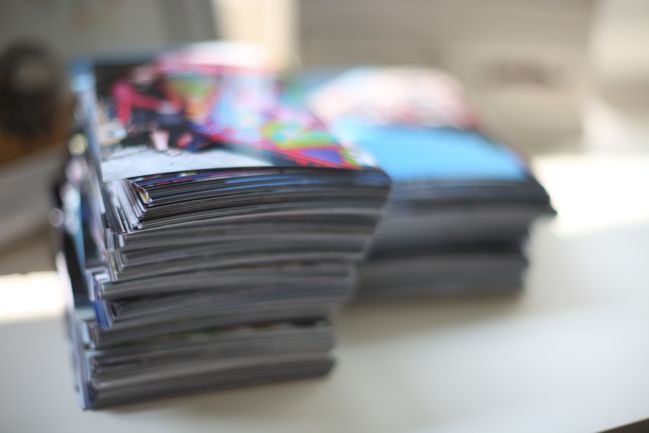 Ever wonder what 691 photos would look like? Now you know. That is the order I placed late Tuesday afternoon and bright and early today it arrived at my door, including the first few hundred prints from our trip. You know, the first few hundred of the nine thousand. But I am not in a panic. I look at that giant stack of photos with much glee! All the different images, all the different opportunities. All the pretty papers with which they will coordinate! And thus I could sing from the rooftops.
I guarantee some of them will become single photo layouts. Not all. But some. Because I just find single-photo pages to be fun. End of story.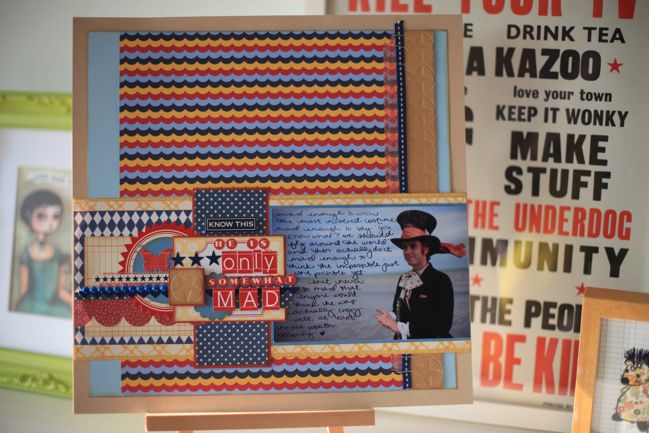 So when the JBS team were asked to share something that helped define our style, I chose this. Because it has colour. Because it has pattern. Because it has lots of detail in just one little part of the page. Because I have scrapped a great deal of Alice in Wonderland. Because it has one single 4×6 photo. (Oh. And a butterfly. Of course.)
But I will make you a deal: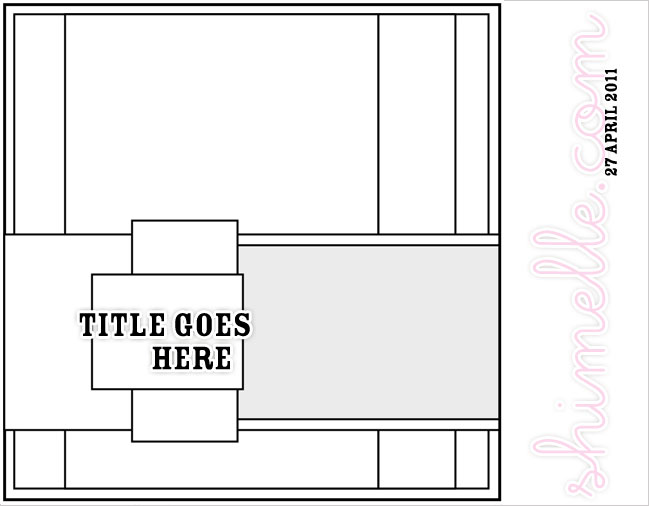 If you like single photo layouts, follow this as it is. If single photo pages make you break out in hives, look at this sketch and imagine that there are additional photos. Maybe another directly above the picture that is there. And a third to the left of that. Or print the photos smaller and include even more, like a strip of photos all the way across the middle of the page.
In a world full of people who like single photos and people who don't, I am convinced we can just all get along. Especially if we can find some pretty paper as common ground.
So here's this week's sketch, and I'd love for you to play along – with one photo or as many as you dare.


Since I got the links all mixed up last time, I've just picked four from last week's sketch – let's see if I can get them right! From left to right, Claire, Jenna, Veeruliiru and Cheryl. That should take you to more details and bigger pictures!
This week we'll try a Mr Linky and see if that works better! So if you play along, please leave a link below… though you can still use the comments if you prefer. Let me know which you think is best for future, perhaps.
Happy scrapping!
xlovesx

Read more about: sketch-of-the-week
28 April 2011

Next post: Five ideas with bunting
Previous post: My Day in Photos