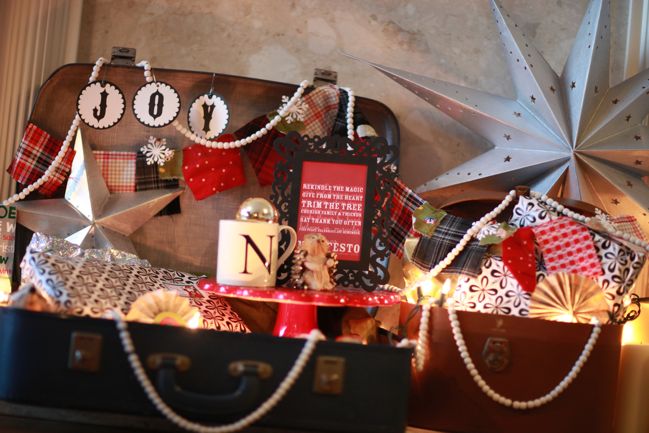 Oh what to do with a funny old Christmas. It's one thing to not be in your own house on Christmas day and come back a day or two later to find the tree still standing – that's perfectly fine and ordinary. It's another thing entirely to leave before Christmas and not come back until spring! Leave the tree up and passersby will certainly start to talk by February. Ask the house sitters to take it down and well, I just don't think I could ask someone else to take on such a job, especially when putting all the Christmas decorations away means one giant organising challenge from the limited storage spaces provided by city living.
So no tree. Something different then: embracing the love of vintage and travel with a Christmas display in vintage suitcases! And then when it's time for us to head to the airport, we can pretty much just close the cases with all the decorations inside and worry about that when we come home in fourteen weeks!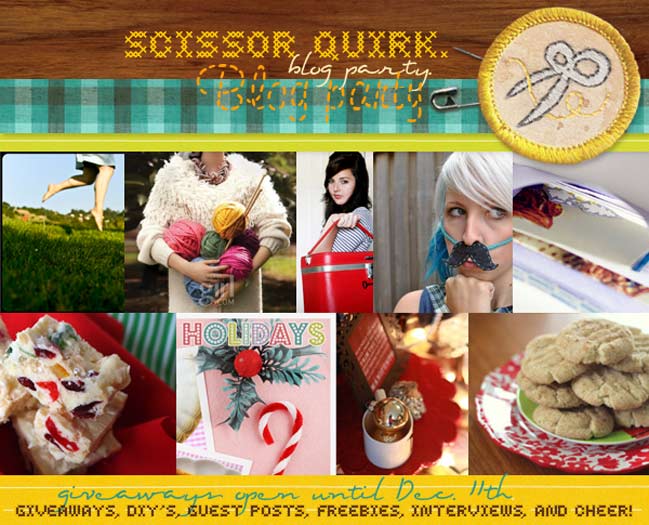 You can see the full details of the decorations here as part of the Scissor Quirk blog party. (Scissor Quirk is the blog of the lovely Michelle Clement, designer of Sassafras Mix & Mend, amongst other things!) There are so many inspiring posts on her blog with a huge variety of guest artists, plus giveaways and freebies to download and discounts for shopping! What's not to love?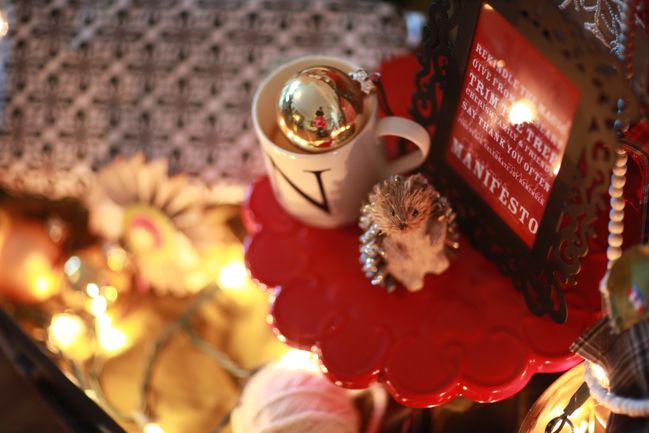 And maybe it's time for me to become a little less obscure about this long trip I've coyly mentioned here and there. One of the things that is awesome about having a fully online job is that I can work from anywhere. One of the things that is not awesome about The Boy's field of work is that firms dissolve pretty frequently in this market. We decided to make that not-awesome thing into a truly awesome thing by taking a travel break before he starts back to a daily grind. We are doing what's called an RTW trip – Round the World – but in a way, that's a misnomer. Round the world sounds like you go pretty much everywhere, and at some levels of the RTW airline ticket, you can. At our level, it means you pick a starting location and you keep traveling around the globe in the same direction until it brings you home. We start in Thailand and will travel much of that corner of SE Asia, head through Malaysia and Indonesia, jump to Australia and New Zealand, then finish in South America, traveling from Santiago to Buenos Aires and then home to Londontown. It's a lot – twelve countries over three continents in fourteen weeks – but it's hardly 'the world'. Still: I think it's plenty for one journey!
We are taking less luggage than what you see in our Christmas decorations! Just one small backpack each, which has had its own challenges for me – both in getting a suitable bag for my dinky shoulders and in not filling it up with things that are not as essential as I wish – I can't wait for my hair to be an absolute disaster from no blowdryers, straighteners or assorted tonics – oh my! It would appear I am slightly more girly than the average backpacker, but I am determined to make a cute dress, converse all stars and a backpack become a rockin' look.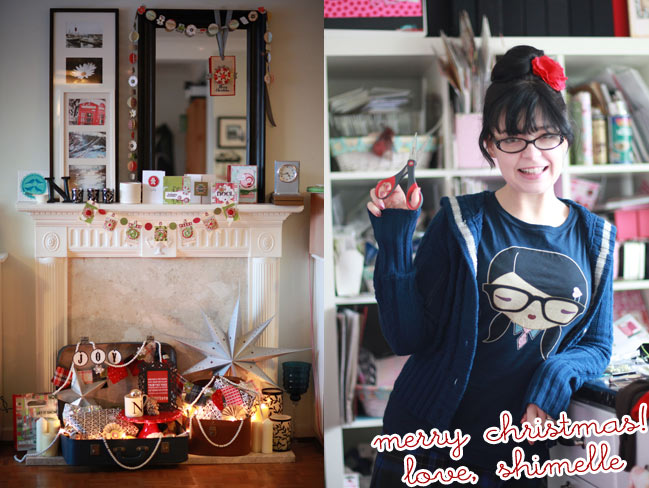 I am not at all disappearing from blogland or the internet! We are actually going to blog the whole trip, right here. Don't tell him, but this may mean you get to see a bit more of The Boy on the blog, and it's not often he does that unless he's dressed as the Mad Hatter! I'm going to try to persuade him to put in an appearance now and again. (If you didn't know, The Boy's middle name is 'too-cool-for-Facebook' as he doesn't do things with social accounts!) But don't freak out: the crafty posts will continue too! I've prepared some projects that I've kept back to share with you over the next three months and more excitingly, there are lots of guest posts from talented crafters who will be showing you their favourite tricks and techniques. So instead of going quiet, it should actually be pretty exciting here on the blog! I really hope you'll enjoy hearing from our adventures on the road.
But before we leave, I've been determined to soak up as much traditional Christmas as possible, and that includes Hyde Park's Winter Wonderland today! So I best go and grab a special Christmas coffee and don my red wool coat and sing a carol or two!
xlovesx

Read more about:
09 December 2010

Next post: 5 ideas for misting on scrapbook pages
Previous post: Use your scrapbooking supplies to make easy Christmas garland