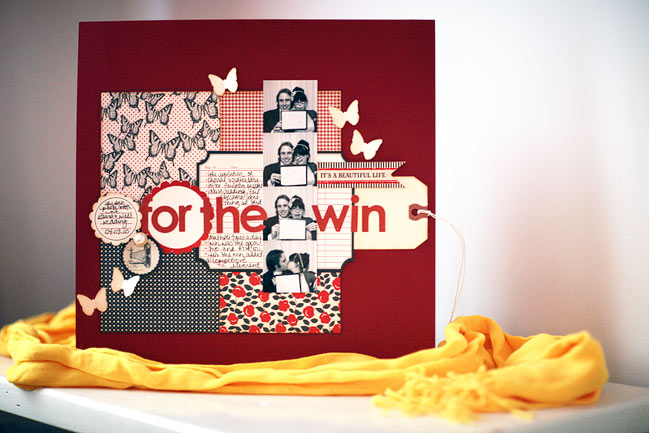 Supplies: Mini papers and journaling die cuts by Jenni Bowlin, glitter die cuts by My Mind's Eye, letter stickers by BasicGrey and butterfly punch by Martha Stewart Crafts.
One tiny little shopping trip yesterday afternoon and I picked up enough to finish this page. Still pretty minimal for me but that's okay now and then! (And I did manage to get a set of four patterned papers in there, so you know I'm happy really.) The journaling on this particular page is all about the vocabulary rather than the event. You can't really see what's written on the signs in the photo at this size, but it includes a bit of current vocabulary: for the win. I'm sure I won't be saying that in five years… possibly not in one, so I just wanted to take that little bit of time to explain how this phrase became so prevalent in my vocabulary in 2010.
Do you have any phrases that might need explaining? My mind is storming a bit with ideas of other vocabulary elements that might be scrappable, and how it can work for teens and adults in addition to the more traditional 'cute things you say' pages for younger children.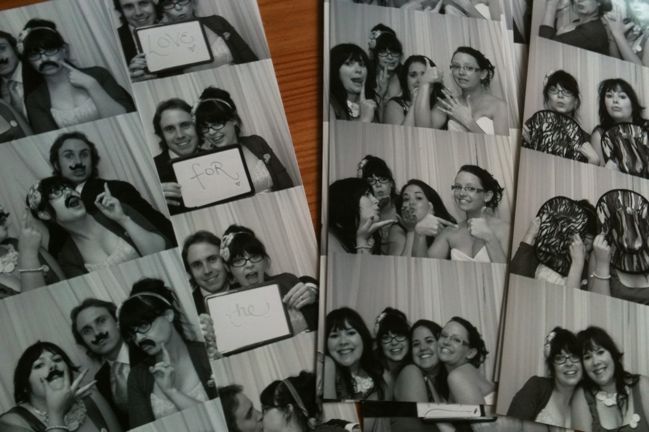 And lest you think I had wasted the opportunity to scrapbook about the sheer wonderment that was the photobooth at Laura's wedding, I promise I still have plenty more strips to go! This is just a sampling. Hurrah for unlimited photo opportunities, fake moustaches and good friends!
In other news, the special project I mentioned yesterday is available now — I was a guest on the Paperclipping Roundtable. It's a podcast with scrapbookers discussing a different topic in each episode. We discussed using scrapbooking to help achieve a goal or work on a project, so that's very much in line with how I scrapbook! If you discovered my blog via the podcast, welcome! This post is a great place to start as it points out some of the most important posts here. And you can find all the details (including the sign up button!) for the current online scrapbooking class right here. If there's anything else I can help with, please just ask! It's lovely to see you!
xlovesx

Read more about: paperclipping-roundtable
22 September 2010

Next post: Starting some wedding scrapbook pages
Previous post: Scrapbook pages to share