An extra special welcome to everyone who stopping by today as part of the Ella Publishing blog tour. It's such an honour to be named as one of their most influential scrapbookers, alongside such lovely ladies that lead this industry. Every day I am beyond thrilled that I can do something I absolutely love as a job, so it is even more fabulous to know there is a whole community of crafty types out there joining me every day. So before I go any further, thank you from the bottom of my heart. It is an absolute pleasure to know you (or meet you if this is your first visit)!
If you are new to shimelle.com, let me give you a quick exploration guide:
Start by watching this, which explains my reasons for scrapbooking. Over the years I have been happy to see the view of childless scrappers change from one of sheer disbelief to one of acceptance. Whether you have no children or several, you'll find our reasons for scrapbooking really aren't that different. But that video puts my perspective into words.
Then have a browse here to see all the classes on offer here at shimelle.com. Online classes are what I'm all about, and I've been teaching online since 2004. All of my classes include permanent access to the class materials and you can join at any time, so you can take things at your own pace and make them fit with your schedule. And for this weekend only, enter the code MISA and you can take 15% off any class purchase via the shopping cart. That includes the current class, Love your Pictures, Love your Pages. Again, this is via the shopping cart only — discounts will not apply if you sign up via an individual blog post.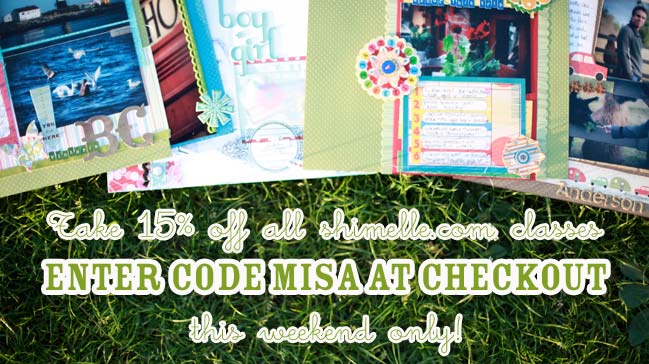 You must use the shopping cart to apply the discount code – it will not work on the individual paypal buttons. Thanks!
If you're ready for something comical, start here for a look at my personal scrapbooking journey, right from the beginning. (It's a series of posts and you can follow the next button at the bottom to keep reading.) Be warned: it contains paper dolls. For a more recent laugh, read this post about my partner-in-crime, The Boy, a long-suffering scrapbooking bystander who gives his views on this crazy hobby.
And one last post to check out here gives you all the details on ordering a copy of the idea book I recently edited, in case you fancy having something lovely to leaf through rather than just read on a computer screen.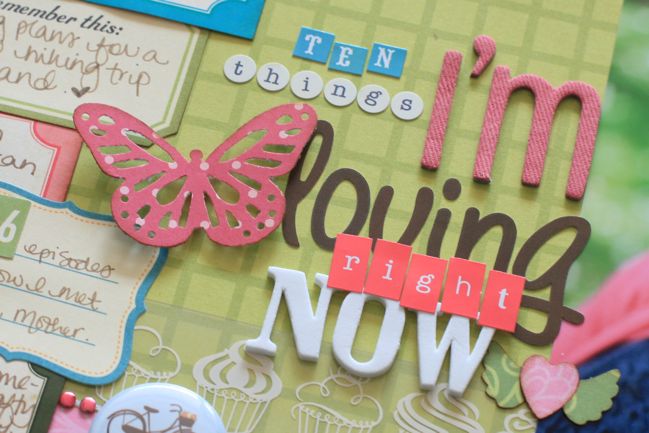 All of the MISA nominees have contributed to this new e-book from Ella called Time to Scrapbook. That's a little sneak peek at the layout I contributed, plus you'll find tons of ideas about how all of us make time for this craft that we love.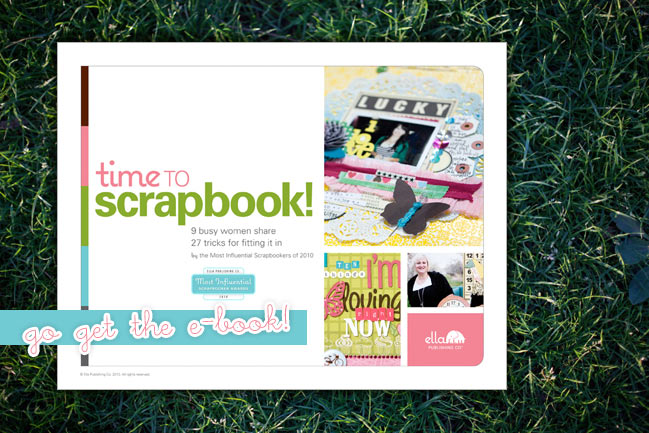 Now… how about some PRIZES?!
There are ten fabulous giveaways to win right here, on this post, for 24 hours only:
A $20 gift certificate from Ella Publishing Co.
Two digital-scrapbooking template packs (20 templates) from Cathy Zielske
A six-month Paperclipping membership from Noell Hyman
A "Play Date" product pack from Jenni Bowlin
A place in either a beginner photo-editing class or a beginner digital-scrapbooking class from Jessica Sprague
A spot in the "Beginner/Intermediate Online Photography Workshop" from Maggie Holmes
"Paper Girl" and "On Holiday" product packs from Margie Romney-Aslett
A $50 gift certificate toward any class on reneepearson.com from Renee Pearson
A place for you and a friend in both "Love Your Pictures, Love Your Pages" and "Journal Your Christmas" from Shimelle Laine
A place in either Elizabeth Dillow's "Inspiration Defined" or Karen Grunberg's "Book of Stories" from Stacy Julian
There will be ten winners – each will receive one of these prizes. To enter, leave a comment on this post and tell me about a scrapbook page you have made. It can be a page you love, a page that makes you laugh, a recent page or an older page — just tell me about a page. You can even link to it if you would like to share with everyone. You have 24 hours to comment and you must mention a page in your comment to enter, okay? (By the way, click the preview button first if your comment doesn't seem to go through. Sometimes the preview button is all you need.)
| | |
| --- | --- |
| | Today the blog tour also visits Stacy Julian, who indeed was the other Influential Scrapbooker in the limousine a few years back! You'll know her from Simple Scrapbooks and Big Picture Scrapbooking. She has a great philosophy for scrapbooking without stressing about whether things are exactly perfect and ready for an art gallery — throwing away your own inner critic and just enjoying the process of creative documentation. She also adores colour, which is always fabulous in my book. Visit her blog today for more chance to win! |
Don't forget: just 24 hours to enter and you need to tell me about a scrapbook page in your comment. Go!
xlovesx

Read more about:
23 July 2010

Next post: And the ten winners are...
Previous post: Two more influential scrapbookers