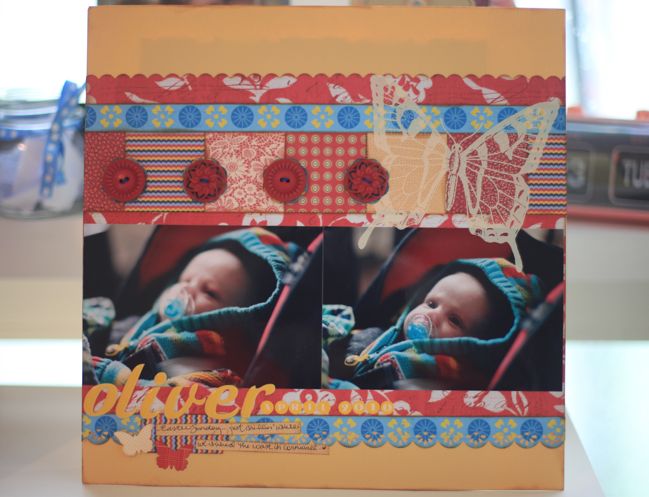 ©twopeasinabucket.com. Supplies: Butterfly rub-on, butterfly stickers, patterned paper and buttons all by Jenni Bowlin Studio. American Crafts Thickers letter stickers, border punches by Fiskars and EK Success, label punch by EK Success (my new favourite thing!) and brown precision pen by American Crafts.
Perhaps I should call this post Reading between the pictures because there's a little something special for you today, but it's quietly tucked away in the middle of this post that is otherwise a bit of a crafty catch-up. I do love to reward those who read closely and pay attention, after all.
Lately I've been scrapping away to a crazy extent but I haven't posted much here to show for it! So here's a little look at just a tiny bit of what I've been creating – my projects for Two Peas and Banana Frog over the past week or so.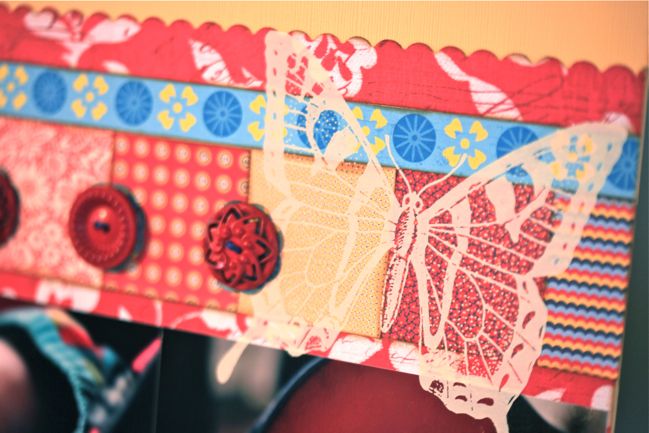 I've been scrapping up a storm with Jenni Bowlin's last few releases, and although I can't share it all just yet, I do want to show you these butterflies. Yes, I'm a total sucker for butterflies on scrapbook pages, but I must admit I had been quite afraid of these rub-ons because they are huge and we all know what a mess can happen if a rub-on goes a bit wrong in the process. So I'm hoping you can see just how perfectly these designs transfer from this close-up shot. Seriously amazing – not a worry or a problem at all. Just thought I'd share in case you were looking at them with similar concerns.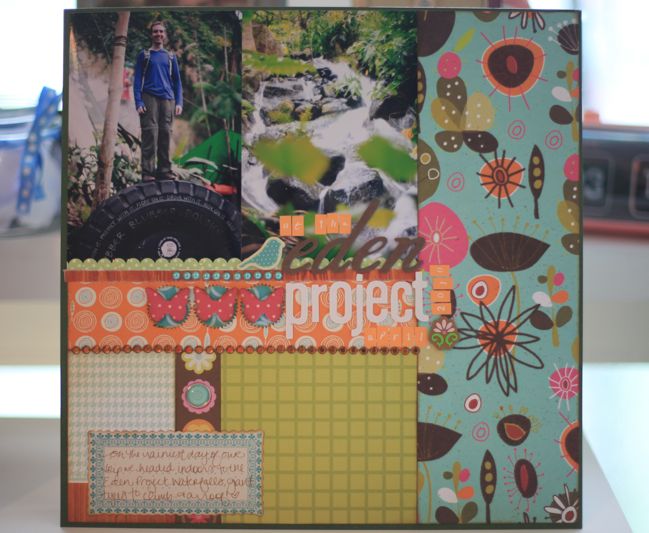 ©twopeasinabucket.com. Supplies: patterned paper by K & Company and KI Memories, American Crafts Thickers in brown and white, embellishments by KI Memories, border stickers by Doodlebug and Narratives and Studio Calico journaling cards.
But really the reason I have been scrapping up a storm and not sharing so much is because I'm working on two big projects at the moment: my summer online class and also a smaller project that is going to a very good cause. More details on the smaller project soon, but let's talk a little about this summer's online class, yes?
I don't want to give everything away today, but I do want to give loyal followers of shimelle.com classes a little something special, so here's the deal: today I'll give you just a few hints at the class content and the chance to sign up at a discount. Later this week I'll post all the formal details too, so you're more than welcome to wait for that and sign up then! I just wanted to give a little something special for those who read carefully and those who happily come along for all my online class adventures, hence a few days of some mystery and a special price!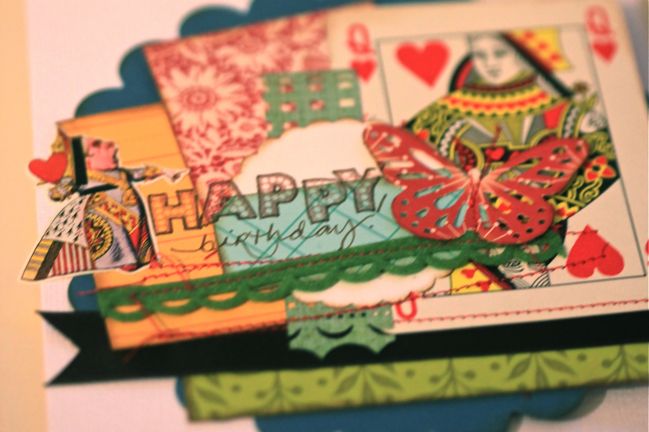 Click for details at the Banana Frog blog.
If you haven't guessed by the increased picture posting lately, this summer's online class has a photography focus — but it's not a technical photography class, nor is it a class that is just about taking pictures. It's definitely a scrapbooking class, with projects that can be created in your choice of paper or digital formats. It's a four week course with 24 full-colour PDF prompts, 3 resource workbooks, exclusive designs for printing or digiscrapping and more goodies along the way. You can participate from anywhere in the world with any type of camera and any scrapbooking style. And of course there are all the things you expect: prompts are delivered to your inbox and you have permanent access to them online, there's a private message board and gallery and so on. This class will cost £16 or $24, and starts on the 5th of July.
Like I said, I'll be posting the formal details later this week, but if you know you want in now and you fancy a bit of a discount, you can sign up early for £12 or $18. Sound good?
Sorry, this offer has now ended. Click here for full class details.
If you're reading this in Google Reader and you're just about to click over so you can use one of these buttons, just click here instead, because for some reason Google Reader is sending people to some weirdo address instead of the actual blog post. Cheers!
Later this week, these early bird buttons will be turned off when the class is formally launched — they are just something special for those of you who have been waiting for something new and are ready for whatever it may be! I wanted to say thank you for your loyalty and your enthusiasm, and I can't wait to see you in class!
One last little note: Tomorrow I'll be hosting a live chat at 4pm UK time, 10am Central time and all corresponding time zones from there on out. You can find it on the Two Peas message board here — when the chat starts tomorrow you'll see a new thread that invites you to come and say hello! It's hosted on their digiscrapping board but ALL scrappers are welcome – I'm more than happy to talk paper as well as digital at those chats. In fact, sometimes we barely talk about scrapping at all and talk about other things instead! If you have a question or just want to say hello, I'd love to see you, so please stop by and give us a wave! The chat winds down after an hour, and you're welcome to just stop by for five minutes if you prefer. Thanks!
xlovesx

Read more about:
14 June 2010

Next post: Oh how I love Delovely
Previous post: The Mad Hatter's Tea Party