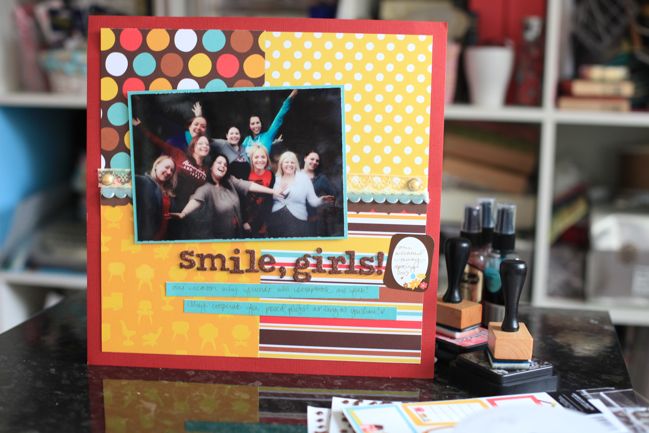 Happy Saturday morning party-goers! Shall we put a little party music that won't shake the place too much at this early hour?
So a new layout and a new challenge for you! Your challenge is to create a layout with a background of four patterned paper squares, like the one above! I used American Crafts papers for my page but you can use any supplies you like.
Make something, take a picture and upload it to your blog or a page gallery. Then leave a comment on this post to enter!
One project will be randomly chosen to win a prize package filled with scrapbooking supplies from American Crafts. You can enter until 6am UK time on Monday 19th April.
My five favourite products from American Crafts?
Albums. Almost all my albums are American Crafts D-Ring binders. My general albums are black fabric-covered and then I also have some of the patterned and the modern albums (which are great for creating your own cover design) for special themes. I've also used the 8×8 AC albums for lots of smaller projects, including two Christmas journals, and they stand up to lots of travel and wear and still look beautiful, plus I think the whole line is very reasonably priced.
Pearl Brads. I love these and could add them to everything I make. I used to staple the ends of my ribbon always. Now I tend to add pearl brads. They also look great in the middle of a flower, and I love that they come in so many pretty colours – not just white and cream.
Ribbons…like this one. I love the entire line of AC ribbons, but seriously this is just too lovely to believe. The fact that they call this card 'Lovely' by name is just the perfect description.
Adhesives. I went to CHA this year with 'Search out decent adhesives' literally written on my to-do list. I had loved Kokuyo, but it was never available in Europe and now wasn't easy to import either. Surely someone was going to realise that every scrapbooker wishes they had an adhesive that was reliable, simple to refill, easy to find and not ridiculous in price. And presto, I tried the new This to That rollers from American Crafts. I loved them. I ordered a zillion. I still love them. End of story.
And this stamp. It has the teeniest dotted grid on a wood-mount stamp and it's just perfect for adding a little something to tags, backgrounds and cards. It's my go-to stamp right now.
Do you have a favourite AC product? Feel free to share! You can also find American Crafts on their blog and Twitter and shop here for American Crafts products.
xlovesx

Read more about: american-crafts
17 April 2010

Next post: Finding scrapbooking inspiration through the looking glass
Previous post: Scrapbooking with bunting