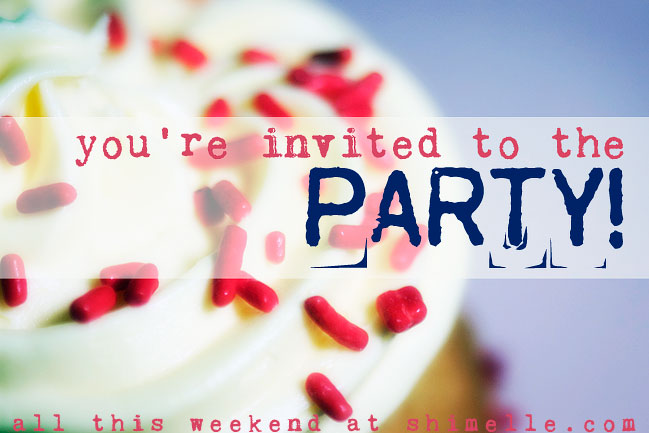 Time to shed a little light on the mystery of this weekend. It's a weekend-long inspiration party here at shimelle.com! I hope you can stop by and join in the fun!
Over the course of the weekend, there will be four challenges with a chance to win a prize, free downloads for both digital and paper scrapbookers, new projects, tutorials, bargains and some surprises along the way. But the best part—the part I am SO excited about—that would be the part where an absolute ton of inspiring scrappers are joining in the party to show off some amazing projects. I am positively giddy over their work and I know they will inspire you too.
We're kicking things off on Friday night, and from early Saturday to late Sunday night, there will be blog posts nonstop (well, every hour or two, roughly) with freebies, challenges, prizes and projects.
All you have to do to join in the party is drop by! No need to dress up, wear uncomfortable shoes or wrap a gift and no worries about drinking too much of the punch and later regretting it! You are welcome to stop by dressed to the nines or in your pajamas, and either just to say hello or to craft away with us all weekend!
The party is this weekend—don't miss out!
xlovesx

Read more about: inspiration-party
30 July 2009

Next post: What if The Boy scrapbooked?
Previous post: Hello Chaos, how are you?