Holy blood sugar Batman: I think Kirsty may have graced us with the cutest project ever. Enjoy!


Mission: Really Quite Possible
Your project, should you choose to accept it
Use colour to makeover a pair of plain white summer pyjamas, or other plain-with-potential item from your wardrobe. Extra mission-points given for solving colour-related dilemmas along the way.
Dilemma: Red and green are a great combination, but it's tricky to use them without things beginning to look at least a little like Christmas.
Solution: Adjust the quantities of each colour. By focussing on green, especially a lighter or more acidic shade, and adding just a few small touches of red as an accent, the festive feeling vanishes.
Project notes:
Get some extra value from your digital scrapbooking elements by printing them on to t-shirt transfer paper and ironing on to clothing. The deer design is from Kitschy Digitals and you can download the fun, cross-stitch style font here.
Create your own polka-dot print with fabric paint (or fabric-friendly ink), applied with the eraser-end of a pencil. You can also colour solid areas, such as a waistband, with the same paint and a small brush.
To make mini pockets, hem two rectangles of fabric, then stitch them in place on either side of your shorts.
Paper not PJs? Print the deer design onto cardstock, adding your own message, then stamp dots of ink over the remainder of the card.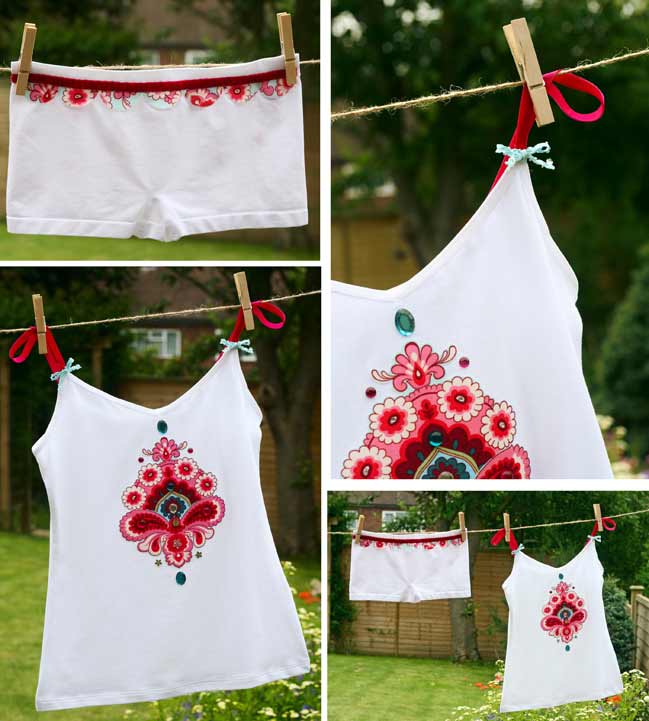 Dilemma: Combining more than two or three shades with confidence, or finding new and unusual colour schemes.
Solution: Use the colours in patterned fabric or paper as a guide. You can pull out the shades yourself, but it's also worth checking the edge of the paper or the selvedge on fabric for the row of dots which act as a quick colour guide. Whether you include the fabric or paper as part of your finished project, or just use it as inspiration, is up to you.
Project notes:
Iron a piece of fusible webbing to the back of a bold-print fabric (this one is from Amy Butler's Belle range) and cut around one of the motifs. Peel away the backing and iron on to your vest top for a super-fast and easy appliquéd patch.
Pick out gems or buttons which match the colours in the fabric and fix on top.
Create a scalloped edge by cutting out circles of fabric and snipping them in half. Line up in a row and stitch a length of ribbon across their length to secure the upper edges in place.
Add colour to the straps of your vest, by brushing on fabric paint or try snipping off the existing straps and replacing them with ribbon.
Paper not PJs? Try cutting motifs from sheets of gift-wrap or scrapbooking paper and decorating with gems to make cards or embellish layouts.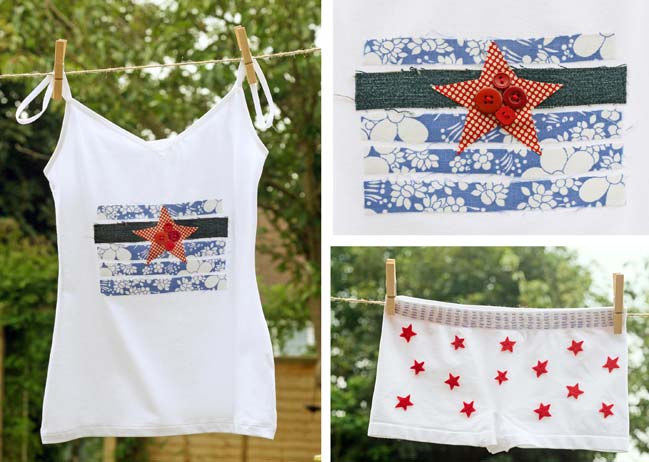 Dilemma: Basic primary colours can sometimes look harsh or garish used together in their truest shades.
Solution: Picking fabric or paper with a small, simple print, instead of using a plain colour, helps break up the harsh 'blockiness', and mixing media/materials to add texture stops them looking flat or dull.
Project notes:
For a relaxed, imperfect look, cut your fabric pieces out freehand. Scrunch each one into a ball between your hands to fray and roughen the edges, then iron flat before fixing in place.
Parallel lines of simple running stitch are an unusual, but surprisingly effective, way of adding a small block or band of colour.
Small felt shapes provide a softer alternative to buttons stitched all over your shorts!
Paper, not PJs? Create a flag-inspired holiday layout or mini-book, using patterned scrapbooking papers.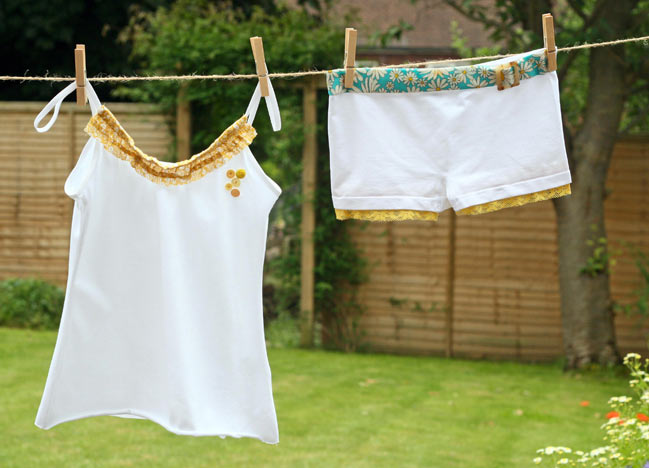 Dilemma: When you start to combine prints and patterns in different colours, it can end up looking messy and confusing.
Solution: If you're using an analogous colour scheme, you can pretty much mix prints to your heart's content, but with patterns which include multiple colours, it's harder. Try picking out just one of the shades from a large or bold print and choosing fabric or paper with a smaller pattern in that same colour.
Project notes:
Cut a long, narrow piece of fabric and fold the edges over, ironing in place. Slide a buckle about a third of the way along the strip to create a faux belt. Stitch the ends of the fabric to either side of your shorts to fix in place.
Gather up a length of contrasting fabric to make a frill at the neck-edge of your vest (or cheat like I did and snip an existing frill off a pretty charity-shop shirt!). Pin the gathers in place to make sure you're happy with the way it looks before stitching.
To re-colour a piece of white or cream lace, add a small amount of water to some fabric paint, then brush or sponge on to the surface of the lace. Leave to dry before stitching a strip to the bottom of each shorts-leg.
Sew on a cluster of vintage buttons in a coordinating shade to add detail in a subtle way (using a mixture of colours will give a more striking look, if you'd prefer).
Paper, not PJs? Give scraps of lace a colour-makeover, using either watered-down paint or an ink pad, then use them to embellish cards and layouts.
| | |
| --- | --- |
| Kirsty Neale is a freelance writer and maker. She mostly writes children's books and makes things from paper, fabric and paint. She lives in London and her favourite colour is green. Read her blog, Ginger and George, here and check out The Copy and Paste Project as well, something she works on with Julie Kirk. | |
---


Your colour challenge today? Follow any of Kirsty's suggestions for paper or pjs! Leave a comment here and one commenter will win a set of Banana Frog stamps!
ETA: Turning comments off because oh my, do the spammers love this post!

Read more about: colour
24 June 2009

Next post: The mood of muted colours
Previous post: Colours of a journey