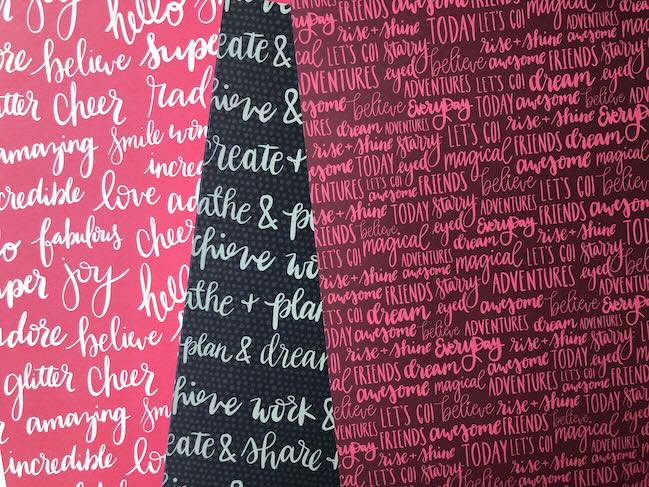 Happy International Scrapbook Day! I hope you've found something crafty to inspire you today! Here's a quick round up of some special NSD offers around here.
1. Class Discounts! Three classes are available at a special price this week. These are all self-paced classes with permanent access. Registration can take up to 48 hours, but is usually much quicker.
Half & Half is all about page composition that starts with a background that is half one paper, half another paper. It also includes a mini class on quadrant page design. For NSD, this class is just $12 USD.

Start with a Sketch breaks down how sketches can be interpreted to create a variety of pages. For NSD this class is just $20 USD (it's usually $30).

Most Magical Scrapbook shares fifty layouts from start to finish to follow my entire process in creating an album to document a trip. It's a Disney trip, but you can decide to follow along with your own Disney photos or ignore the theme park element entirely and adapt it to any story you want to tell. For NSD, this class is just $20.

This offer ends next Saturday, the 14th of May 2022.
2. Words, words, words!
When I designed paper collections, I always started with lettering. A selection of words would fit together to set a theme and make everything make sense to me! In honour of NSD, I'm sharing words with all of you! I started taking requests during Friday Live yesterday and will finish taking them next Saturday, so I'll be adding to the collection for a little over a week. All the words will be letter as transparent PNG files and will be free to download. Use them on any personal crafting projects you like: cut them on a cutting machine, overlay them on photos, print them on journaling boxes, whatever you fancy. Downloading a word is free; requesting a word is $2. To request a word, pop it in the box and click through to check out!

This offer ends next Saturday, the 14th of May 2022.
If you would like to request a word but don't want it shared with everyone else, that won't be available this week. Once I have lettered all of these words, I'll open those requests for a short time. Those words will be $6 during that time period. (During the rest of the year, this is something I offer on a contract basis for things like logo design, and it's considerably more than $6.) I just want to make sure I finish this project before taking on those extras. Thanks!
3. 5% off at Scrapbook.com – including next month's Best of Both Worlds kit!
Today only you can use code NSD2022 for 5% off your full order. (Heads up – affiliate links here!) You could order the June Best of Both Worlds kit and scrap along with me during all the livestreams next month. You could check out the Pops of Color special that's a particularly excellent value. Or stock up on essentials or grab a new album! Whatever you fancy. Happy shopping!
This offer ends at the end of today, Arizona time.
Strangely enough, we're starting the build on our kitchen here on National Scrapbook Day, so I'll leave you to those special updates for now, and see you on Monday's livestream at 1:30pm UK time!

Read more about: classes
07 May 2022

Next post: Scrapbooking Photo Clusters with Sarah Wyles
Previous post: Glitter and Detail Cutting with Veronika Seňová