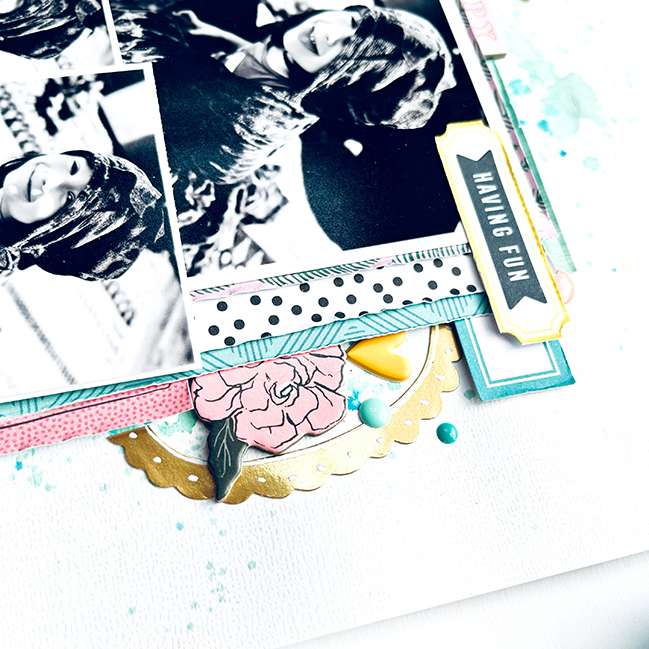 Did you have an inspiring weekend for National Scrapbook Day? I hope so! But here's some more: guest artist Sarah Wyles is here to share some beautiful embellishment work! -Shimelle
Hey everyone! I was so excited to be asked to be a part of this! And then I kind of freaked out cause I didn't know what I was going to do. Just being honest. But a few days later I walked in to see my daughter playing on her floor with her ponies, dinos and cute little dino blanket on her head and snapped a few pics and thought this was perfect!
I scrapbook a lot of pictures and they always mean something to me, even if it doesn't look like it to others. But this, this was a shot of my little girl, being completely herself and loving every minute of it. I want to make sure to collect all of these moments because she's growing up and doing it fast and I don't want to forget any of it. Now for putting my layout together….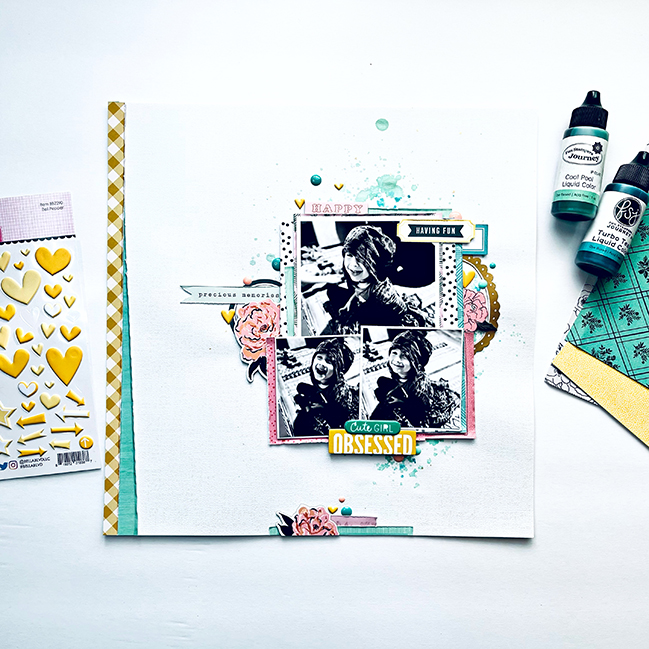 I decided in the beginning how I wanted to have my photos clustered together, so I added some adhesive and stuck them together and figured I would figure out the rest as I went. I knew she was looking to the left in all three of them so I knew I wanted my pictures to be on the right side of the layout, then came the little bit of mixed media on the background. I pulled two of my Fun Stampers' Journey liquid colours and splattered them around, hit it with my heat gun, cause I'm impatient and kept moving.
I pulled out my little bin where I keep all my scraps and partially used 6×6 paper pads and started pulling the colors I had decided to use. I have a love for the colors teal, pink, and yellow. I also threw in some black and white paper and small touches of gold. These are colors I love together but are also some of my daughters favorites so it works out great for me.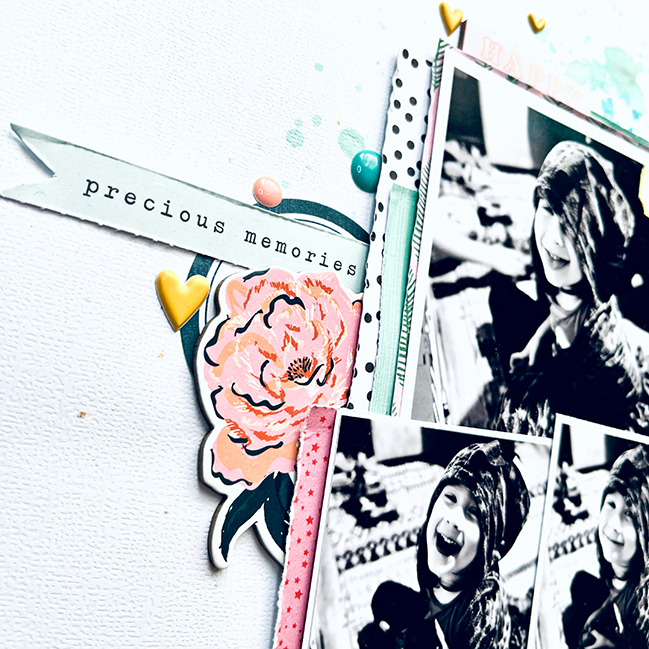 I started pulling papers and tucking them behind my pictures, not even caring that they were from different collections or manufacturers, they looked good together and that's all that mattered to me. I love scrapping this way, it makes it easy for me. Once I had all the layers right where I wanted them, all stuck together, I added some foam adhesive to the back leaving a space to the upper left where I had decided to place a tag that slid down behind the pictures, a little note for my little miss when she gets older. I am not huge on journaling where it can be seen, I usually do it with a hidden journal spot or on the back of the layout, but I wanted to leave a little note for my daughter, something hidden for her, that let her know exactly how this moment made me feel and how I loved it.
After that, I pulled out my bin that holds a bunch of random ephemera pieces and chipboard pieces, pulled things in my color set and started tucking them here and there till I was happy. This always takes longer than I think it probably should, but I move things around so much.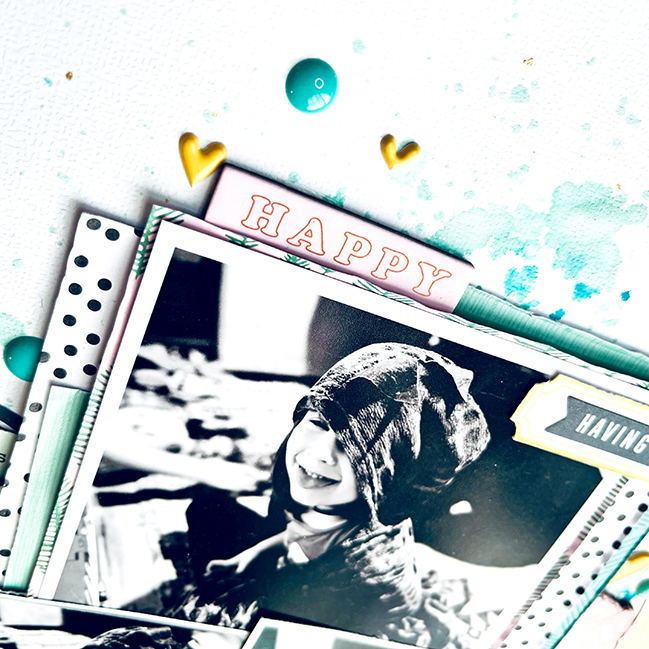 I thought I was done at this point, I liked my layout and thought my daughter was front and center and pulled the focus, but I felt like my page was a but one sided, so I decided to grab some of my scrap paper strips and add them to the far left edge and a few little strips at the bottom. I went back and grabbed some of my Bella Blvd puffy stickers and My Mind's Eye enamel dots, tucked them here and there and I was finally happy with my layout and called it done.
| | | |
| --- | --- | --- |
| Sarah Wyles is a self confessed addict to paper crafting. She loves to scrapbook, whether that be traditional, mixed media and pretty much everything in between. Sarah has been scrapping since she was nine! She loves all the pretty things and says she never really worries if they come from the same collections so long as they come together and make something pretty. If you are interested in anymore inspiration from Sarah, feel free to check out her social media on Instagram and Facebook. | | |

Read more about: tutorials
10 May 2022

Next post: Scrapbooking Delicate Cut Files with Piroska Czakó-Radványi
Previous post: Happy Scrapbook Day! NSD Special Offers!