My favourite word in the English language is cataclysmic. Not for its meaning, which is actually pretty sad and dire. But because it is so beautiful to say. Cataclysm is okay, but it isn't nearly as fun as cataclysmic. For fifteen years, I have been finding ways to work cataclysmic into conversations just because I like to say it. And I am perfectly fine with that.
Unfortunately I was not very subtle when I started that effort. I was on my school's debate team and I could find seven or eight cataclysmic things in every round, no matter which side of the argument we happened to be discussing. My debate partner happened to like the word linkage, and between us we could always find some linkage between the other team's ideas for global change and one or two cataclysmic results that would shake the world for the worse. Better yet, we could say all this while keeping a very straight face. But today, if anyone says linkage, I will fall about laughing and be unable to explain this except to say 'you had to be there'.
A few years later I realised I had a friend who would always order the focaccia, then quickly change her mind and order something else. It turned out she didn't actually like focaccia. She just thought it was fun to say.
I'm guessing now that you're either in our camp and you have a word or two that you love to say, or you're ready to click your way out of here to some sane website where people do not like words for their mixture of clattering consonants. Fine, be that way. We will call you vagarious or crotchety in your absence. Not because we mean it. Just because it will be fun to say, clearly.
Actually, you needn't worry if you don't have a favourite word. You just need a word that will work for a particular photo or event. I chose content, which has a much better meaning than cataclysmic, even if content isn't as fun to say. It's also easier to spell.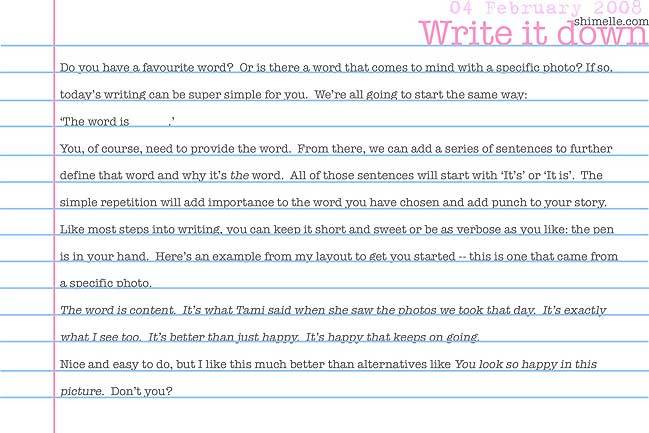 Click for print-sized image, and remember to tell your printer to print 4×6 size, like a photo.
A couple of you have asked for a blank card so you can write on something that matches—so here is one of those!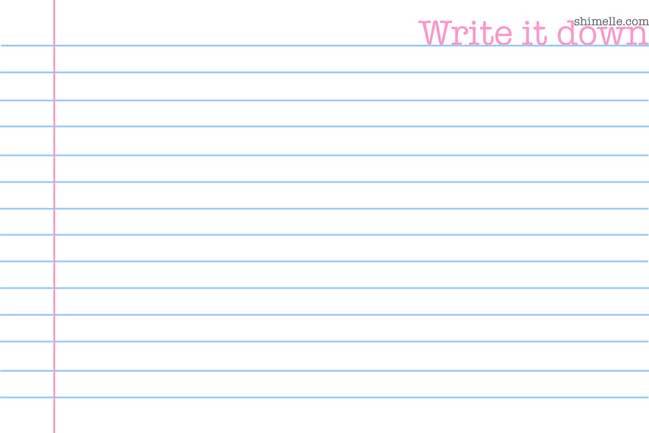 Happy writing…you know, you could even do this with your one little word if you fancied it. (More info on that idea here, if you're not familiar.
xlovesx
PS: all the red stamps on that layout are from one of my sets for Banana Frog. It's called Circus Stories, and also has that polka-dotted journaling box I used on yesterday's layouts. The letter stamp is also from BF, but from an existing alpha called Willing Race. I use that set all the time and it always looks great.

Read more about:
04 February 2008

Next post: Not because...
Previous post: Parts of speech