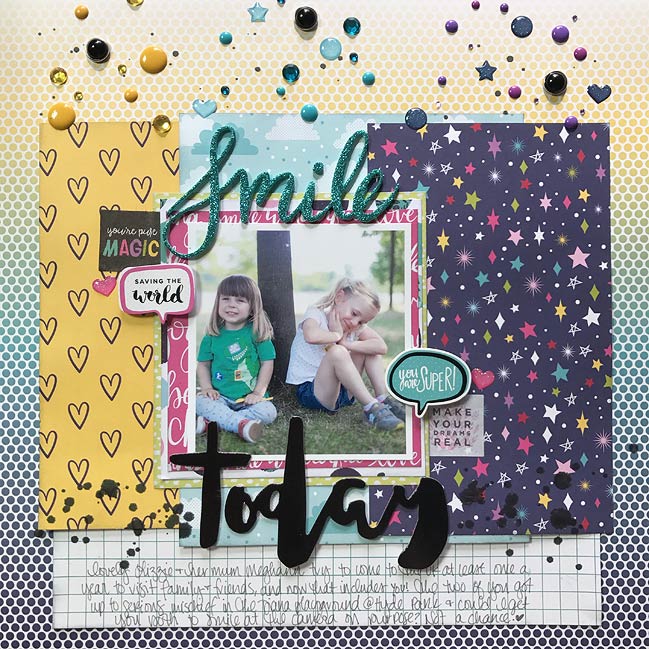 While I've been all things Most Magical Scrapbook all the time, I've just saved enough time to do a Friday Live scrapbooking video each week on Facebook, but it's only now that I've had a moment to update here! For those of you don't do Facebook, no worries: here's an ongoing feed of the Friday Live videos. If you're used to the style I post on my YouTube channel or in my classes, be warned: Friday Live is very different. No editing. Lots of chit-chat with those who are watching and typing in comments, many of which have nothing to do with scrapbooking. But you can definitely see each layout come together from start to finish, just with a very different delivery method.
This layout came from a challenge I used earlier that day: to take a look at this Pinterest board of scrapbook pages and choose one for me to scrap lift. The gorgeous layout chosen was by Cassie Box and I adore hers and mine too, so many thanks Cassie for sharing your beautiful work! Supplies for this page are from the Glitter Girl collection, plus the 'today' word from a Dear Lizzy Thickers set, some older American Crafts pearl brads, and a few assorted enamel dots.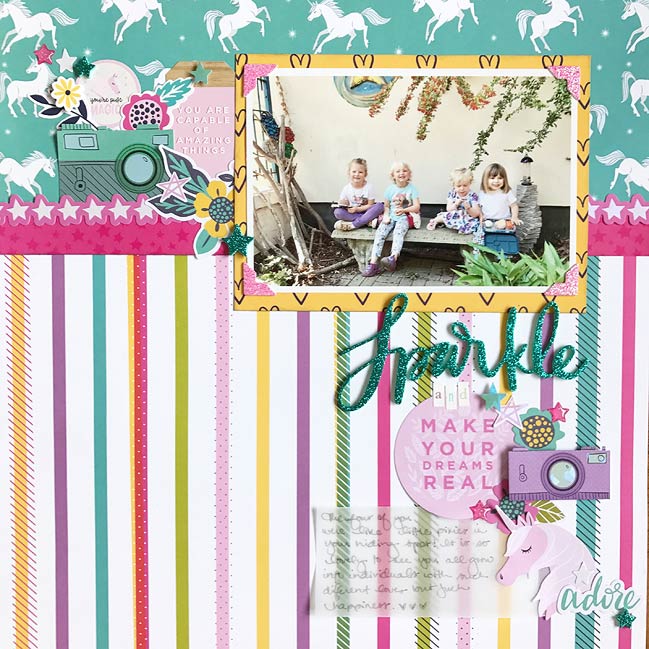 Next up: a challenge to actually use plenty of unicorns, because so many of you have told me you love them but have no idea where to put them on a page. From the looks of things, my answer to that is everywhere.
Everything on this page is from the Glitter Girl collection, bar a scrap of plain white vellum for the journaling!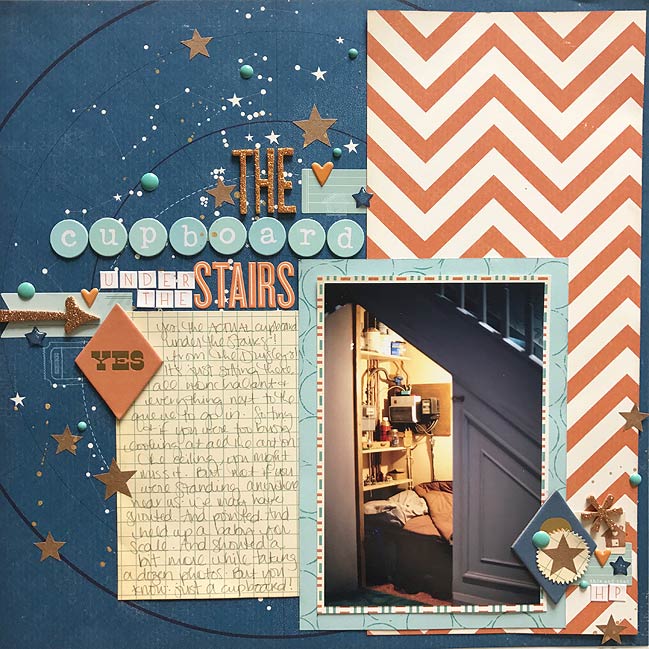 Time to head back a bit and add something to my Harry Potter album from the studio tour several years ago. It's a cupboard under the stairs page!
The papers here are from my Starshine collection, plus chipboard pieces, star stickers, and stamps from assorted Studio Calico kits over the years.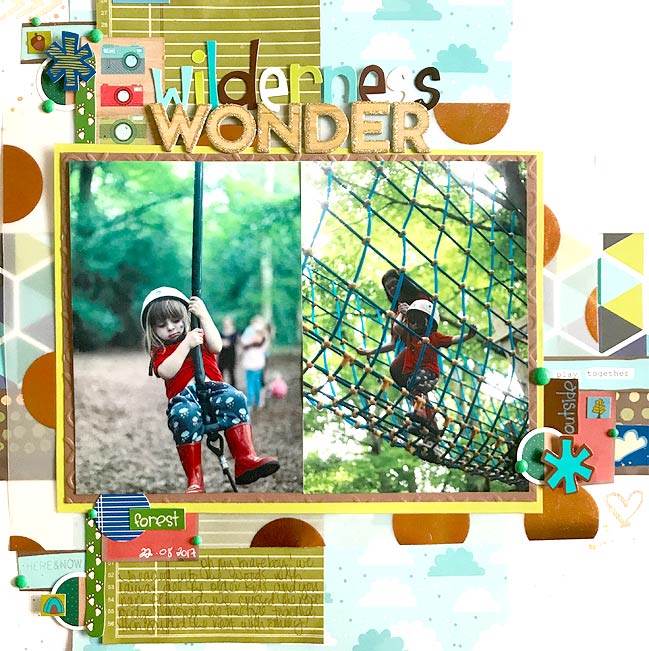 Another challenge that has come up with the Glitter Girl collection is how to use it for boy photos… and I'm definitely game for that! Today, my answer is to mix it with some very old favourites to pull out the greens and blues in the Glitter Girl colour palette.
The copper vellum on this page is from my Go Now Go collection, and everything else is a mix of Glitter Girl and some vintage products from the days of Love, Elsie and KI Memories. (Nope, I have no shame in keeping supplies for ten years if I still like them!)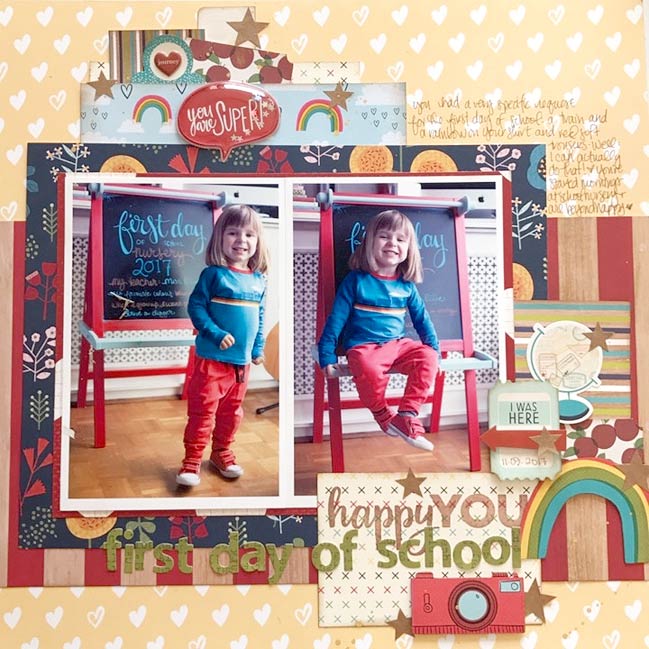 I can't believe I am scrapping first day of school photos, but I am! I started with three photos for this page but ended up making two layouts that face each other in the album, one this week and one the next. Also, the connection went very skewif midway through the broadcast this time, so the video is in two parts.
Supplies for this one are a mix of Glitter Girl (just without the pink elements!), Go Now Go, and Elle's Studio – the yellow background paper is an older Elle's Studio paper and the stamps are that amazing Title Builder stamp set that I love so much. Plus green letter stickers from my old favourite, Sassafras!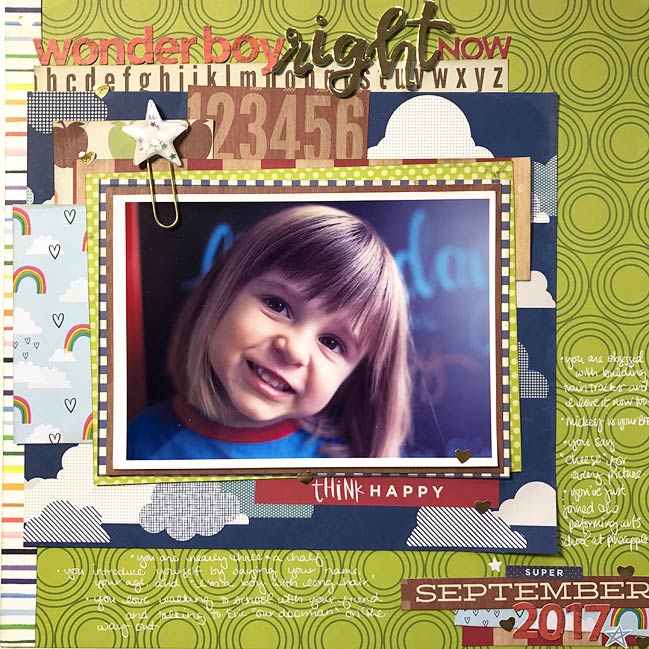 Then another boy page to face that one – this time really working with the green rather than the lighter shades!
The green paper in the background is ancient, from Scenic Route, and the rainbow of stripes down the side is equally vintage, from KI Memories. But the darker cloud paper is from my Starshine collection and the rainbow cloud print is from Glitter Girl, as is the funky star paperclip. Red letters are Sassafras, gold foil Thickers from 1Canoe2, woodgrain papers from LilyBee, and a few stickers from something coming to stores soon that I wasn't really supposed to show you yet but I didn't realise. Whoops.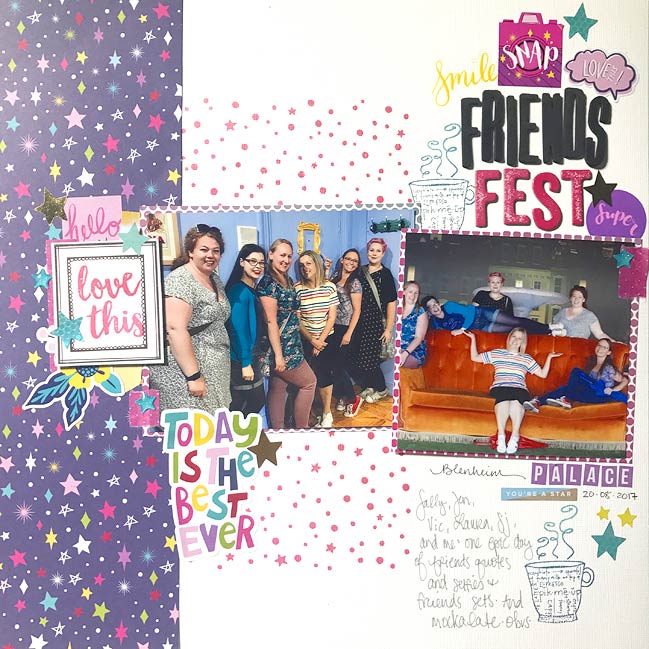 Then there was the week that it seemed like computers were plotting against me. I started the video in landscape and it moved to portrait. So I started again and it went to portrait again. I tried a third time and it was not the charm… so in the end, I just scrapped sideways so you can see it the right way but oh man it was a weird week.
Mostly Glitter Girl supplies here, plus a background stamp from October Afternoon, the Title Builder stamp set from Elle's Studio, pink Thickers from Amy Tangerine, and an awesome Inkadinkado coffee stamp I've had for years and haven't used nearly enough!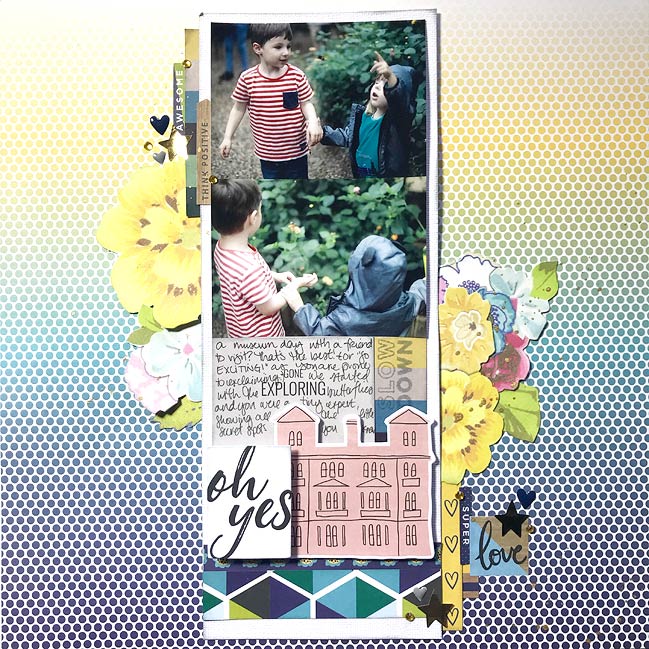 And then I found the answer and the video didn't flip this week! HUZZAH!
Again it's the Glitter Girl collection minus the pink… but plus florals so who knows what's happening there. The florals are one of my favourite products of all time – Foldies from Sassafras. I have a good stockpile of them still. Plus some die-cuts and 3×4 cards from last year's Studio Calico kits.
Annnnnnnd that brings you up to date with what I've been making! Perhaps I'll see you this Friday for Friday Live! You can find me live pretty much every week here on Facebook and there's also the Scrapbook like a Superhero Facebook group for sharing what you're making too.

Read more about: friday-live scrapbooking-videos
25 October 2017

Next post: Sticker Books: Making it the 80s all over again, in a good way
Previous post: Pre-order your 2017 Christmas in a Box and Stamps this week!