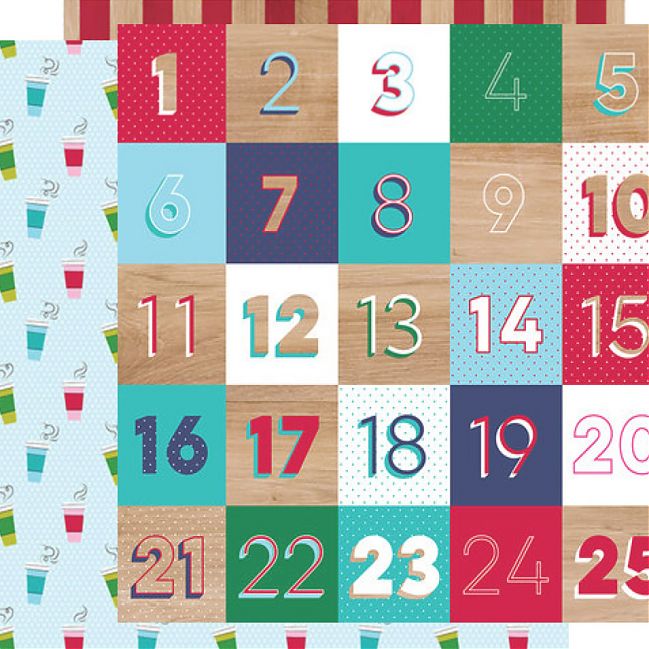 Hello October! This brings my one little slip when I must start talking about Christmas before November – this week is the time to pre-order if you'd like a 2017 Christmas in a Box kit or any of the stamps! This year there are a few options: the full, complete kit, including the word and number stamp sheets plus papers and embellishments, to ship either from me here in the UK or from Blue Moon Scrapbooking in the USA; just the word and number stamp sheets, or a third sheet of stamps that can be added on or purchased individually. Let me tell you more!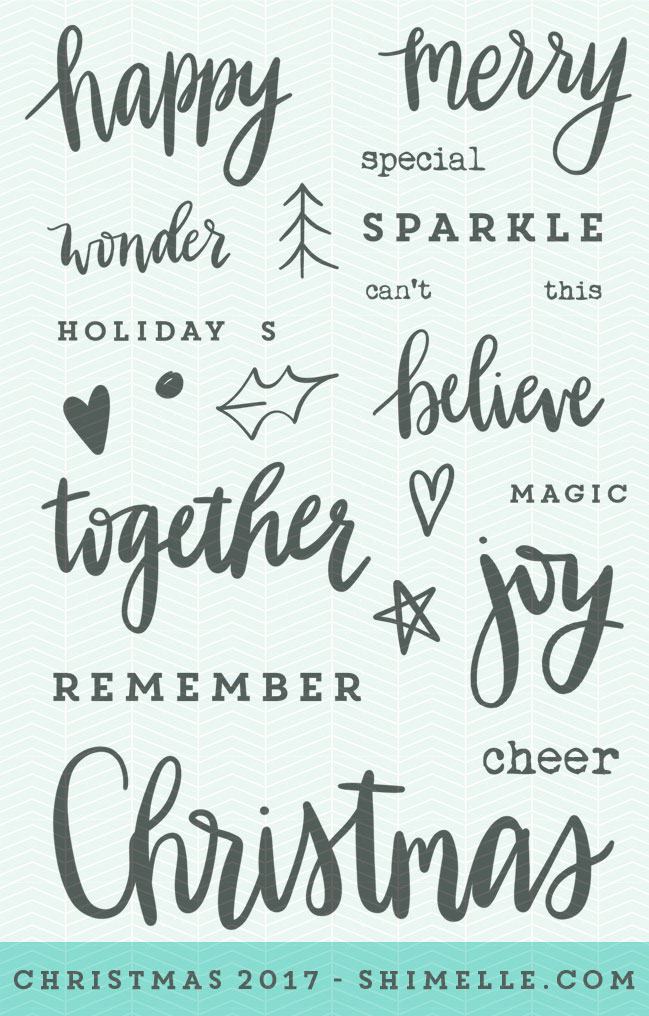 Shall we look at the stamps first? This is the word sheet…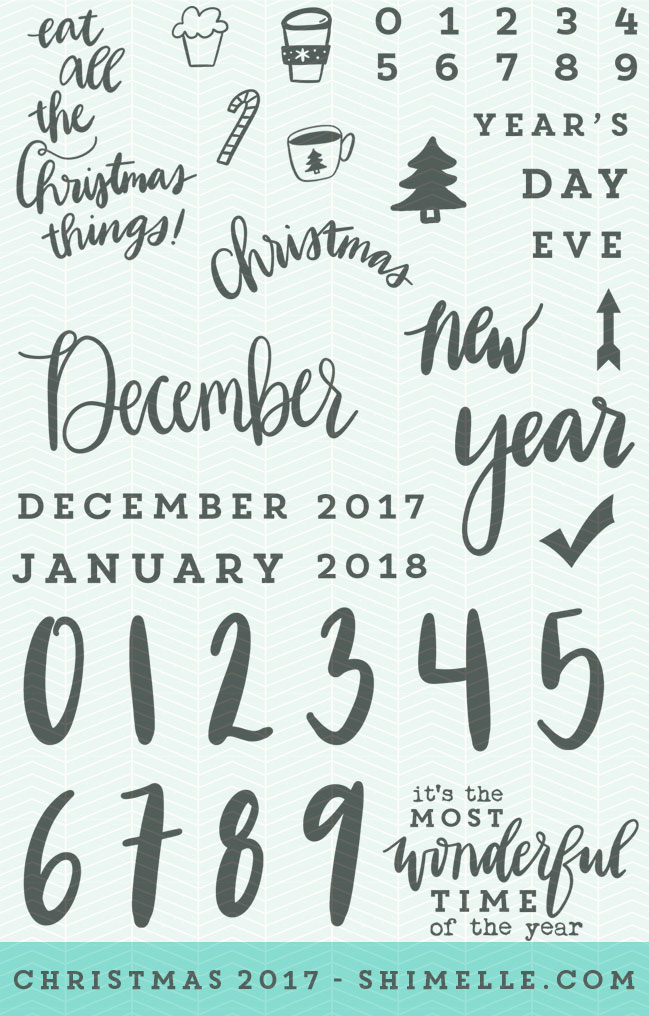 …and this is the number sheet. These are 4×6 inch stamp sets and are both included in the full Christmas in a Box kit. They can also be purchased as a set without the kit, if you prefer.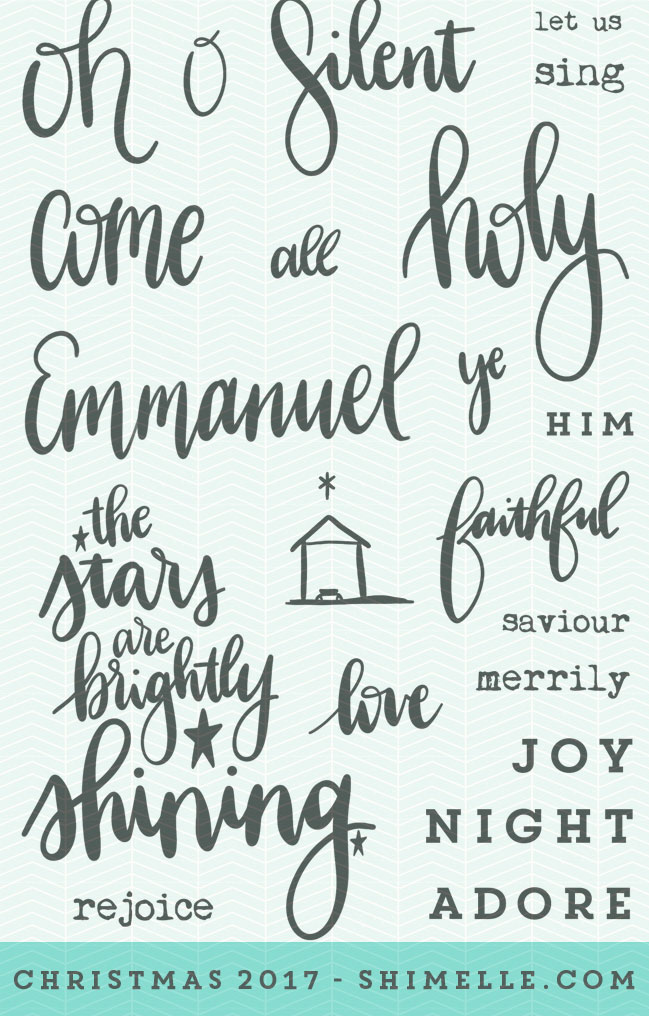 And here's something new for 2017: a stamp add-on! This Christmas Carol stamp set is also 4×6 and is NOT included in the kit. It can be purchased in addition to the kit, in addition to the other stamps, or all on its own.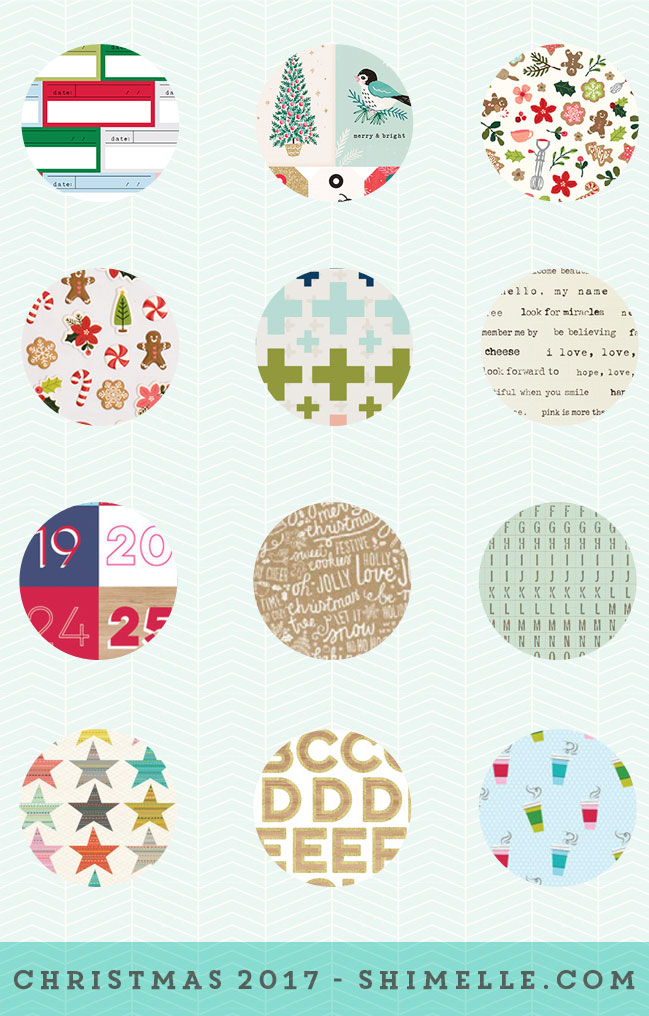 Here's more of what you'll find packed into Christmas in a Box: lots of 12×12 paper, including red, a few shades of green, and some aqua and blue for balance, enamel dots, flat letter stickers and Thickers, puffy stickers, and more embellishments. Everything is chosen for a mix of specifically Christmas things alongside patterns that can be used year-round for the everyday. This way you can incorporate your leftover supplies into your stash in January without building up year after year of supplies you only use at Christmas.
I am happy to report that the US option for kits this year will be a full kit rather than having to shop for the kit contents. If you do prefer to shop for individual items, I will make that list available next month.
Christmas in a Box is the kit I use to make my Christmas journal, and if you're following along with the Journal your Christmas class, you'll see the kit in action every day in the class videos.
Kits ship from the UK and the US, stamps on their own ship from the UK. If you're in another country, you can choose where you would like your kit to ship from, and the additional shipping will be billed at the cost from the postal service. From the UK, this about £9 for Europe and £14 beyond Europe for the full kit.
When you pre-order, you pay a deposit of half your kit price now and the remaining half when your kit is boxed and ready to ship. For UK addresses, that's £20 now for a total kit price of £40. For US addresses, that's $25 now, for a total kit price of $50. Those prices include shipping.
If you have plenty of Christmas stash and would just like this year's stamps, that's available too. The set of two sheets – words and numbers – is £18, which includes postage anywhere in the world. The deposit to pre-order is £9, with the remaining £9 due when they are packed and ready to ship to you.
The Christmas Carol stamp set is available as an additional item or on its own. That's £9, including postage anywhere in the world. The deposit to pre-order is £4.50, with the remaining £4.50 due when ready to ship to you.
Pre-orders have now closed. Thank you! A very limited supply of kits and stamps will be available without placing a deposit, but those numbers are truly very few. If you would like to reserve a kit with no worry, pre-ordering is your friend.
If you have any questions, please do not hesitate to email me and I'll help in any way I can.
Thanks so much, and I promise you can now go right back to autumn and not think more about Christmas until at least November!

Read more about:
01 October 2017

Next post: Scrapbooking and Random Chatter: A Friday Live Archive Update!
Previous post: A happy rainbow of scrapbooking