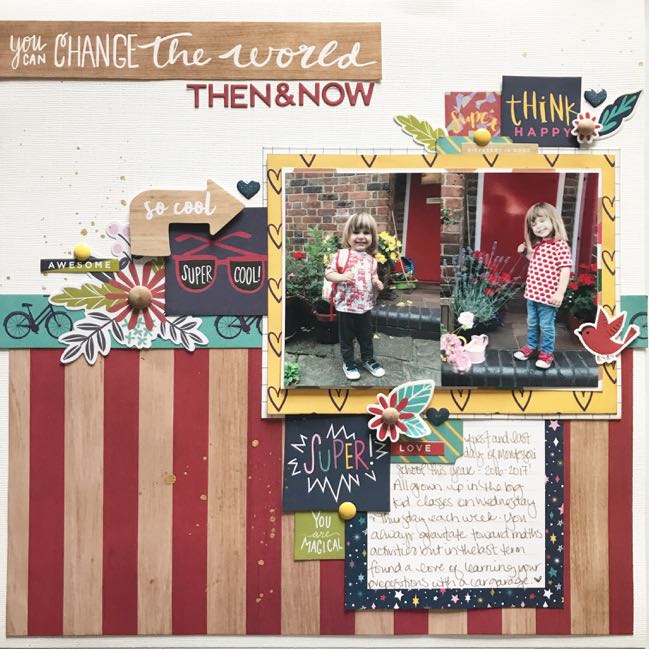 I know, I know, it's called 'Glitter Girl' and it's very girly. There's a lot of hot pink. Really a lot. But I promise you there are other colours in there too and I really want it to be possible to use the Glitter Girl collection on things that are not all hot pink unicorns. This became today's challenge for Friday Live, a weekly video on Facebook where I create (or attempt to create!) a new scrapbook page with little to no advance planning and plenty of interaction from those watching and chatting along.
At the moment, I am starting Friday Live sessions at 3:45pm UK time (10:45am Eastern, and adjust to your timezone from there) and I plan to keep that schedule through most of August. I'll need to find a good time to move it to when the summer ends as I'm going to lose my long Friday work day, but I'll cross that bridge and announce the time when I come to it. For now, it's Friday afternoons for me!
You can join in on Facebook and clicking the 'follow' button there should let you get a little notification with the live sessions start, should you want to receive that. Or you can always stop by to watch them after the fact.
Happy scrapping, and I look forward to showing you more unexpected Glitter Girl colour schemes for your scrapbooking and paper crafting projects!

Read more about: scrapbooking-videos friday-live
28 July 2017

Next post: An archive of the first few Friday Live videos
Previous post: Glitter Girl Adventure 155: All The Stickers