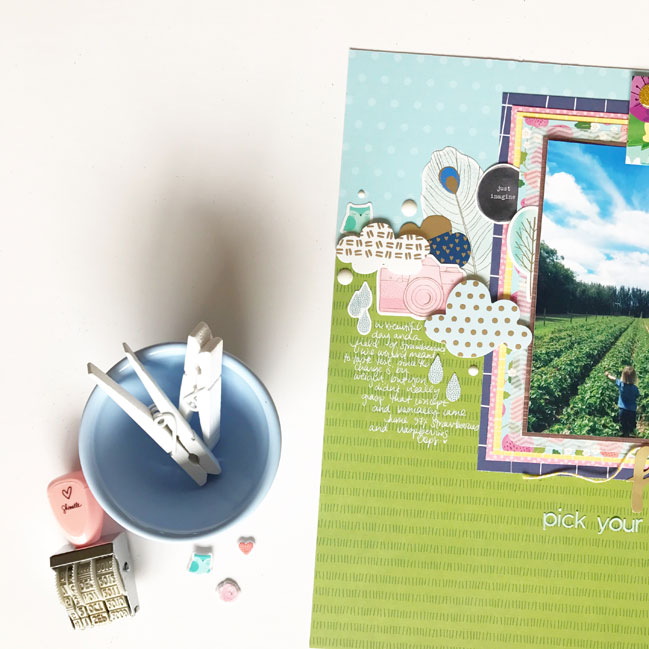 I always buy the 12×12 sticker sheets in my favourite collections because they are always so eye-catching, but I have trouble using more than a few stickers at a time. I need a strategy quick or I'm going to be overrun with stickers! I'd love a style of layout I could create now and then to really embrace my sticker love rather than trying to ration them out indefinitely. Glitter Girl, can you help?
Of course she can! It would probably be overkill to use most of a large sticker sheet on every layout, but there's no reason not to embrace your sticker love in an explosion of pretty things on a chosen page.
I used the sticker sheet from Little by Little for this challenge, along with patterned papers from Pebbles. The Thickers are from many years ago, I'm afraid, and the tiny letter stickers were from a Studio Calico Documenter kit.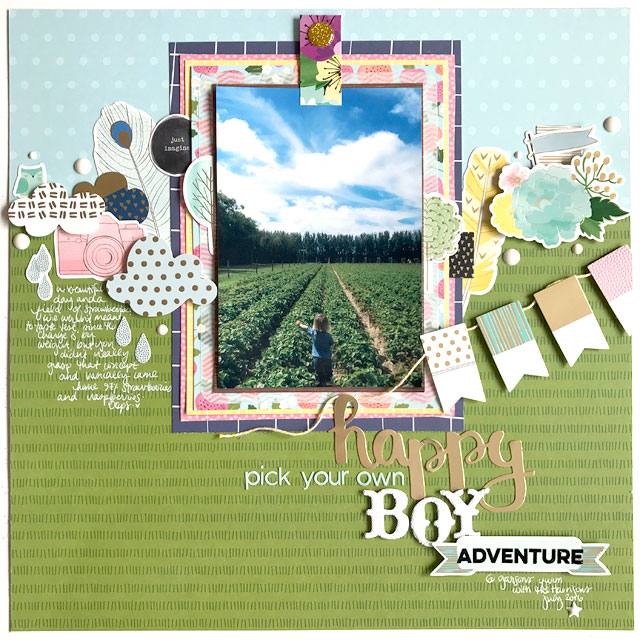 If you're trying to create your own page with a surplus of stickers, I'd suggest these top tips:
Make it a single photo page. You'll need plenty of space on the page to work with the stickers, plus you need that photo to hold its own. Of course you could print smaller photos to still have the same page space, but then everything in the smaller photos is more likely to be lost amongst all the designs of the stickers. Something with a simple visual composition to the photograph will work best to hold its own.
Select your sticker sheet wisely. If the set of stickers is just too varied, it will be difficult to pull all the randomness together. Look for a mix of things that are easy to use across lots of topics – labels, banners, and simple geometrics help. Florals can work beautifully if they are your thing. A sticker sheet with a typewriter, a mailbox, a bicycle, a birthday cake, and four birds is going to be far more difficult to pull together than some flowers, feathers, and labels.
Find a line on your page and stay on the line. If you've been scrapbooking for a while, you may have heard of the old 'sticker sneeze'. It was a description of a certain scrapbooking look, where pages were made by first matting and arranging the photos, then taking a sheet of small stickers and just dotting them anywhere and everywhere in the gaps. I have an early page like this where I scrapbooked photos of a beautiful rose garden and filled the gaps with tiny frog stickers. (Of course.) Admittedly, it's quite fun in that embrace-your-inner-pre-teen sort of way, it can leave your eyes not knowing where to look. For a look that says 'I meant to do this' rather than a sneeze, find a line somewhere on your page – probably with the photo on the line but it can work elsewhere – and build your stickers from that point. Foam squares are your friend for adding dimension to all your layers of design.
Have you made a page using at least half a sheet of stickers? Share it with us!

Read more about: adventures-of-glitter-girl
27 July 2017

Next post: I promise you can scrap these papers without pink
Previous post: You're Pure Magic: my first layout with the Glitter Girl collection