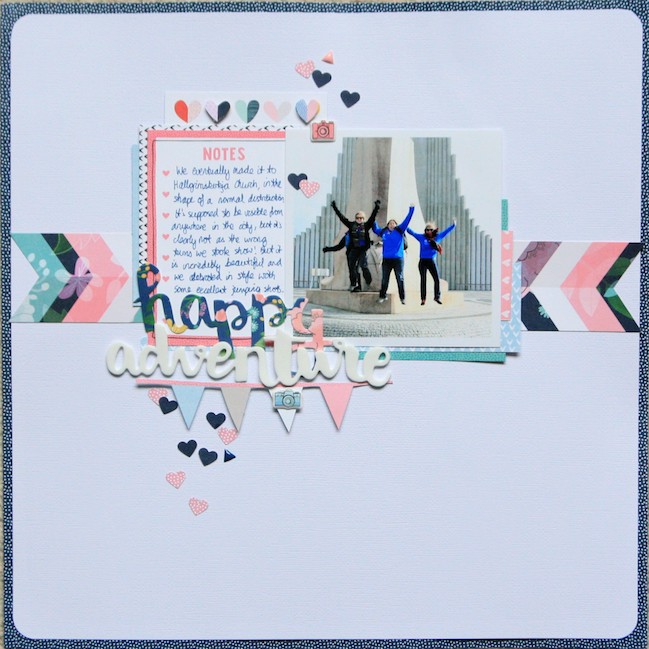 I'm delighted to share a scrapbook page from Kirsty Smith to kick off a look at what other designers are making with Little by Little. I'd love to see what you're making too! If you're posting pictures on social media, add the hashtag #AClittlebylittle. And now over to Kirsty for a quick dive into the new collection!
It was such a wonderful treat to be able to work with Shimelle's beautiful new collection, Little by Little. I was really struck by the versatility of this collection: the colours are wonderful and I was able to select a whole range of complimentary hues from a wide palette of options. To stay in keeping with my photo, I chose shades of blue, purple, pink and green; the range of shades and designs was just made for layering!
I used patterned paper to frame my photo in layers, opting for one of the boxes from the cut-apart sheet for my journaling. I love the paper with the large chevron as it has such a lovely textural mix of colours and patterns. I used the chevron to point towards the central design.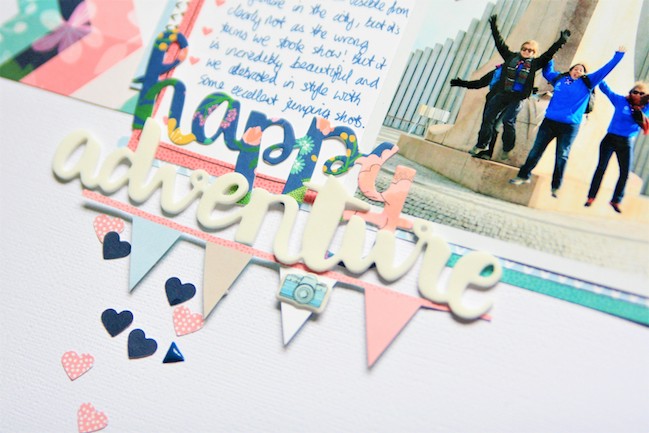 I love the floral motif that moves through Little by Little, as it's subtly present in lots of different elements of the collection, creating a delicate, whimsical feel. To complement my page I introduced the floral die cut word 'happy' (from the die-cut pack) and matched it with the scripted word 'adventure'. I adore anything that involves a hand-written look and so I love this page of foam Thickers in a brush-lettered style.
There are so many lovely elements in this collection to add the final embellishment for a scrapbook layout. I punched hearts out of patterned paper to scatter over the page, and layered stickers in little clusters. I am a big fan of including cameras on pretty much every page I make, as I feel it's so relevant to scrapbooking, and one of my favourite parts of the collection are the puffy camera stickers. They're so cute and petite, but add a brilliant splash of detail. I love the enamel dots too!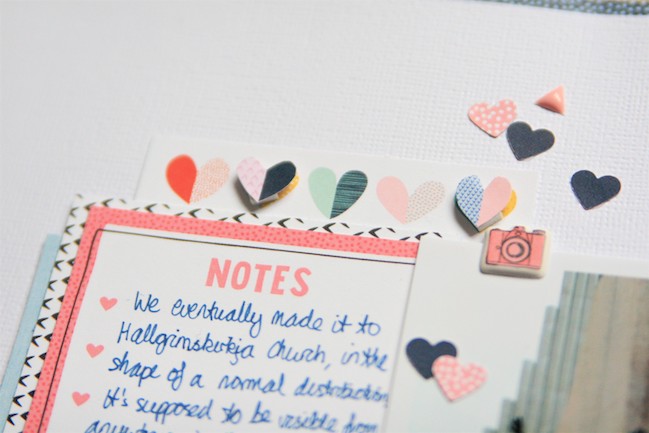 Overall this is such a beautiful collection to work with, and it has the potential to work for layouts of so many different themes. I hope you will enjoy using Little by Little as much as I am!

Read more about: american-crafts
24 February 2017

Next post: Glitter Girl Adventure 149: A 6x6 Solution
Previous post: Happy Valentine's Day!