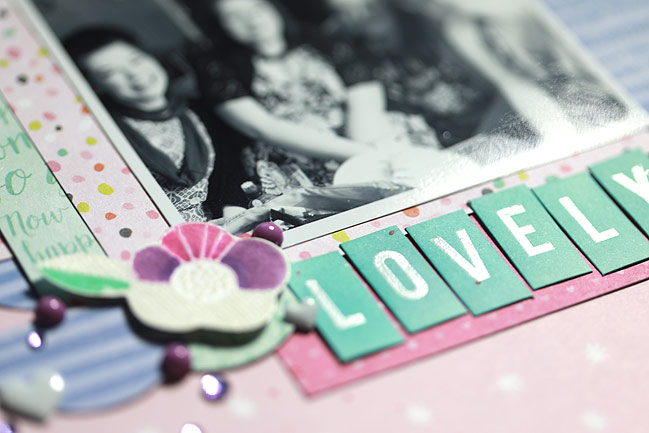 I can't be alone in loving to collect 6×6 paper pads. But they are piling up quicker than I can figure out how to use them on my scrapbook pages! I'd love some simple page formulas to work with this size. Glitter Girl, can you help?
Of course she can. This week Glitter Girl shares a page composition formula for four sheets of 6×6 paper plus a circle punch. With her embellishments, she's taking inspiration from the March 30 Day Colouring Challenge at from Kathy at The Daily Marker.
Come along for the adventure!
The papers featured this week come from the Oh My Heart collection by Paige Evans for Pink Paislee. I love the beautifully bright and happy colours in this collection! The floral stamp is by Amy Tangerine, embossed with white embossing powder and Versamark ink, then coloured with Sharpies. The tile letter stickers are from Heidi Swapp but are several years old now I'm afraid. The silver Thickers are Fitzgerald from my True Stories collection.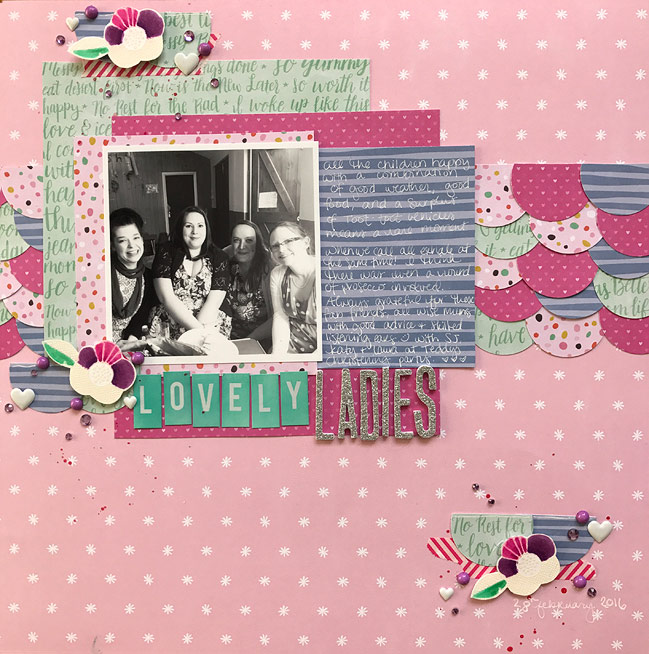 This page turned out to be quite the example of embracing things as they go. The colouring was certainly an experiment and I didn't expect to not be able to colour the centres of the flowers, but mixing the colours of the petals instead worked just fine. And I managed to get green ink on the layout not once but twice! Sigh. One spot is still there and I'm just going to leave it. The larger smudge bothered me more and I just chose to move the embellishment there to cover it rather than bring it down to the bottom edge like I first imagined. Actually, with a few days passed and going back to look, I like it there better, so yay for happy accidents!
A few posts from the archives might be useful if you're looking for more to do with your 6×6 paper pads on 12×12 pages:
Glitter Girl's take on minimal supplies
A rainbow-filled colour story
If you're busy scrapping with your 6×6 paper stash, please share what you're making! This link up will remain open until the end of the month, and you can choose to upload a picture or link to your blog, Facebook post, Instagram picture, or scrapbooking gallery.

Read more about: adventures-of-glitter-girl scrapbooking-videos
06 March 2017

Next post: A little old, a little new, and a bit of Harry Potter for good measure
Previous post: Getting started with Little by Little