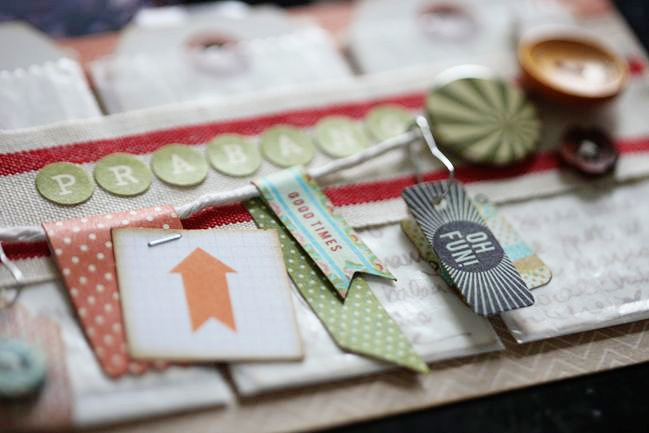 Thanks so much for sharing all your painted pages last week! This week, we're thinking all things travel and autumn, but don't worry – there is room to take this challenge to any topic you'd like to scrapbook. We're looking back at an older page and video and taking inspiration to make something new.
Every once in a while, I find it really interesting to look at how my process has changed over the years by reviewing old videos. (Not too much, mind you, because it is easy to just look at all the things I would do differently now and there's no sense in that!) That's the same desk I use now and I'm amazed at how much I managed to keep on the table. Today I'd be afraid it would all fall off and, with my luck, I'd smash a bottle of mist and paint everything in sight. Whoops!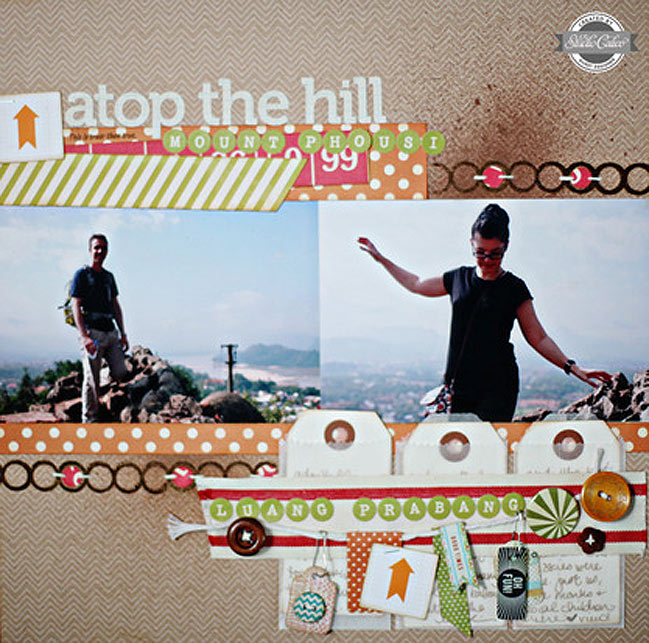 I made this page more than four years ago as a guest artist for Studio Calico, and it's one I still really like. Yes, it has plenty of embellishment, but there's also that big focal area across the middle of the page that lets the photos stand alone. And it's an easy design to adapt to your chosen level of embellishment – just use more or less in that bottom right corner as suits your style! But you could also take inspiration from just one little detail and have a very different page design: pop tags into vellum pockets or string small embellishments on twine, or place your title on a stack of paper strips, perhaps.
This week, I challenge you this week to take inspiration from this page. There's so much room to interpret this challenge that you might find you're not even making a scrapbook page, but rather a card, planner layout, or gift tag! To get you started on this week's challenge, take a look at these examples from contributing designer May Flaum and guest artist Sandy Lewis.
When I was looking at the sketch I made from this scrapbook layout, I got to thinking it would translate beautifully into a card design. I didn't have three little tags, so I went to my Shimelle die cut stash and found a few little things to cluster in a similar area. Using the big strip of white cardstock to hold my big sentiment? Perfect in lieu of photos!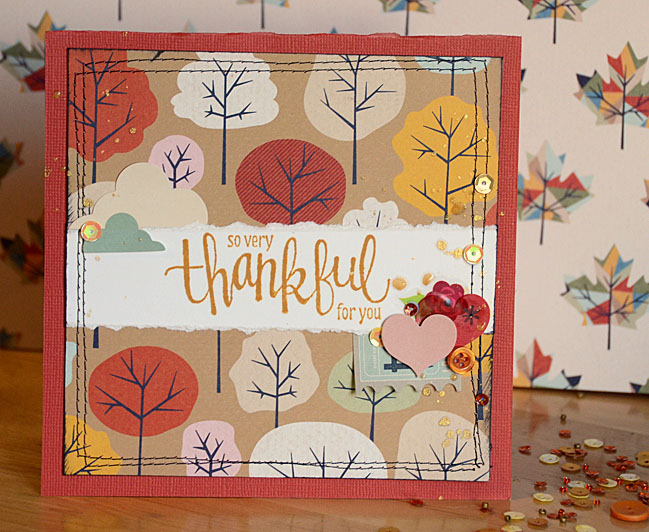 All ready for fall and inspired to try more paper crafting cross inspiration where sketches are concerned, I'm really loving how this turned out!
- May
(By the way, don't miss May's beautiful autumn star project – it's gorgeous!)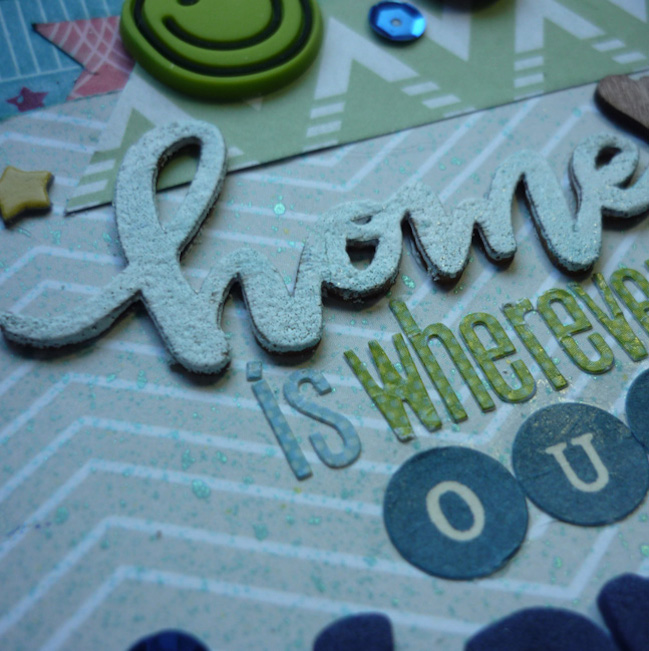 My only grandson turned one on my twenty-fifth anniversary, and photos of him and his family are some of my main inspirations for scrapping. Having watched Shimelle and Glitter Girl scrap for the past however many years, I often scrap lift from the videos. I used many of her lines on this layout that I scraplifted and made my own, and they work so well together: Go Now Go Journey paper, Starshine Orion and Hubble papers, washi, tiny letter stickers and embellishments. I used a wood word and rubber faces from Freckled Fawn, and Versamark and Hero Arts white embossing powder, along with Distress Ink in Peacock Feathers and the Tim Holtz applicator.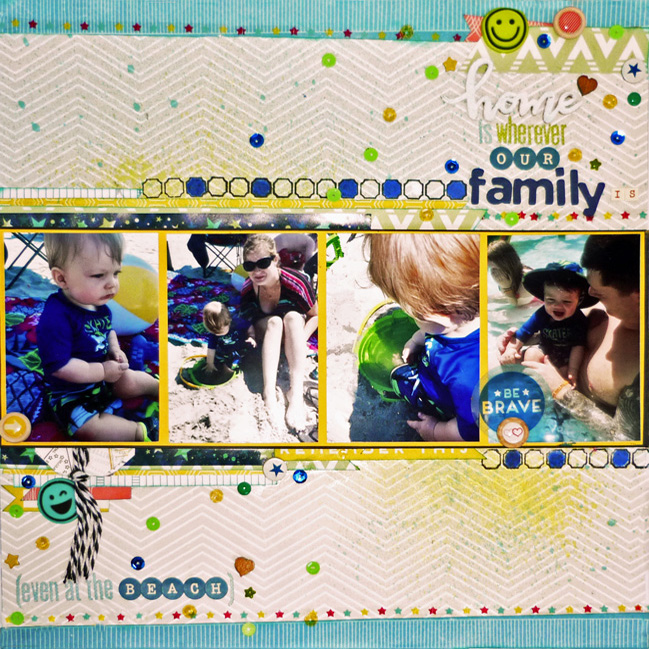 _My layout features my adorable grandson with his family at the beach for the very first time. I wanted to tell the story from the 'I'm home every time I'm with you' angle, rather than a vacation or travel topic. It seemed apt to work with the concept of 'home' with such a little one, as 'vacation' is a pretty complex topic for a baby. _
- Sandy
You have a week to complete the challenge and share your page – but of course you're welcome to set your own time schedule. Whatever keeps you happy and creative! By the way you don't have to link to your page on a blog if that's not your thing! You can simply upload a photo of your page when you click to add yours or you can link to any site, including Instagram, Facebook, and scrapbook page galleries. We'd love to see what you're making, no matter where you prefer to share!
Today's Guest Artist: Sandy Lewis loves family, scrapbooking, and Chihuahuas. You can find more from Sandy on Instagram, Pinterest, and her blog.

Read more about: scrapbooking-challenges
26 September 2016

Next post: Back to School scrapbook ideas
Previous post: Scrapbook a nature walk with Go Now Go