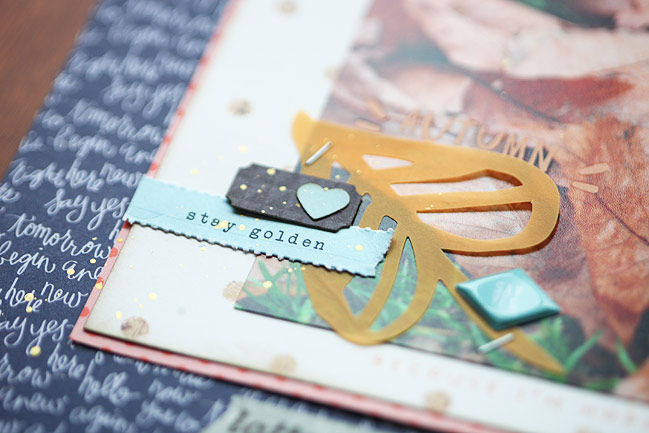 It wouldn't be September without a leaf challenge, right? Southern hemisphere friends, please tell me you can take some leafy inspiration for springtime and use an entirely different colour scheme than we are up here, okay? Leaves, leaves aplenty!
This week I challenge you this week to scrapbook with leaves. It is that simple! Use a leaf-printed paper or stamp some leaves or punch them or put some stickers to work, or all of the above. Leaves it is, and everything else is completely up to you, so you can take your inspiration in any direction you like! You might find this tutorial or this video from the archives inspiring for this challenge too, but to get you started on this week's challenge, take a look at these examples from contributing designer Leigh Ann Odynski and guest artist Ingunn Mankiewicz.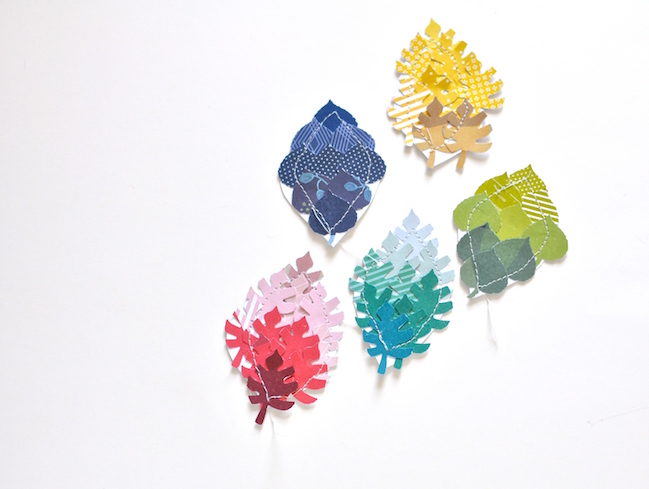 This week's challenge is such a great starting point to tell the story of a morning nature walk along the ocean. To enhance the organic feel of the layout, I chose to punch a couple different leaf shapes from lots of different patterns. You can create an ombre look by punching lighter tints to darker shades of the same color. Layer and glue them to a simple hand cut leaf shape, then stitch around each one. Have fun punching away, and see how many different patterns you can use! (I used patterns from True Stories, Starshine, and the new Go Now Go collections.)
Decide how to position your leaf shapes without adhesive first, then glue smaller single leaves around the page. I then machine stitched around the page in a loose circle about five times.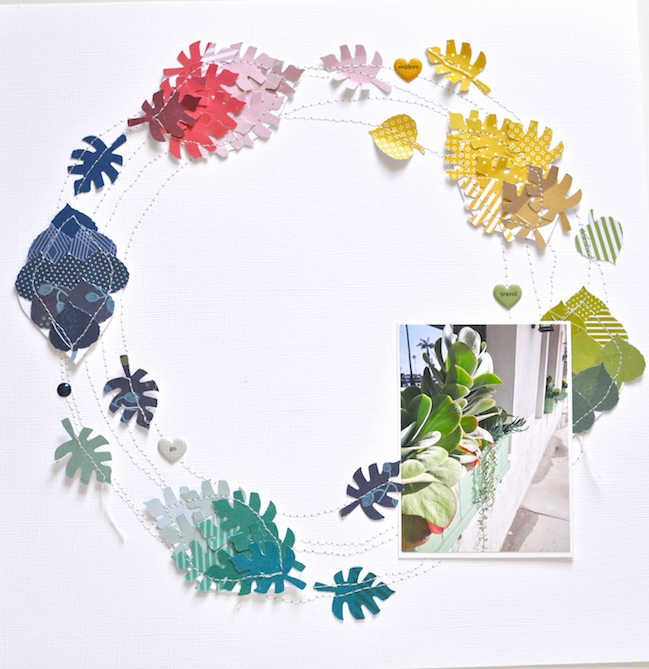 Now add your ombre leaves, and some new Go Now Go puffy Heart Stickers and enamel shapes.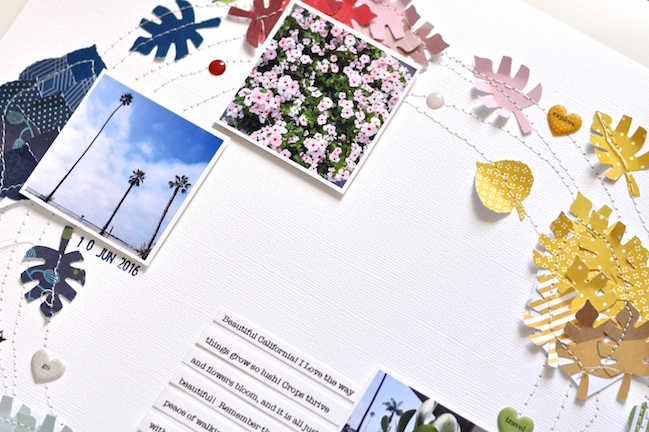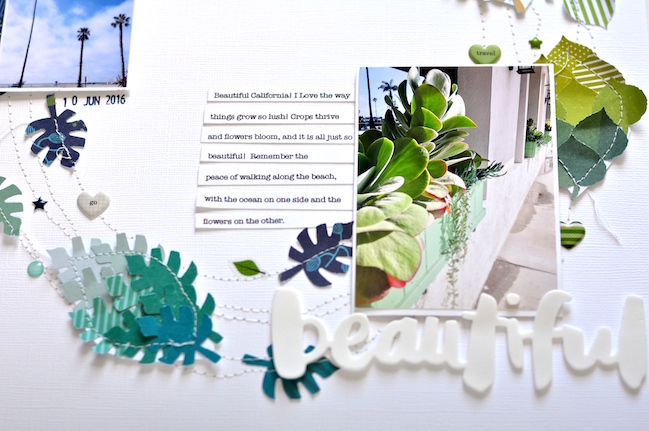 I think the stitched wonky circles continue the organic lines in the photos, and the punched leaves. I added three photos from this peaceful walk along the shore, and attached them according to the colors in each photo.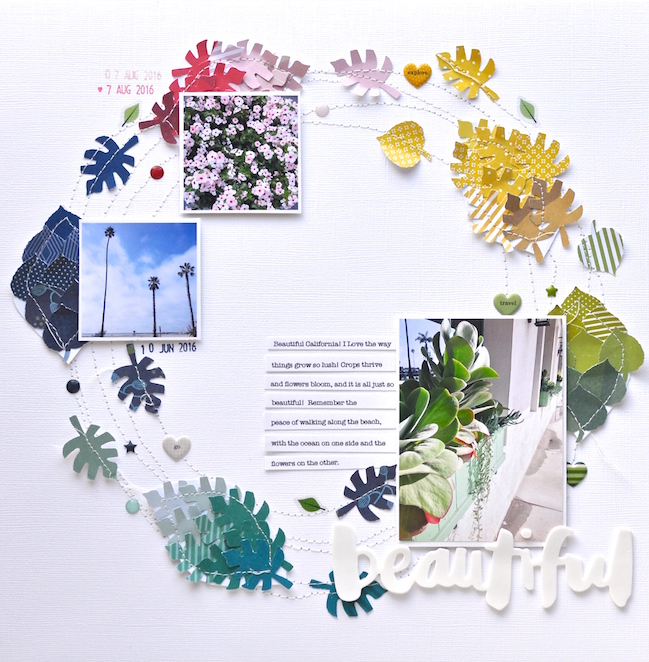 Now you can simply add your journaling and title, and your favorite Go Now Go stickers and enamel shapes to fill in any empty spots around the circle! I really love these challenges, as they always get me thinking more about the story I want to share and how to connect it with the supplies!
Thank you for stopping by today, and I can't wait to see what you create for this leaf motif challenge!
- Leigh Ann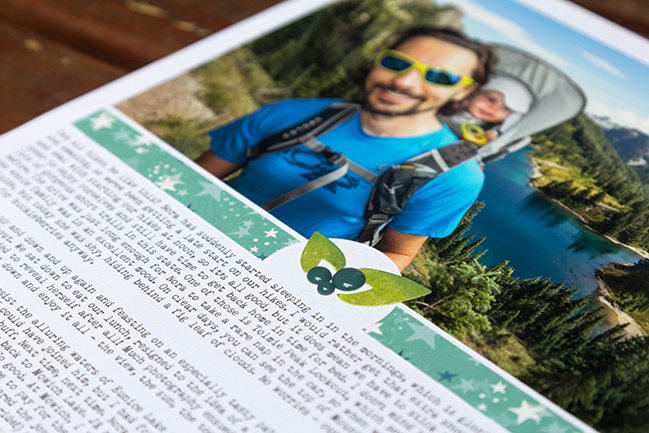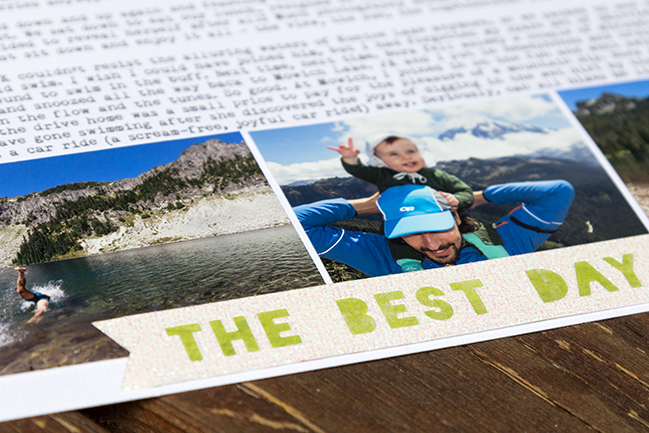 One of the things I remember most vividly from this hike was how amazingly delicious the huckleberries were, and I keep going on about them in my journaling. Unfortunately I somehow failed to get a photo of those tasty little trailside snacks, so I wanted to at least honor them in embellishment form.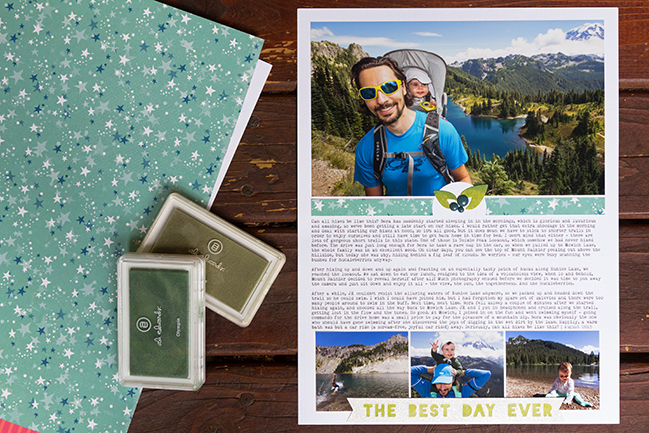 I had limited space due to squeezing in as many photos and words as possible, but I opened up a little half circle for them in the main photo. I cut out a couple of leaves and colored them with two shades of green ink (while congratulating myself, an incorrigible clean & simple scrapbooker, on my extreme artsiness) and used enamel dots as berries. I used the same inks for my title background to repeat the pop of green color.
- Ingunn
You have a week to complete the challenge and share a link – but of course you're welcome to set your own time schedule. Whatever keeps you happy and creative!
I'll see you tomorrow to share how I took on this challenge!
Today's Guest Artist: Ingunn Markiewicz loves hiking, scrapbooking, and eating plants (not just huckleberries). You can find more from Ingunn on Instagram and her blog.

Read more about: scrapbooking-challenges
12 September 2016

Next post: Weekly Challenge :: Paint the Edge of the Page
Previous post: Scrapbooking Back to School with comparison photos