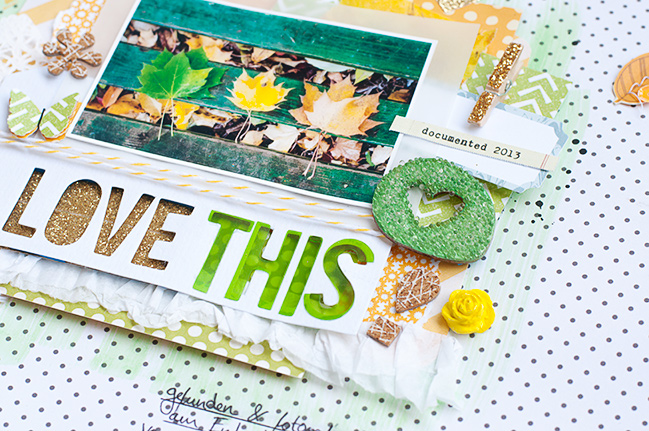 Hello, my name is Jessica and today I would like to show you how to add more dimension to your scrapbooking pages. I love pages with a lot depth, little details and things that pop out. Unfortunately this isn't always good to see on pictures, but it's so beautiful in real life! Even though I hope you get an impression of it with this tutorial.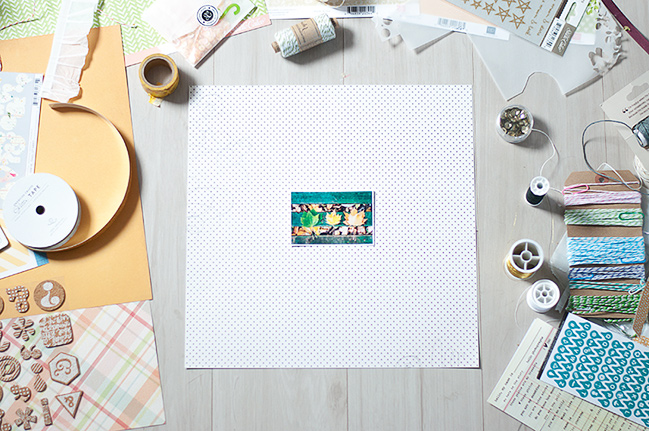 This is my starting point: Sitting on my floor, surrounded by beautiful supplies. I've already chosen a picture and a background paper, and also a cup of coffee prepared, just not visible on the picture :) Perfect to proceed!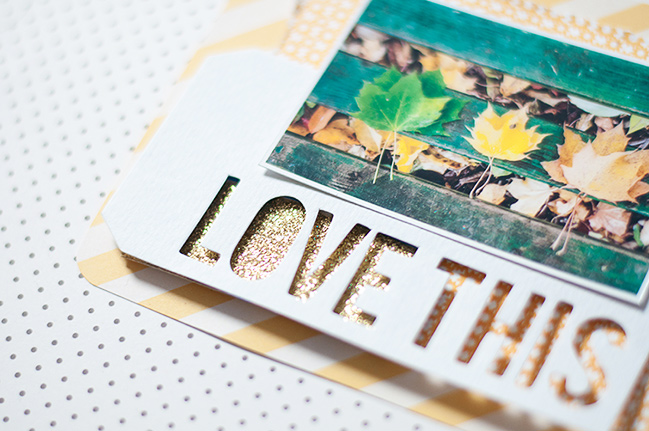 In one of my first steps I took stripes of glitter tape and attached these with foam squares under my tag. This is a first easy step to let it pop out of your page more, furthermore glitter always adds a glamorous look and catches your eyes.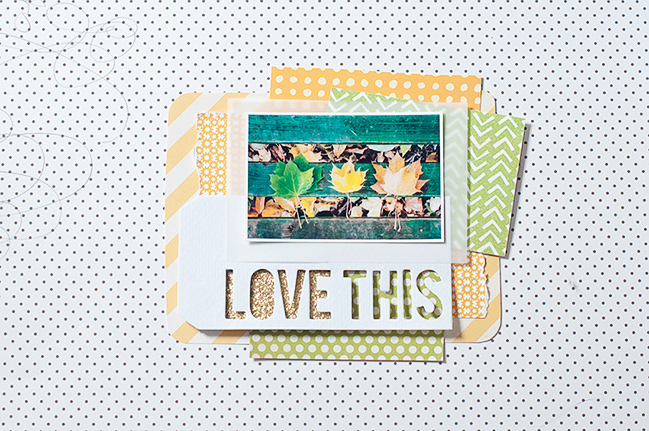 Next I started layering some papers. I took various sizes and arranged some straight and some a bit diagonal, also I mixed up straight edges cutted with a scissor and edges ripped with a ruler. Makes it already look a bit more interesting. At this point, I still have everything unmounted on my page, to be able to add something more later, if I want to.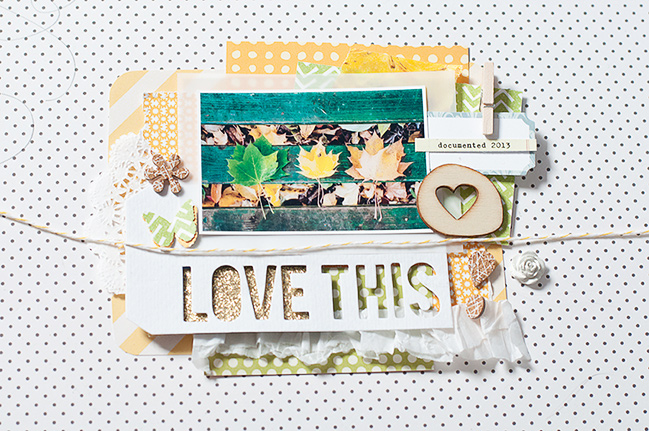 But layering papers isn't the only way to create more depth on your pages, let's go on with the embellishments, I've mixed up various materials and shapes and also layered them a bit or rather stuck them between the papers. There's a stripe washi, a wooden clothespin, cork stickers, punched butterflies (three layers), wooden heart shape, rose out of modelling clay, two labels, a piece of doilie and crinkled tissue paper. Also I plan to wrap around twine on the whole stack in the end, to add one more layer.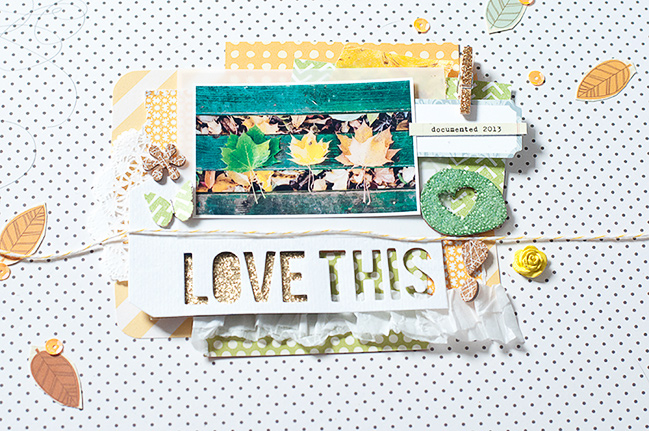 To let some parts pop out even more, I've customized some things a bit: I've stapled the butterfly layers together, added a thin layer glue and glitter to the wooden clothespin, painted the rose yellow with watercolors and added a thin layer gesso to the heart, then a layer of green watercolor, a layer with Glossy Accent and at least I sprinkled over some microbeads. Also you can see that I started to think about the design of the rest of the page. I've cutted out leaves from a pattern paper and grabbed some sequins.
It's time now to secure the middle part before going on. To keep the soft look I use just spots of glue to secure the papers and embellishments or rather use more foam squares. Now that my middle part is almost finished I've added something to the corners, and sewed the leaves just in the middle part, to be able to bend them up.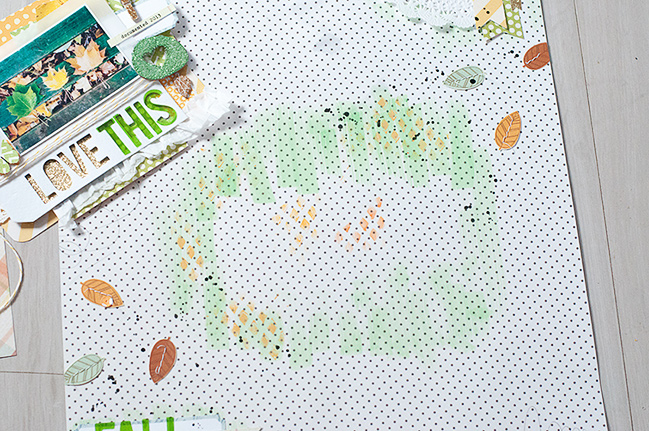 Back to the background: I wanted to add a bit more structure to it too. I've used a brush and green watercolor to apply a soft touch to the background and let the middle part pop out more. I've also added a second layer with orange watercolor and a mask. You can see that I tried out the paint in the middle part, that's definitely hidden later. It's great to use these parts to try out how the paint will look on the background actually, before applying it to the parts that you can see later. I also used a brush and black watercolor to apply some splatters, always a good way to make the page look a bit happier.
In the end I've added a bit journaling, some stapler accents (I've used a permanent marker to color them black instead of silver) and triangles out of glitter tape.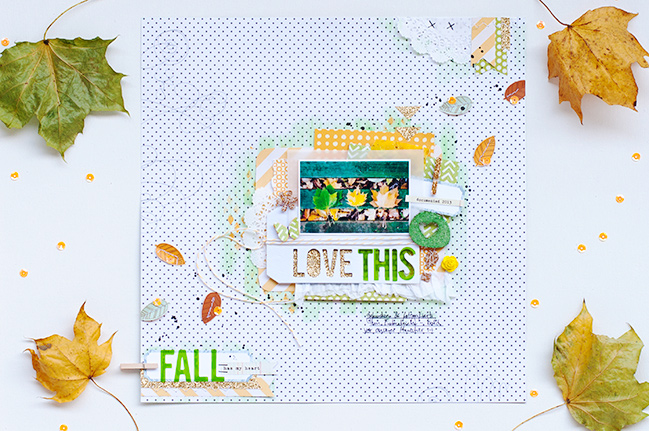 That was my way to add more depth to a page using different materials and different structures, watercolor, layered paper, little details and customized embellishments. I hope you liked it and feel encouraged to try it on your own! If so, I would love to see your projects, leave a link in the comment section to let me know. Thanks for watching!
| | |
| --- | --- |
| Jessica Lohof loves all things creative and started to document daily life stories with scrapbooking in 2011. She is a German girl living in a small town in the middle of the country. If she is not making a huge mess on her crafting table, she enjoys improving her skills in taking pictures and spending quality time with friends and family. Jessica is currently proud to design for Gossamer Blue, Color Hills and Color Conspiracy. She shares her love for scrapbooking on her blog Talk About Priceless and through Instagram, Facebook and Pinterest | |

Read more about:
04 November 2013

Next post: Hoop-la: Crafting with embroidery hoops
Previous post: Best of Both Worlds :: My scrapbooking product picks for November 2013