In celebration of a lovely layered challenge to start September, contributing designer Leigh Ann Odynski joins us to share her take on scrapbook layering. Enjoy!
I love this week's challenge! I'll be honest. It struck me that vehicles are really not something that I've scrapbooked. I mean, I could only find about four photos of our cars from the last twenty years! Then it hit me. Look at what story you want to tell. That began with a question.
"What memories are centered around our cars?"
We bring babies and groceries home in them, travel on family road trips, go out on dates, and to church on Sunday, and hop in them to start our lives together after the wedding with streamers flailing and cans rattling! After I found the 1950 photo of my Grandma and Papa, holding my Mom, I realized I could tell the story of our family cars over the last 66 years! OF course you don't need to span that broad of a timeframe. Brainstorm all the memories associated with your vehicles, and see how your story unfolds.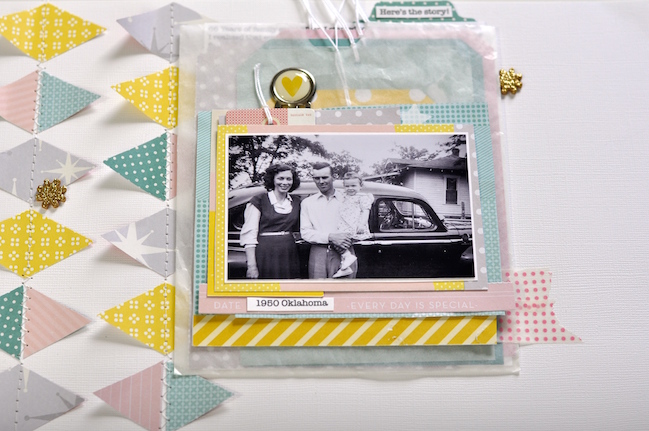 I really loved the mod feel of the 1950 photo, so I went with a 1950s inspired color scheme. The Starshine "Juno" paper had the perfect motif! The repeating diamonds on the left side of the layout utilize the tone on tone patterns from Shimelle's lines. Love the subtle effect!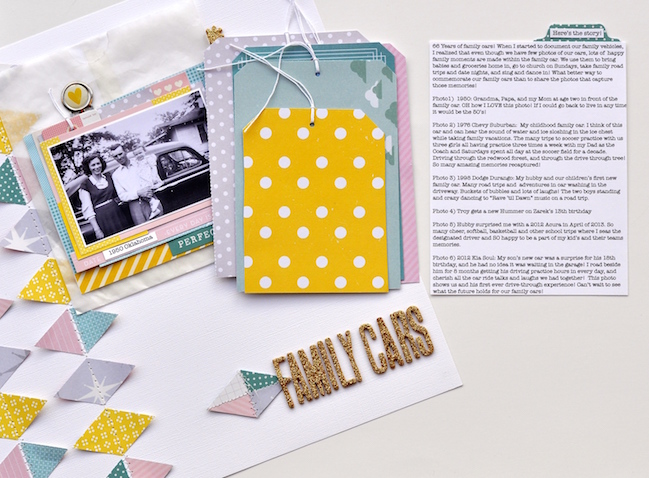 To keep the layout clean, I wanted to house all six color photos in the glassine bag with the journaling. I hand cut random size tags from the True Stories 6×6 pad. The crochet thread allows you to easily pull the tags out of the bag to read and view.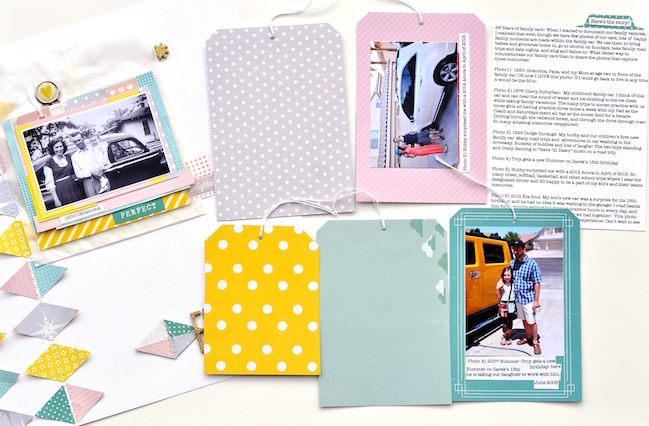 Lots of layers were used figuratively and literally, in the layers of time represented, and the tons of paper strips used behind the focal point photo. I also added more layers with True Stories word stickers, die cuts, and an epoxy paper clip from Starshine.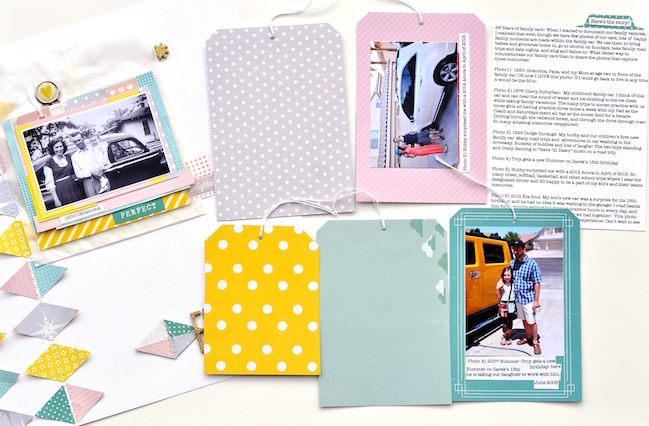 In the end, this page took me a lot longer than usual to create, but it was so worth it! I can't believe I have never realized how substantial the family vehicle is in our lives! Think about your life and the story you want to tell for future generations, and maybe even find a story you didn't know was there!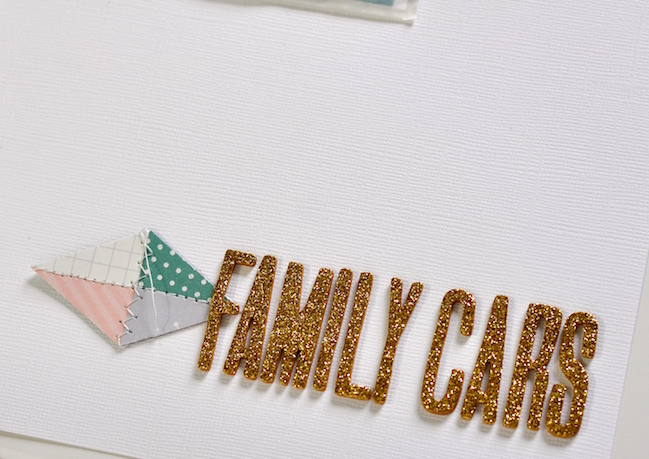 Thank you so much to Shimelle, for coming up with these challenges! If not for this challenge, I would not have this page that I cherish so much, and I am so thankful!l
I would love to see your take on this week's challenge! Share your link here and happy creating!

Read more about:
03 September 2016

Next post: Weekly Challenge :: Use floral motifs
Previous post: Weekly Challenge :: Use lots and lots of layers