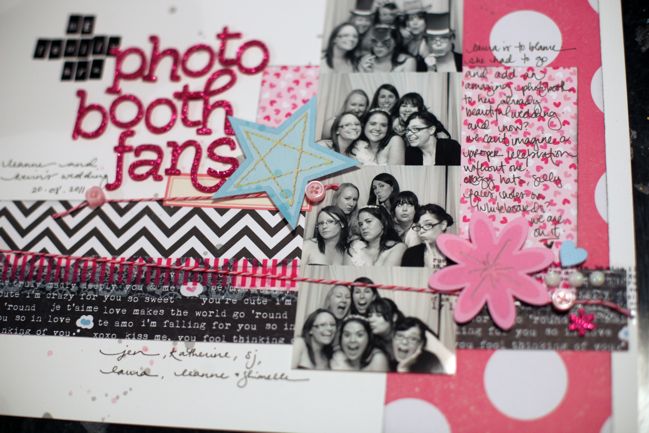 I've been doing a bit of organising of files on computer drives. That's always ridiculously exciting, right? Trying to sort through some of my earliest videos and see how much of that older content is still useful and how much of it was so trend-based it would probably be best ignored today, and one of the earliest Glitter Girl videos made me sigh. Adventure 004 was my first video truly dedicated to layering, and it's basically the most watched process video I've ever made. Episode FOUR! So very early indeed.
But I still love layering. My layers change with time and product but the principles remain the same. I like small angles, a mix of patterns, contrast and harmony in the colours. I love that pulling pieces of pretty paper from my scrap basket feels like bonus use of a product, so I can layer so much onto a page without feeling like it cost the earth, even if that is somewhat creative accounting. I'd love to see and hear what you love about layering too.
This week, I challenge you this week to scrapbook with lots and lots of layers. That's as simple as challenges come, right? Everything is completely up to you, so you can take your inspiration in any direction you like! To get you started on this week's challenge, take a look at these examples from contributing designer May Flaum and guest artist Laura Payne.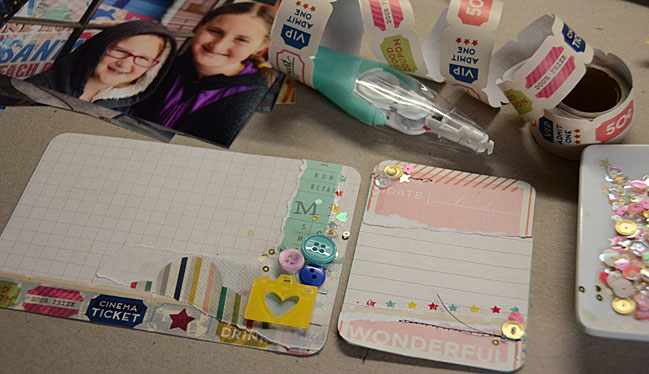 When it comes to lots of layers on my scrapbook pages, I really like to focus in on details in specific areas. One such example? Taking journaling cards that perhaps aren't my style, and transforming them into embellished gems ready to top off any scrapbook or pocket page.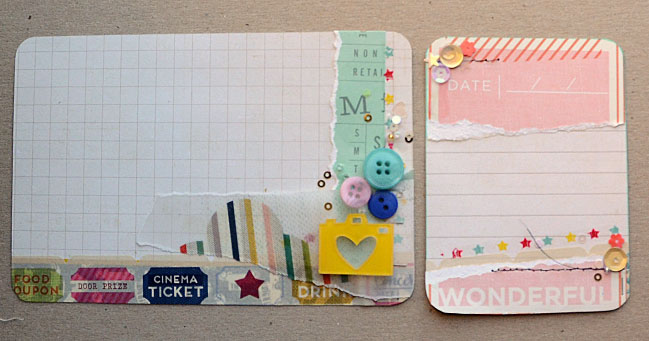 These days I'm recovering from a complex wrist injury that has me barely holding a pen and only able to work in small batches of time. Dressing up one or two journaling cards with scraps and layers has been just the ticket.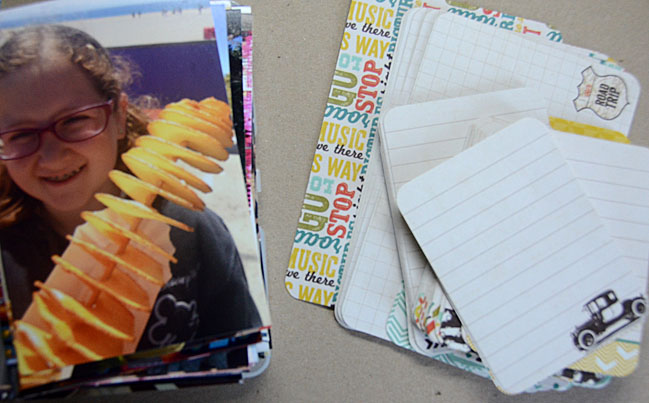 I started with two travel cards that I knew I'd never use. Old cars were on them, and well that doesn't fit with anything I do. Not to worry – first some Shimelle ticket tape, then some roll-on stars, and then a few scraps of papers quickly covered the cars up as well as adding some lovely layers. The key to layering for me is to be OK with any early layers being partially, or even fully covered when done. You'll also want to mix up size, pattern, and color for variety. Once you've added a few paper scraps (great way to clean the desk) – add some texture. I like tiny staples and stitching. If bulk is an issue, add drops of mist, stickers, or some sequins. Otherwise grab those wood veneer pieces, buttons, and other embellishments and add that flair!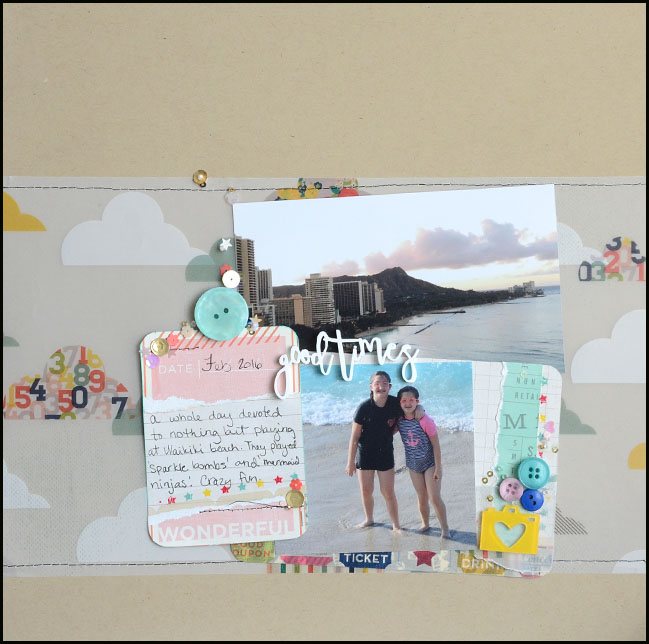 With the cards finished and waiting, it was quick and easy to turn them into a completed 12×12 page with my next pocket of time and energy. It's great to remember these cards can look brilliant on a more traditional page as well as in the divided page protector style.
- May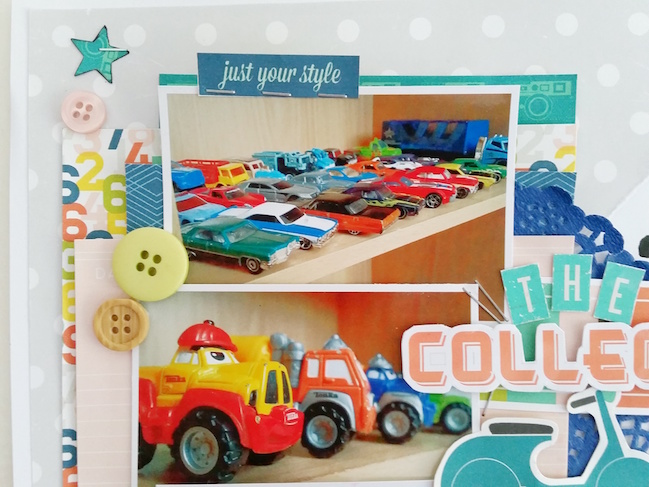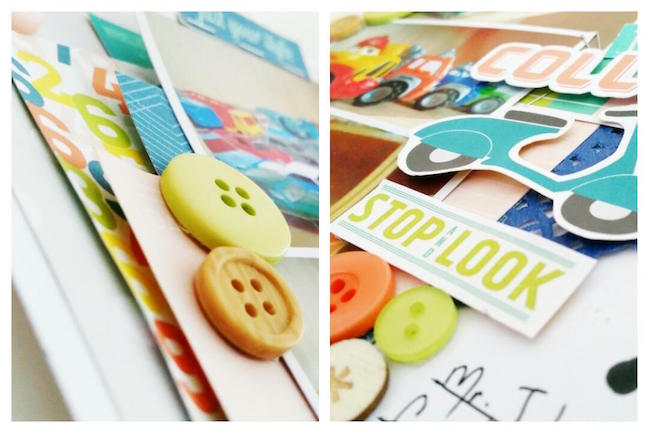 Being mama to a little boy obsessed with his toy cars made the theme of vehicles something i could totally scrap about, and his ever growing collection was something i definitely wanted to document!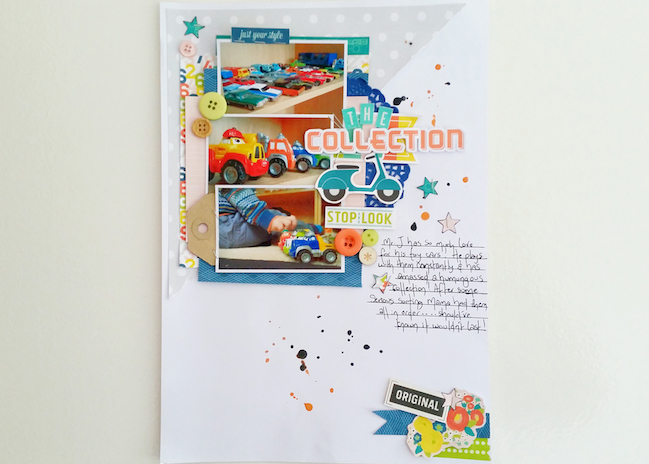 My go to process when scrapping is to take several pieces of patterned paper and stack them all up behind my photos. It's a look I truly love and I knew the papers in Shimelle's True Stories collection would be the perfect match to the bright colours in my photos. I added a doily and a kraft tag in between to build up the layering and finished off with embellishments and a simple title created on my computer and cut out.
- Laura
You have a week to complete the challenge and share a link – but of course you're welcome to set your own time schedule. Whatever keeps you happy and creative!
Today's Guest Artist: Laura Payne loves her little family, anything crafty, and copious amounts of tea. You can find more from Laura on Instagram.

Read more about: scrapbooking-challenges
30 August 2016

Next post: A Scrapbook Page with Lots of Layers and Vehicles
Previous post: Weekly Challenge :: Stitch on Your Page