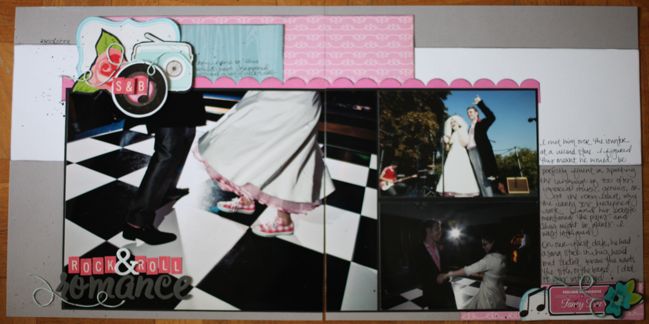 It was so lovely to see all your paper layering in last week's challenge! Today I write from a window with a gloomy, grey sky, and plenty of raindrops. Is this the end of summer and the start of all things autumnal? Well, let's have at least one more challenge with something filled with summer blossoms.
This week, I challenge you this week to scrapbook with floral motifs. It can be something quite minimal, like the single flower tucked into each embellishment cluster in the double page above, or it can be something completely filled to bursting with blossoms! Everything else is completely up to you, so you can take your inspiration in any direction you like! To get you started on this week's challenge, take a look at these examples from contributing designer Meghann Andrew and guest artist Diana Rivera Torres.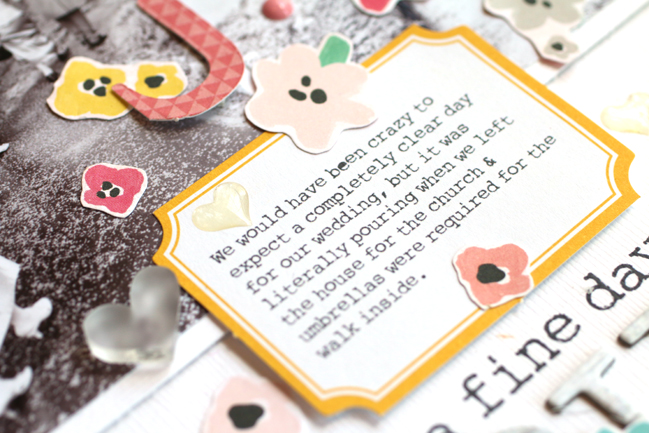 One of the things I remember most about my wedding day was the morning of rain, and the feeling of dread I had before walking out in the downpour wearing a silk wedding dress. I guess that's what you get when you get married in Scotland, right? Our wedding photographer captured several photos of the wedding party arriving at the church under umbrellas, which I had not yet documented, and it was about time to do that.
Instead of using raindrops, I decided to create a shower of flowers on my 8-1/2" 11" layout!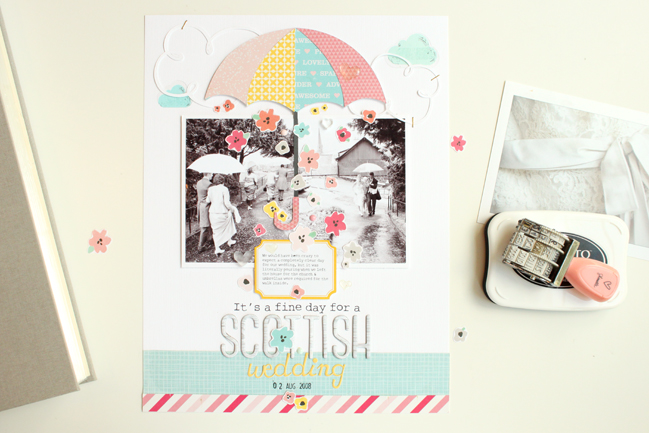 To create a lot of contrast from the brightly colored die-cut umbrella and fussy-cut flowers, I used black and white photos and a clean, white background.
The dreary, rainy morning turned into a beautiful, warm sunny day for our wedding reception, and this layout definitely looks on the bright and sunny side of the day!
- Meghann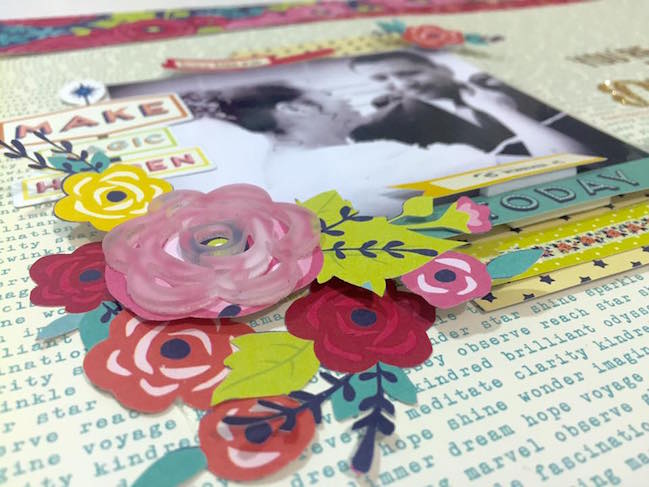 Scrapbooking is the perfect way to express my feelings about these pictures. I love to challenge myself to give a whole new way to use paper collections that are supposed to be used for other topics or experiment with materials like heat transfer in paper.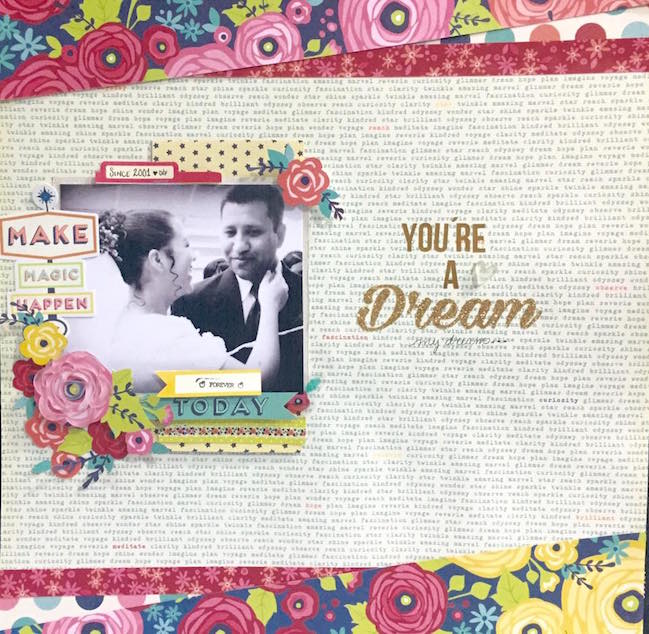 Because of a mistake I don't have many pictures of my wedding, but this is one of my favourites, and I always tell a different story or feeling about it each time I work with it. I love the flowers of Shimelle's Starshine Collection because they remind me of the bold colors of my bridal bouquet. I made the title with Silhouette heat transfer and adhesive vinyl.
- Diana
You have a week to complete the challenge and share a link – but of course you're welcome to set your own time schedule. Whatever keeps you happy and creative!
Today's Guest Artist: Diana Rivera Torres loves writing, music and stories. You can find more from Diana on Instagram, YouTube, and her blog.

Read more about: scrapbooking-challenges
05 September 2016

Next post: Scrapbooking Back to School with comparison photos
Previous post: A Scrapbook Page with Lots of Layers and Vehicles