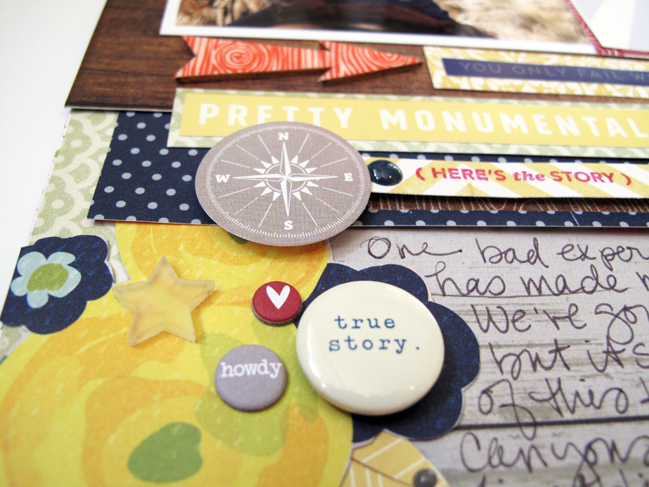 Hands up if you have plenty of outdoor photos you need to get into your albums! As beautiful as they are, it can be easy to fall into a rut of ruddy, dark colours and neutrals with outdoor pages, and sometimes it's nice to remember the world outside our windows isn't actually entirely made of kraft, evergreen, and bark. Please welcome guest artist Helen De Ram, who challenges you to scrap at least one outdoor photo in a colourful style of your choice.
My husband and I enjoy the great outdoors and try to experience it in different ways. A road trip out west every summer gives us the opportunity to take horseback rides through beautiful landscapes in a part of the country that we love. This page tells the story of a ride we took through southern Utah that helped me let go of a previous bad experience so I could fully enjoy myself.
When selecting a color story for the layout, I took my inspiration from the photos and my memories of the colors in the canyons and deserts we rode through. I selected blue, green, brown, and grey, as well as yellow and red.
The Grey Floral paper from Shimelle's True Stories collection did double duty as I was able to use the navy polka dot side behind the photos, and the yellow and blue flowers on the other side were perfect to cut out and use as a visual triangle around the page.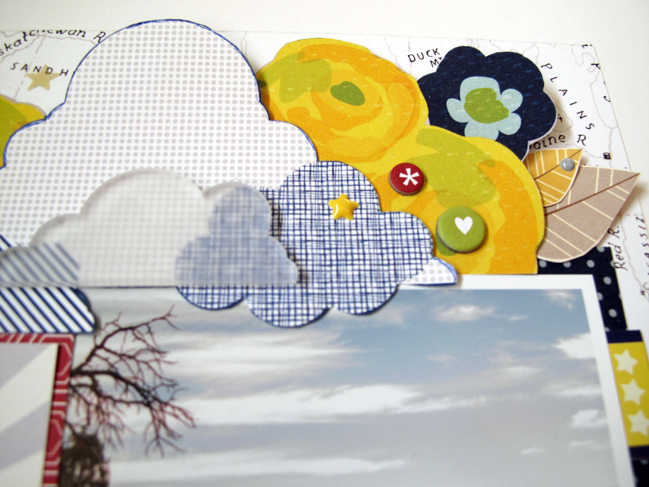 I usually use letter stickers to create my title, but instead the Shine Brightly card from the Starshine cut apart sheet was perfect in color and sentiment. To make it clear that it was my title, I placed it in the center and used red patterned paper as a border.
I was able to find several sentiments in the phase stickers from both Starshine and True Stories that were good matches to my color story. They also help to connect the photos and title card to the journaling and embellishments at the bottom of the page.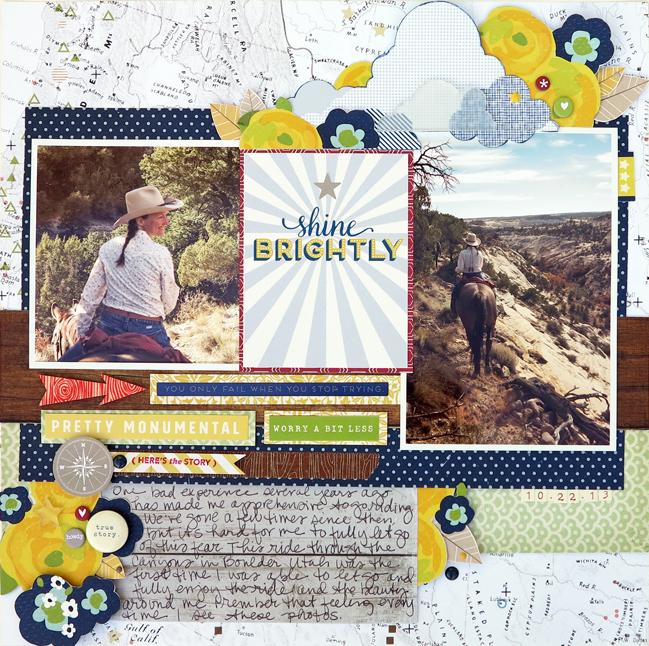 Starting with a color story made it easier to select patterned papers and embellishments to create the design as well as support the story and the photos on my page. Will you choose your colors first for this challenge or is there a perfect product you have in mind to suit an outdoor story of your own? We can't wait to see what you make with those pictures.
A note about this weekend's challenges: I'm leaving all the challenges open until the end of the following weekend to allow more time to participate, but the special discount on the new class will be sent to those who upload a new project just this weekend – by the end of Sunday, 30th of October, 2016. This is for new layouts created this weekend, not archived layouts made previously. One discount applicable per person. You can upload your page to another site (blog, Instagram, Facebook, scrapbooking gallery, etc) and use the InLinkz button above to link to that OR you can upload a photo of your page directly with the same button rather than linking elsewhere. Either is fine! If you have trouble figuring out what to click, give a shout in the comments and I'll email you with help. Thanks!
Today's Guest Artist: Helen De Ram loves coffee with cream, old movies, and quiet country roads. You can find more from Helen on Instagram.

Read more about: scrapbooking-challenges inspiration-party
29 October 2016

Next post: Challenge 06 :: Scrapbook with a BIG Title
Previous post: Challenge 04:: Layers of Colour