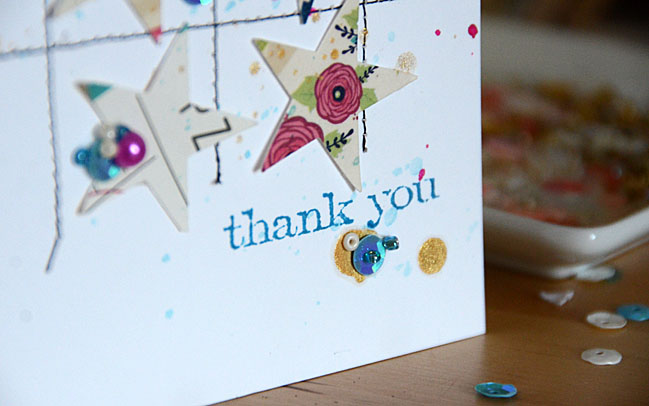 The next challenge is one that is minimal on supplies and time – perfect for getting something done right now. You can probably do this without clearing your desk! May Flaum and I both heartily endorse that particular artistic technique!
For my inspiration, I was scrolling through projects I've done for Shimelle.com over the years and I stumbled across this card (it has a video) and I got to thinking about washi tape, shapes, and cards. I suppose you'd have to be inside my mind to make the connection on first glance, but trust me, it's there!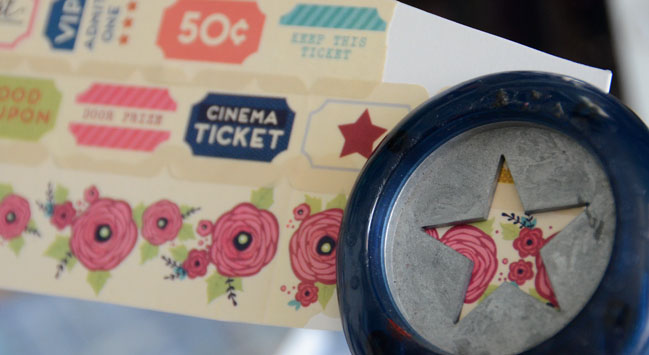 For my card I first took washi tape and loaded up some white cardstock. Then I cut stars out of it with a paper punch. I love doing this – so quick and easy and it's always interesting results.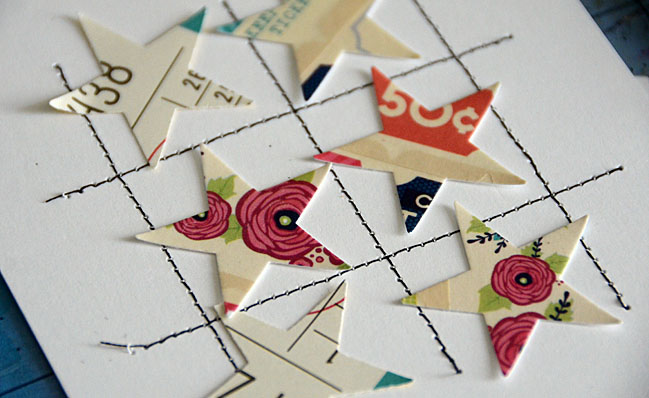 The next step, I stitched five lines in a grid pattern with my sewing machine on a 4 ¼ x 5 ½" card. Don't have one? Just use pen! With this done I was ready to rock! First up, add the stars to the grid, decide which you like where, and then really get crazy. I used various Heidi Swapp mists and flicked colors here and there. Then I added a few sequins, buttons, and fun accents and bam! Card set.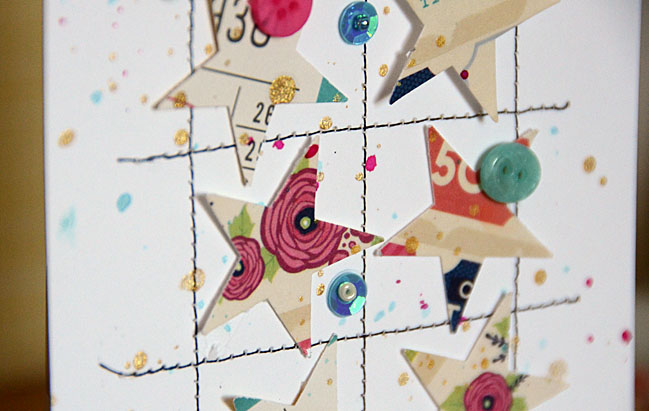 Stickers or rub-ons would be great for the sentiment, in my case I stamped thank you. What I love about this and the original inspiration is that it's bits & pieces. Lines & details on a plain white card. Great for scraps, when you're short on time, or if you're just wanting a splash of color on a homemade card.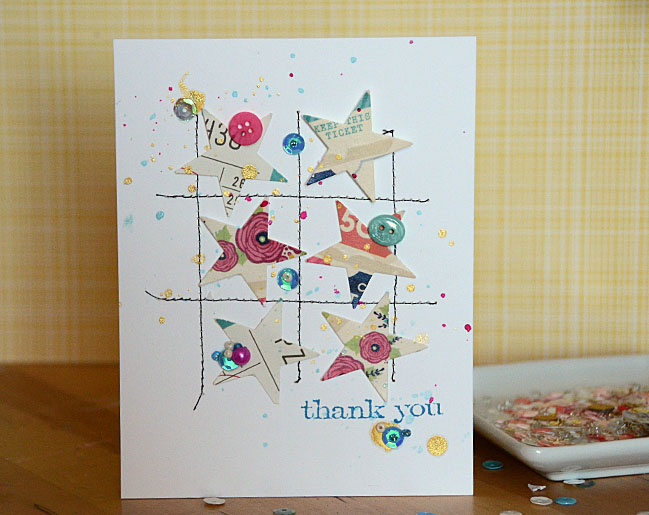 I hope I've inspired you to drop a note to a friend today!
If you put May's inspiration to work for you on any project between now and the 10th of August, please share it here. We'd love to see what you make!

This weekend is brought to you by The 20 Project – a brand new online class with 20 new process videos. Class starts Wednesday, so now is the perfect time to sign up!


Read more about: inspiration-party
30 July 2016

Next post: Meghann, Nancy, and horizontal composition
Previous post: Katty, Gina, and geometric scrapbook designs