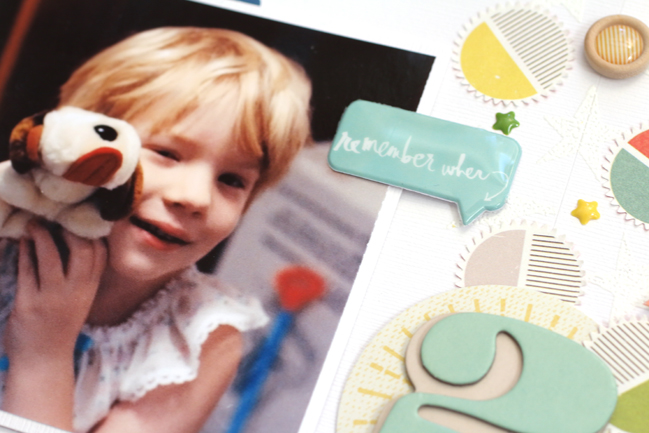 Today I'm delighted to welcome contributing designer Meghann Andrew to share her thoughts on journaling, childhood, and scrapbooks. Thank you Meghann!
As a mom to a toddler, I am in the midst of childhood every day – surrounded by toys, tantrums, make believe moments and big adventures that take us just down the street. While ninety-five percent of what I scrapbook lately is my daughter, I also think it is important to reflect on our own experiences in life, and document them. All too often in my journaling, I find myself starting with, "today we," or "we went," typically sticking with the facts and how I felt about the experience, but this layout takes a different approach to my journaling, and I decided to compare my childhood in the 80s to my daughter's childhood today.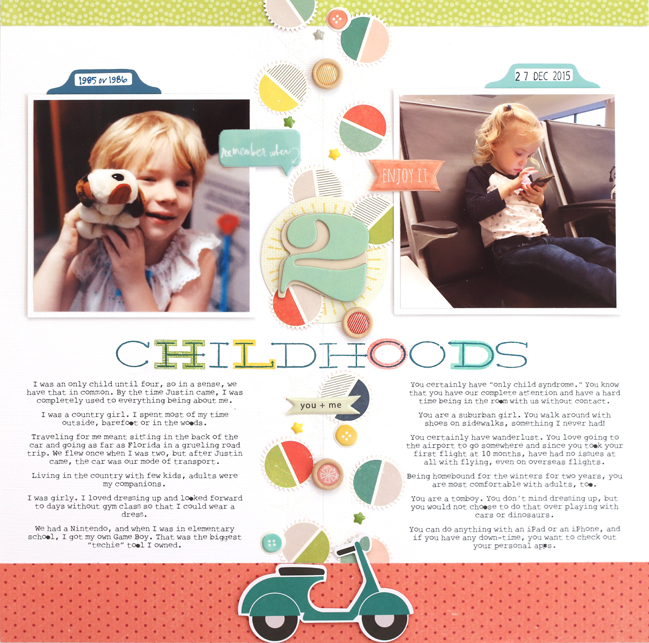 The idea for this approach came from the photo of my daughter, sitting in the airport terminal, casually playing on an iPhone, waiting for our flight to board, and all of the feelings and memories of my own childhood that that photo evoked. My layout, which also features a photo of myself at the same age, playing with a stuffed animal, rather than a tech gadget, was designed with two separate vertical columns of photos and text with a third column of embellishment in the middle to show the separation between us.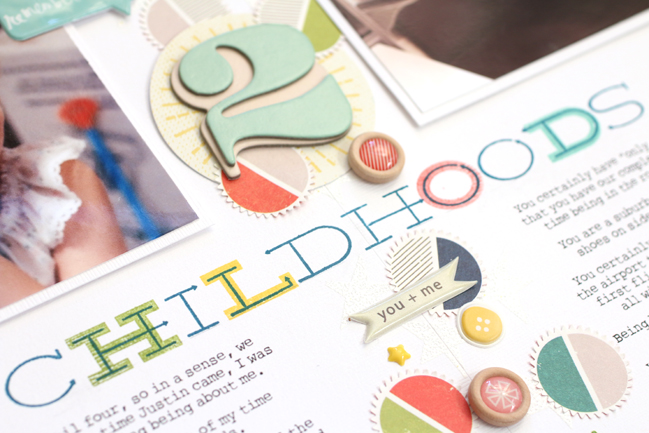 To ground the photos with a horizontal element underneath, I stamped my title with a playful, yet clean alphabet stamp to fit the design and color palette of the layout. This also created a great transition between my photos and my journaling, and I added a number 2 from the Shimelle layered chipboard stickers in between my photos, with a circle die-cut underneath from the True Stories tags.
I had to type my words to fit all of the journaling I wanted in the space that was available. Without a wide-format printer, I decided to be brave and cut my background cardstock in half, after stamping my title! I knew where the photos would go, and from there I formatted a 6×12 page in Photoshop to type my words.
Drafting that journaling was the highlight of creating this layout. I gave myself time to sit and think and jot down memories from my childhood, which was awesome. How often do we take the time to do that? Once I had ideas for my column, I moved to my daughter's and compared what I had written about my own childhood to her life now. Some of these comparisons, like how we were/are both only children for a long period, or how we were both most comfortable with adults, surprised me. I had never thought of them before.
Once I figured out the main comparisons I wanted to feature on the layout, I typed them in the space that I had between my title and the strip of patterned paper from the Starshine collection at the bottom of the layout. To make sure the two sides had things in the same place, I typed my text for my memories, printed it to check it would work, then went back to the same document and changed the text to my daughter's memories, and printed that. After printing each side separately, I pasted them together with a twelve inch strip of cardstock at the back. I wasn't troubled by seeing a hairline where the two pages met, but I tried to cover it as best as I could with embossed stars from the Starshine stamp set, and punched circles from the True Stories Berry Infusion paper. (If you don't have a pinked circle punch, a die set like this can be helpful and offer a wide range of sizes.) After adding a few more embellishments to my central column to increase the texture on the page, I called this layout done.
Today, I'd like you to think about your own childhood and how it may be different than childhood for your children, parents, spouse, or siblings. The similarities or differences may surprise you, and may inspire you to document the story today. I'd love for you to share how you put this journaling exercise to work in your scrapbook.

Read more about:
18 February 2016

Next post: Weekly Challenge :: Go monochromatic on your next scrapbook page
Previous post: Weekly Challenge :: Mix old scrapbooking stash with new favourites