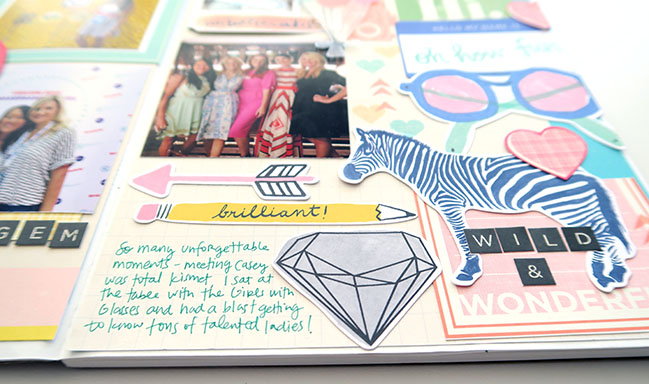 In this latest round of asking some of my favourite scrapbookers to share their work with you, I tried to put something that was in my mind into their thought process: almost the entire time that I've been scrapping less, I've been feeling inspired more. Perhaps we just replace one creative thought with another in the same space in our mind, so where I used to make at least a layout a day in one form or another and then found myself trying desperately to make one a week, all those other days there was some small part of my mind that was thinking about making stuff. I would catch a glimpse of a layout I'd made years ago or pass a previous guest project when reading through new comments and I'd find I had a new idea in my mind despite not finding the time to bring it to fruition. As I've found myself starting to improve on this and do a little something creative every day (albeit some days more and some days less), I'm delving into all those thoughts and really enjoying the creative process. I think I need to just write about where I am with my personal creative process lately, but I digress. What I really hoped was that some of my favourite scrappers would also find inspiration in the archives here and find something that brought renewed energy to their creative process, so when I got in touch I offered a few different ideas for posts they might contribute, and something inspired by the archives was just one of those options. It turned out to be the most popular option amongst the guests and now I have one slight problem: I am inspired by all their inspired by posts! I'll work on turning that from frustration into some gloriously fun cutting and pasting, I think. I hope you find them inspiring too, and I'm pretty sure today's guest will inspire much of the fun: she's one of the only people I know who could tell me her middle name was actually 'Superfun' and I would believe her. Please welcome… Amy Tan!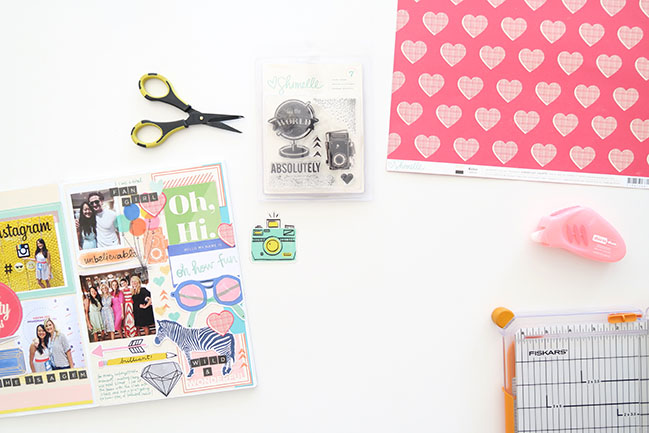 When I saw this layout – I immediately knew I wanted to scraplift it. Not only do I love the idea of clustering embellishments, but the appeal of using both old and new products for me is strong right now. I seem to hold onto things I love instead of using them up. Since we're both designers collaborating with American Crafts, I thought it would be fun to use both our products and show how easy it is to mix the old with the new. For even more of a fresh take, I decided to work right into my notebook instead of doing separate scrapbook pages for this event. Check out the whole process in this video: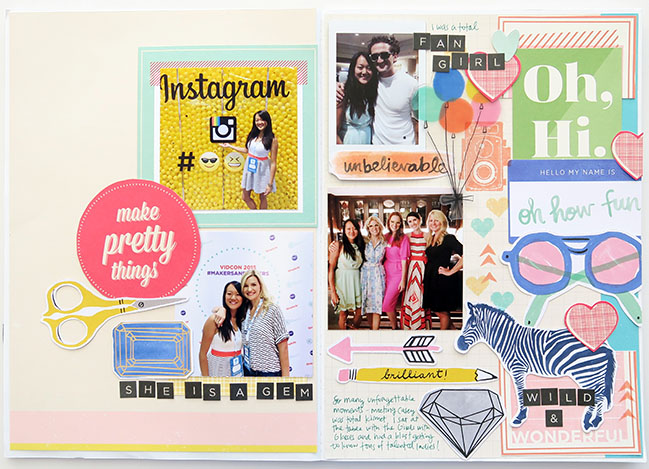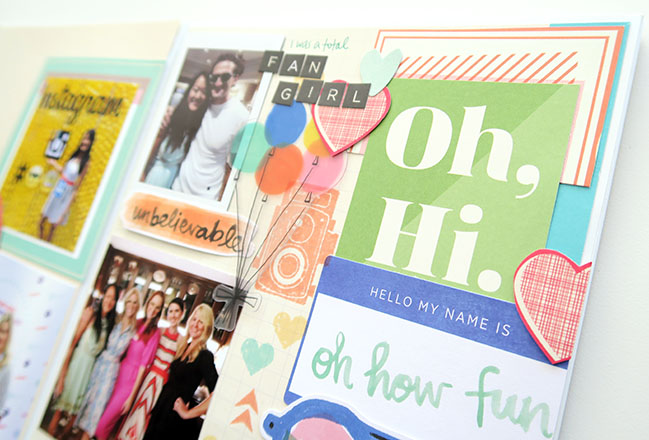 You can find Amy's newest collection, Finders Keepers, at Blue Moon Scrapbooking and Scrapbook.com. (Shopping through these affiliate links adds no cost to your order but supports this site and makes guests like Amy possible. Thanks!)
And thanks so much to Amy! We'd love to see any projects you have made that combine products from our collections, so please share by leaving a link or tagging us on Instagram. Or if it's just in that inspiration bank in your mind, tell us which collections you'd love to work with together or what other designs you'd bring to your crafting table. May you find some quality cutting and sticking time soon!
| | | |
| --- | --- | --- |
| Amy Tangerine has always had a fresh outlook on life. Growing up in Chicago, she wallpapered her room with fashion magazines and dreamed of a life of visual creativity. By the time she was 23, she had founded the popular and award-winning handcrafted t-shirt line Amy Tangerine, featured in hundreds of retail outlets around the world, including Bloomingdales, Neiman Marcus and Barneys New York. But it wasn't until 2007 that Amy discovered her true passion: scrapbooking. What started as a slice-of-life hobby blossomed into a full-time, fulfilling business venture that includes signature collections with American Crafts, her own book, celebrity events, consulting services, and teaching workshops all over the world. Most of all, she loves helping others tap into their creative sides. When she's not at home in Los Angeles with two mischievous Jack Russell Terriers, her long-time partner, JC, and their adorable son, Jack, she is traveling, finding great places to eat, and doing her best to enjoy every moment. See more of her work on her blog, Instagram and YouTube | | |

Read more about: american-crafts scrapbooking-videos
20 August 2015

Next post: Inspired by... Scrapbooking with May Flaum
Previous post: Die Cut Shapes using the True Stories collection with Paige Evans