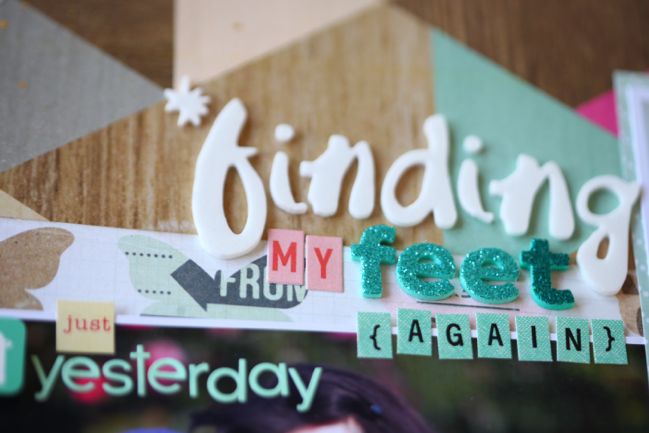 All good things must come to an end, and with that, I am back to work. It is mostly every cliche in the book, from phoning in a few times a day to see if things are going well (often yes, but sometimes no, including being very glad I am self-employed when I had to collect a burning up version of Wonder Boy early on his first day without me) to that mix of it seems like he was born two weeks ago and at the same time it seems he has been here a very many years indeed. I'm not sure I have anything new to add to the greater realm of words written on motherhood for the entire world and instead I just record my own meandering thoughts in my scrapbooks. Because when I try to remember what I do for a living, I think that was it. Something about recording meandering thoughts. Something about stories. Something about pretty paper.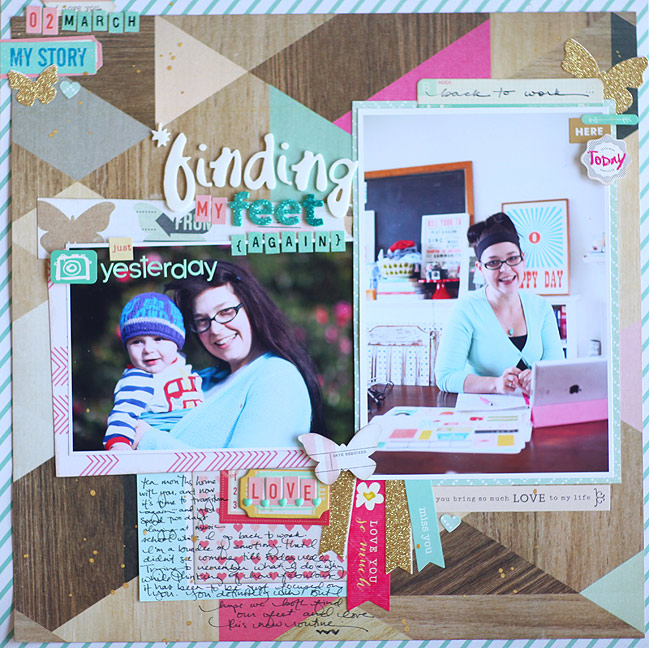 Taking a proper maternity leave has been an interesting adventure. I see a few friends with babies the same age a couple times a week and I am only the second of the group to head back to work, and truthfully I continued to do what I could do during nap times, and for that I can just say that getting a collection finished for CHA was entirely at the sacrifice of tidying up the toys, but we all seem to have made it through. Taking a year (or nearly a year) is a very normal practice for maternity leave in this neck of the woods but I know there are so many places where it just isn't possible and while the Facebook requests for new videos and classes were so kind, I have no regrets about taking this time to just find our feet as a family of three and to spend so much time with that lovely little boy who turns one next month.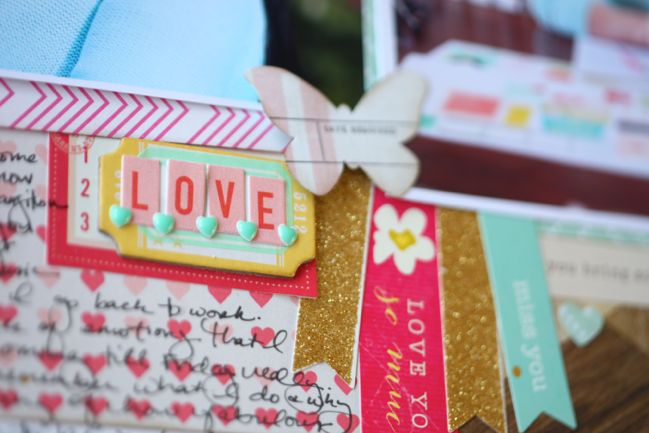 Of course, I had all sorts of ideas in those early weeks that I'd be able to just keep right on scrapbooking because my baby would love to go to bed early or take long naps in the afternoon or whatever else I imagined. Of course that was entirely wrong, and instead I had a few instances of 'if I buy it, I will scrapbook' that I had to clear away to even find my desk this morning. I have a hunch my next few dozen pages will have a real mix of supplies new and old because now pretty much everything feels new to me, having done so little cutting and pasting over these past months.
On this page, that includes Crate Paper's Notes and Things, Pebbles' Jen Hadfield collection, some Amy Tangerine Plus One stickers, October Afternoon letters and some Dear Lizzy 5th and Frolic. And one single sticker from my own collection, up there in the corner.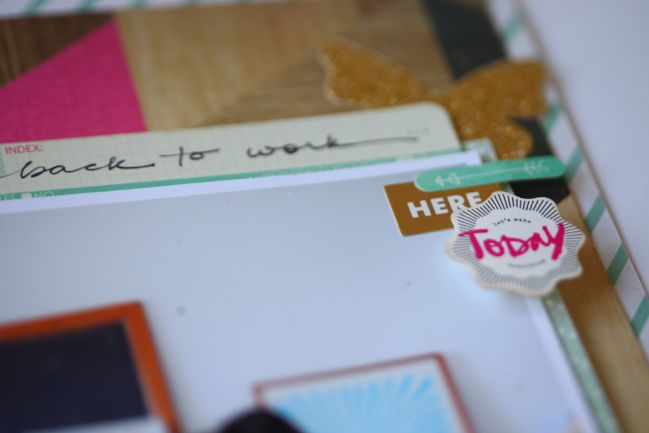 When I was teaching, there was always much discussion of the 'work/life balance' that was so difficult to find and I'm sure this new one will take a little time to feel right, but at the moment I feel happy that we've found a good balance on paper, at least, so I can work and he can play but I don't have to feel like I'm boring him by trying to get work done and I can still have some full days without looking at my desk so we can do amazing things like realising that my ten month old can basically swim better than I can at this point and being treated to near-hourly tambourine recitals.
All that to really just say 'Hi. I had a baby and now I'm going back to work and it is really nice to see you again. Can we scrapbook now?'

Read more about:
09 March 2015

Next post: Cut, Stick, Stamp :: Card & Scrapbooking Ideas for a Teacup Stamp
Previous post: The 2015 CHA report - True Stories from American Crafts