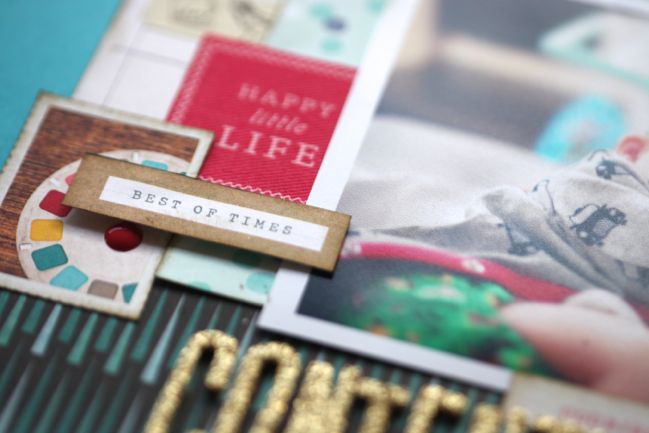 Today I'm delighted to introduce a new online scrapbooking workshop: Inspired By.
I've worked with some of my favourite scrapbookers to break down how we translate different sources of inspiration into unique scrapbook pages, and we're sharing that process with you through ten videos and an accompanying PDF for reference. This workshop is self-paced, so you can view all the videos now or any time!
Across the ten videos, we take inspiration from the photos we will scrapbook, a patterned paper collection, geometric graphics, party decor, mixed media art, watercolours, commercial illustration, interior design, text art, and an existing scrapbook page. Then we walk through our individual scrapping process from taking that inspiration and turning it into something we love for our albums. It's inspiration without sacrificing personal style, and we'd love for you to join in the fun.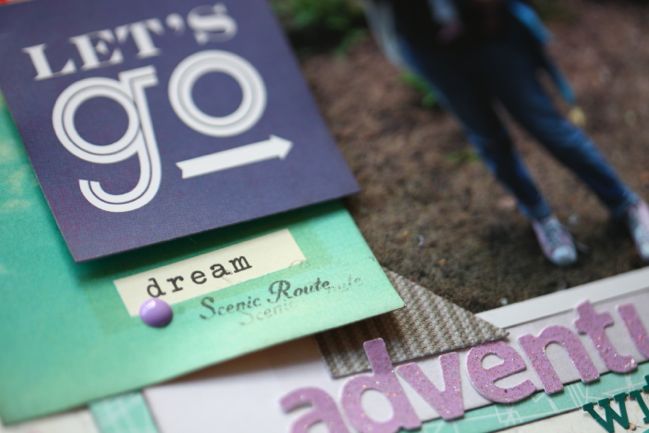 I'm thrilled that Nancy Damiano, Paige Evans, Stephanie Bryan, Marcy Penner, Jen Kinkade, Wilna Furstenberg, Laura Craigie, and Jill Sprott were able to join with me and each share a brand new video. That makes eight videos, and there are two from me to add up to ten. And if you like getting a bit computery with your crafting, there are also some gorgeous bonus downloads: printables and cut files designed by Wilna and Jen.
Your registration includes the ten videos, accompanying reference PDF, bonus printable and cut file downloads, and a private message board to discuss things with the contributors, chat with other participants, and share your own work. I have always offered permanent access to class materials and that is included here as well. I know it's a tangent from this actual workshop but in light of recent things in our industry, I want to address what I mean by permanent access to materials. I have been teaching online for more than ten years and all the materials from even that very first class are still available to those participants. Yes, passwords may be forgotten or email addresses may change, but I can help with those instances and though it may occasionally take a bit of time to track things down from all those years ago, we can and do get that remedied for past class participants. (One big change last year was automating the password reset on our class forum, so if you forget your login name or password, you can get that in moments and don't have to wait for me to read your email.) Yes, I changed formats many years ago from a set up that was more like an email group where we all chatted back and forth to using message board as a classroom set up, but all the previous materials have continued to be maintained. If I were to upgrade again in the future, that would be my plan. And in addition I have what I call my 'hit by a bus policy', which is a dreadfully terrible name for how I have tried to do all in my power to make sure that if something horrible happened and I went out of business or disappeared from the face of the earth next week, all my customers would continue to have access to everything for many more years than they would probably want to reference those materials. I can't guarantee that policy will work in every way because I am most definitely not volunteering to be hit by a bus just to test it out. But this is something I have meant since the very first day I said I was offering permanent access. It makes sense for me and I'm happy to offer it, and I'm sorry for the tangent, but the notion of losing trust due to decisions made by other companies is one that plays on my mind.
Also related: yes, students from my Two Peas workshops will soon be able to access them via my own site. You will be sent an email when that is ready and I will also post here (so if your email has changed since your Two Peas days, we will be able to sort that out for you). I know it's taking a long time and all I can say is that everything is taking me a long time right now, and Wonder Boy is worth it for me. But I can see the end of that project in sight and I'm so happy to be able to extend those workshops under my own little umbrella.
Right: back to Inspired By! It's £10 British Pounds or $15 US Dollars. If neither of those is your currency, that's okay – you can choose either and it will automatically convert. Check XE for exchange rates to get an idea of the price in numbers that make sense for you!
If you're ready, click to sign up!
After you sign up, you'll be given access to the materials, generally within 24 hours. (I try not to work on Sundays but also try to make sure process registrations last thing on Saturday night and first thing on Monday morning!) If you have made your payment and do not receive a welcome email within that time frame, please double check your message hasn't gone to your spam folder, then email me to let me know. If you are paying from a different email address than you would like to use for the workshop access (including giving the class as a gift), leave a note in the comments of your purchase – or send me an email if you miss that step. Any questions, please do not hesitate to email me and I will get you an answer as soon as possible.

Read more about: classes scrapbooking-videos
12 November 2014

Next post: Five Ideas using Shimelle Die Cuts by Ashley Horton
Previous post: Mini Paper Envelopes with the Shimelle Collection: A tutorial by Paige Evans