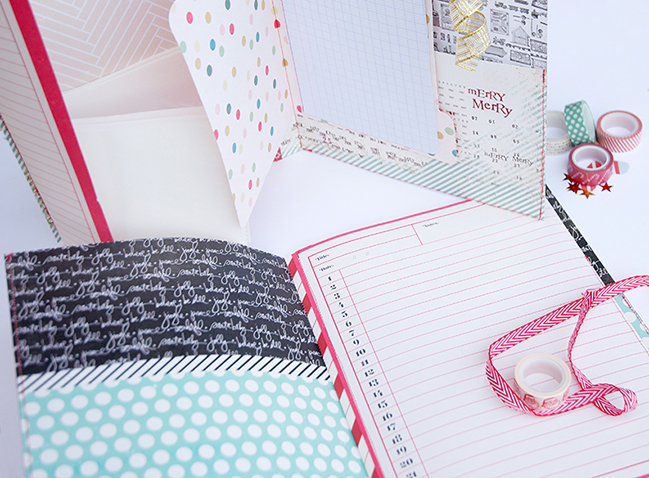 Hi I'm Cara, and today, I want to walk you through the steps to a make a fun, interactive planner. This one is Christmas themed, mine is already full of present ideas and to-do lists, but feel free to make yours any theme you like. I originally made this book because to me the Christmas season should be filled with baking, scrapbooking, playing in the snow and having fun, but for many years, it ended up being a stressful season of countless events, marathon shopping and endless obligations. Keeping the have-to's organised left me time and room for the want-to's. And why not organise it all in something pretty, right? The book has lots of pockets, a little journal (perfect for 'Journal your Christmas'), a mini photo album and Shimelle's 1-25 list leading up to the big day.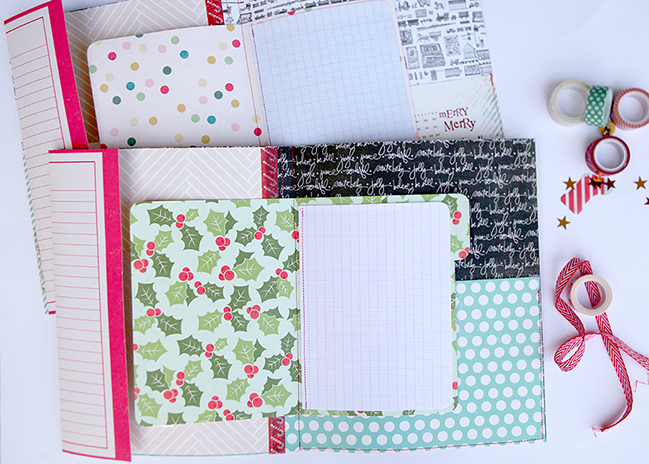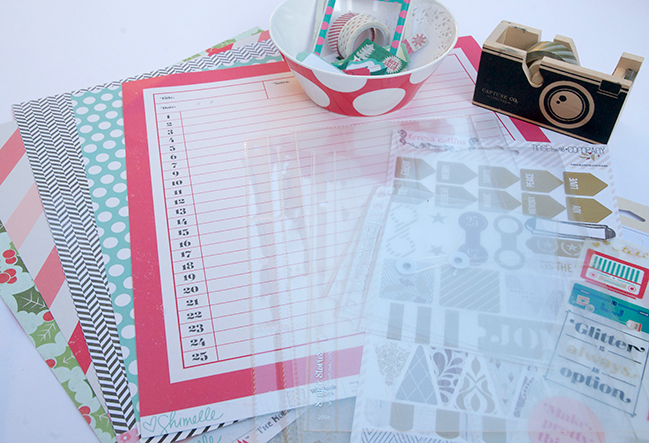 Here is what you'll need:
Five pieces of 12×12 patterned paper
*one for each of the front and back covers. These don't have to be the same, use what you have, but you will see both sides of each, so make sure you like both sides and they match your theme.
*one piece for the binding and the mini-folder. Again you need to love both sides.
*Shimelle's Winlock paper with the 1-25 list or whatever you'd like as your flip-out paper. Yup, you guessed it, you need to love both sides!
*the last piece is for the inside pockets and you will only see one side of this one.
*Washi tape
To decorate your book
You also need one that you don't mind throwing away afterwards. We are going to use it to hold the book together before stitching. I know you must have some that, either, you don't like anymore, or came in a pack with others that you just had to have but this one you could take or leave.
*Pocket Pages
Any size up to A4 (8.5×11 inches)
you can use all the same or a variety
up to four pages (any more, I find they get slippery and are hard to stitch)
you can even cut pages from a 'cheapy' photo album
*Notebook Paper
about 10-20 sheets, depending on how thick the paper is
I used the leftover pages that I ripped out of the back of my kids' notebooks at the end of last year
*Corner Rounder
Sewing Machine or big needle and baker's twine or embroidery thread
Pretty Embellishments
ALLONS Y!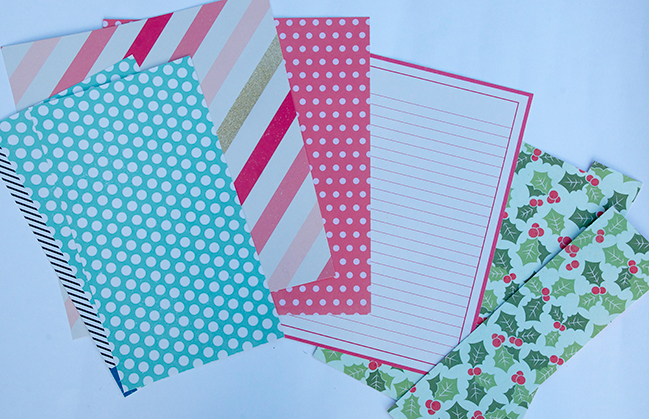 Step One
Cut down your pages to the dimensions below:
front cover: 11 inches high by 10 inches wide
back cover: 11 inches high by 10 inches wide
flip-out page: trim the Winlock paper down so you see only a bit of the reddish-pink edge (about 103/4 inches high x 11 inches wide)
pockets: cut the paper into two pieces, both 6×10 inches
binding: 11 inches high x 3 inches
mini folder: take the rest of the paper you used for the binding and cut a piece 73/4 high x 12 inches. Then, cut out a strip as shown below to make a tab. Round all corners.
TIP: If you are using Shimelle's Dowdy paper, you can use the whole sheet including the black stripes and trim off the blue 'pretty paper' bit. Make both pockets 61/4 inches high x 10 inches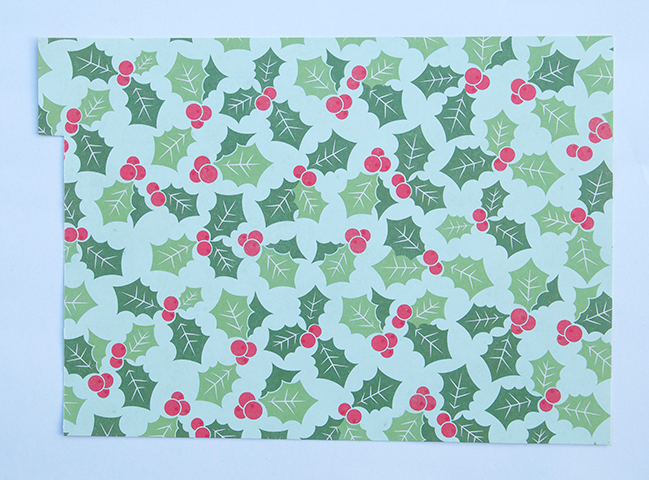 TIP: That inside corner of the tab may be tricky. Bend your paper carefully and wiggle your corner rounder in and you should be able to get it. Otherwise trace another rounded corner and hand cut.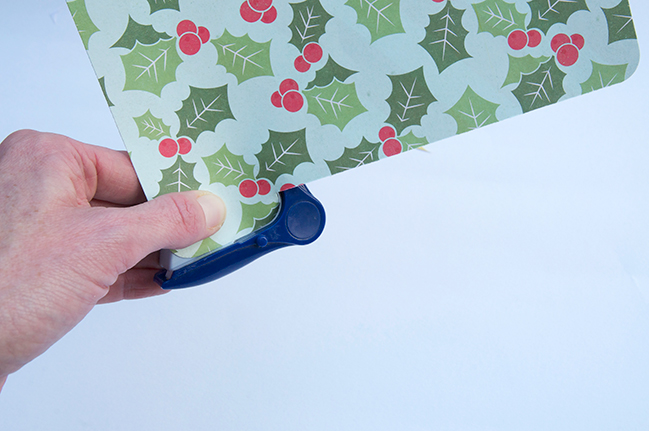 notebook paper: 71/2 inches high x 5 inches Be careful where you trim, if you want to keep those red lines.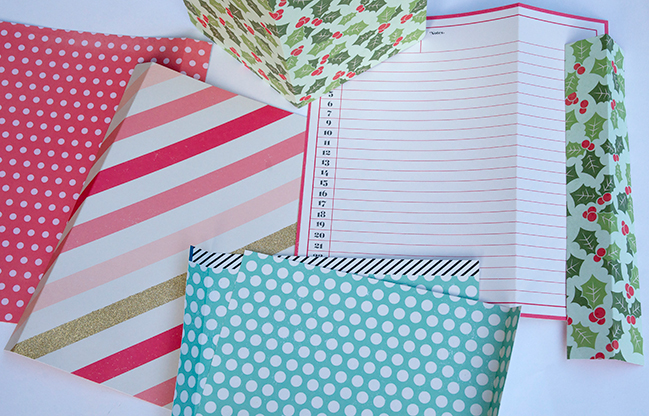 Step Two
Score the pieces at the following marks:
front cover: 1 inch from the left
back cover: 1 inch from the right
flip out: 31/2 inches from the right (non-numbered side)
binding: right down the middle at 11/2 inches
folder: fold in half, not counting the tab
front pocket: 1 inch from the right (if you are using the Dowdy paper, make sure that last little blue bit is in the 1 inch that gets scored)
back pocket: 1 inch from the left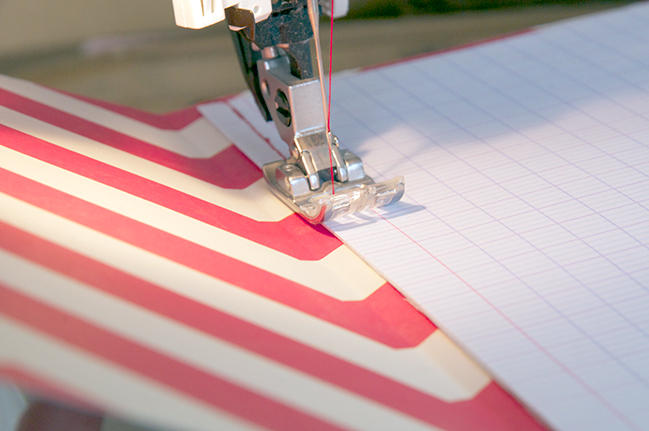 Step Three
Stitch the notebook paper to the inside of the folder, but leave a bit of room from the centre, you'll be stitching down this centre fold.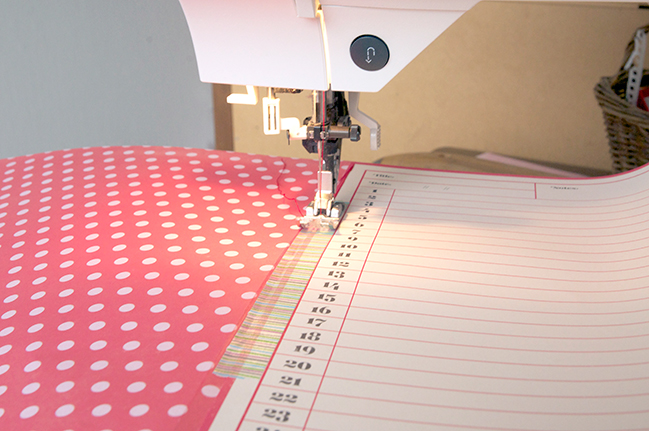 Step Four
Washi tape the flip-out paper to the front of the one inch flap of the back cover and stitch. Don't worry about stitching through the washi tape if you need to.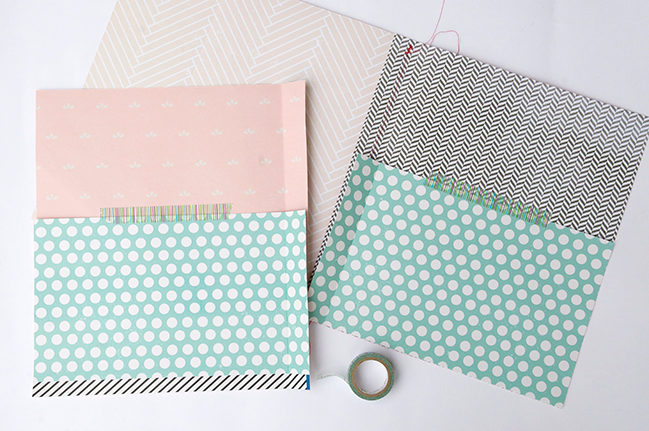 Step Five
Lay the front pocket on the front cover and the back one on the back cover. Use the washi tape you don't like much to hold it in place.
TIP: test the tape on a piece of scrap paper to make sure it won't rip your paper when you pull it up. Or you can always stick it to the back of your hand before laying it down.
Step Six
Lay the pieces down in the following order, lining up all the scored lines to make the centre fold, using washi tape to hold as you go.
front cover (with pocket)
back cover (with pocket and flip-out)
folder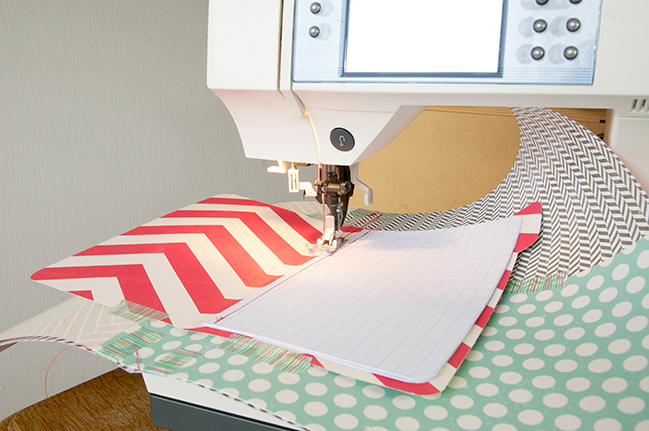 Step Seven
Stitch it baby! Right up that centre fold!
If you haven't stitched on paper before, or are a little leary, I have a series on youtube that'll walk you through it. Otherwise you could try the no-sew option.
NO SEW version:
Poke four holes along the centre fold, through ALL layers of paper (I just poked through with a thumbtack). One at the top, one at the bottom and two near the middle. With your big needle threaded with baker's twine or embroidery thread go in through the back of the top middle hole, bring it up to the top hole. Go back out and bring it all the way down to the bottom hole and then back out the bottom-middle hole. Pull everything really tight and then tie a double knot to hold everything well.
If you'd like a video run through of this, I have a free class on my website that runs you through it. You can sign up here and the no-sew bit starts at about eighteen minutes thirty seconds.
Step Eight
Remove all the washi tape carefully. Use the washi tape you like to stick down the flap from the front cover and to cover the back of any stitching you don't like.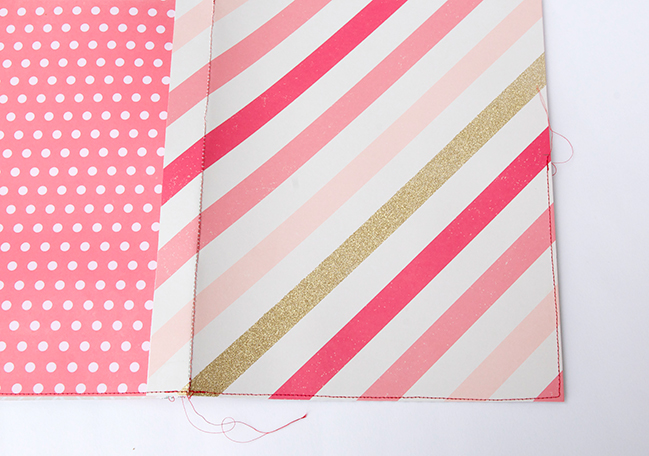 Step Nine
Stitch around the pockets.
TIP: stitch from the front, I find that when you stitch on paper the back is not as pretty. This way your front cover will stay nice. Add a pencil mark to the front so you know where the pocket ends and where to start and stop sewing.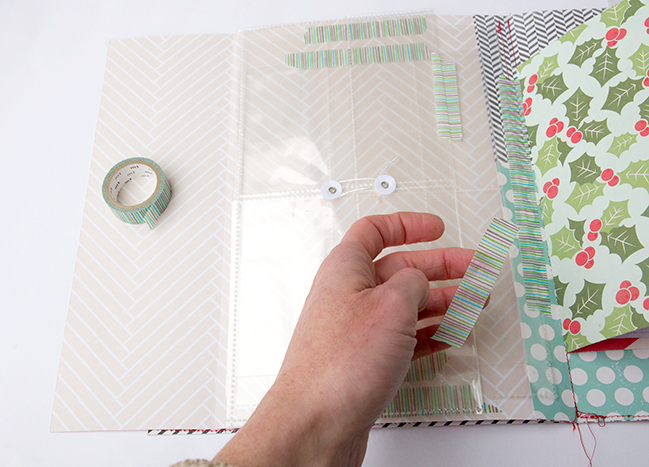 Step Ten
Trim the holes from the sides of your pocket pages. Make sure you leave enough extra room for stitching. Line up and washi tape to the back of the flip out about 1/4 inch from the fold.
TIP: I like to washi down each page individually because these suckers are slippery!!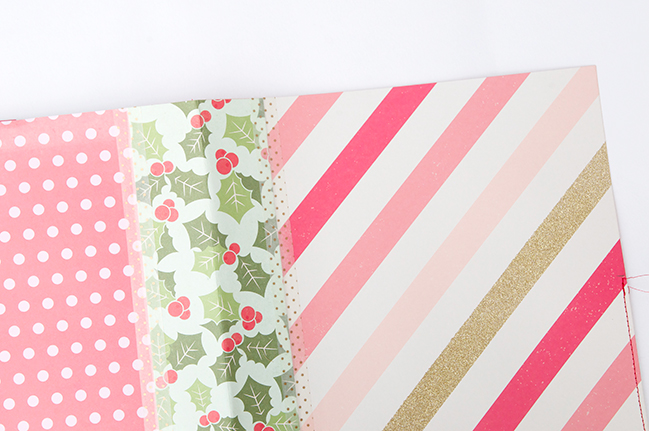 Step Eleven
Glue the binding on and add some wash tape to either side. The book will be pretty stiff, so I like to fold the book open and closed over and over to loosen it up.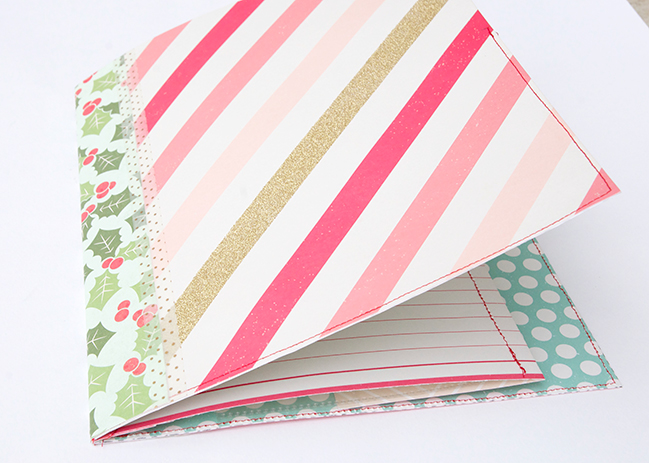 Now it's time to decorate the cover the way you'd like!! Check out this quick, little video on my Youtube to see what it looks like on the inside.
If you make one I would love to see! Link it up in the comments, please! Also, don't hesitate to ask any questions, I'm happy to help.



Cara is a Canadian living in Luxembourg with her hubby and 6 children. She's trained them well and they all adore Star Wars, Harry Potter and Doctor Who.
She loves every single moment of the scrapbooking process, from the stories and the photos, to the design, techniques and product (who can resist all those gorgeous products!). Cara loves bright, happy colours, lots of white and lots of white space and layers and clusters! Her first love was sewing until she discovered scrapbooking in 2000, now she tries to blend the two, whether it's stitching on scrapbook layouts and projects like this one or adding layers and clusters to clothes.
You can find Cara on her site thehootingpirate.com or on her handwritten blog . However, in all honestly, she's on instagram everyday! She has a brand new etsy shop, where you can buy your very own Christmas planner if you're feeling the crunch and making one just seems too daunting this year.




Read more about:
03 November 2014

Next post: Mini Paper Envelopes with the Shimelle Collection: A tutorial by Paige Evans
Previous post: Mixing Amy's Stitched Papers with Shimelle Stickers:: A Scrapbooking tutorial by Amy Tangerine