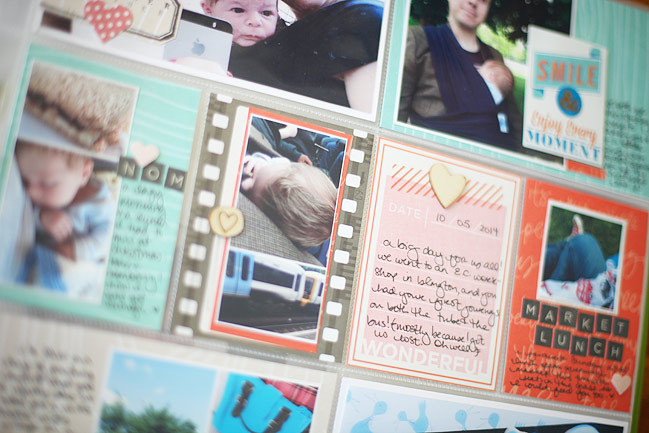 I think it has taken me nearly three weeks to finish this spread, working just a few minutes at a time, but it's complete now! Week four in Wonder Boy's baby album is made almost entirely from supplies in my American Crafts collection. I added some Studio Calico wood veneer hearts and that Amy Tangerine stamp I'm using throughout the album.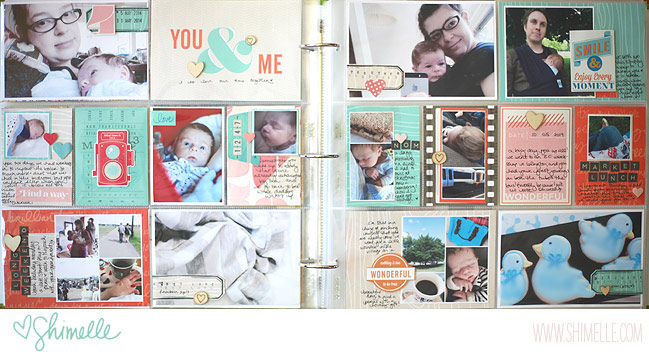 I guess my two colours this week are aqua and orange, though I didn't specifically set out to do that from the first step like I had in the earlier weeks. It's not a combination I think I would pick often, but I like it here, especially balanced with the vanilla.
There is actually a coordinating Project Life kit for the collection, but it hadn't arrived when I started working on this, so I started with the 12×12 papers, plus the sticker book and the smaller set of stickers that include words and letters. Plus plenty of the half-height pop dots!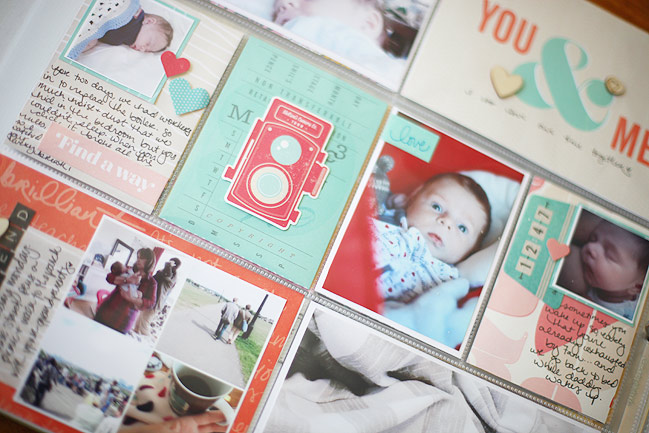 That 3×4 photo is cut down from a 4×6 print I ordered in my first try of the Free Prints App. This app (available for Apple and Android) lets you order up to forty-five free 4×6 inch prints each month, though you do pay for postage, which runs between £1.49 and £3.99, depending on what you order. In comparing these prints to the same from Photobox the free prints were just a smidgen darker and the paper is just a teensy bit lighter weight, but I was certainly happy with the quality. I order more than forty-five prints per month so I think I will continue to use both printers. If you'd like to give the Free Prints app a try, you can use code SLAINE3 for five extra free prints for each of us, then you will get a code to share with your friends to continue getting the extras.
Start the timer now: let's see if week five can be completed a little more quickly!

Read more about: american-crafts
30 July 2014

Next post: The Scrap Goes On :: A Weekly Round-Up
Previous post: Using Thickers as Masks with Watercolors​:: A Scrapbooking Tutorial by Carson Riutta