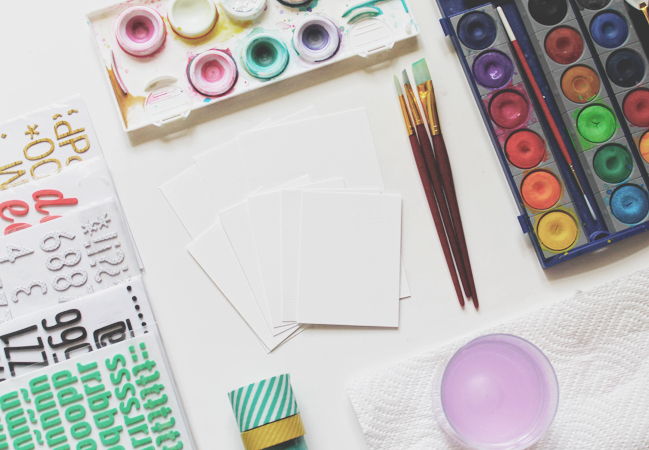 I've been playing around with my Thickers and my watercolors as of late and I want to share my new favorite technique with you all today. I absolutely love combining watercolors with my Project Life and I've found a way to make filler and journal cards using Thickers as masks with my paints. The concept is simple. Place your Thickers firmly on white cardstock and paint around them with your watercolors. The possibilities are truly endless.
For this you shall need, watercolor paper cut to PL sizes (I love mixed media paper for this), watercolors and a palette, brushes, Thickers (an assortment of sizes and fonts), water, paper towels and washi tape or painters tape.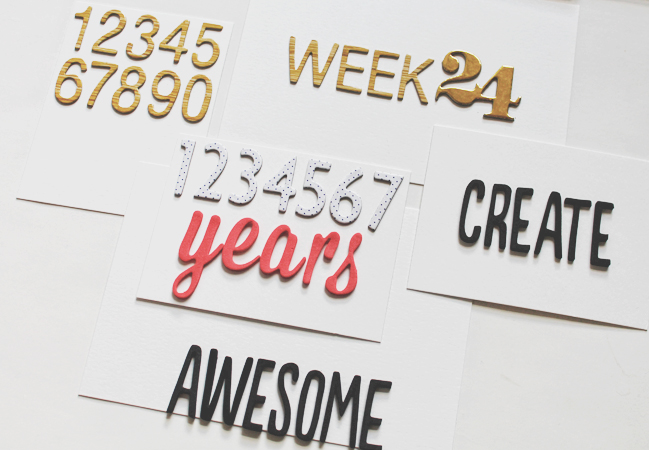 Let's begin by designing your cards and placing your Thickers. Herein lies the beauty of this, you can say anything you want! Go ahead, get silly, curse a bit if you must, customize your cards to your heart's content. Don't pay any attention to colors at this point, the Thickers won't be on the final product, remember we're simply using them as masks. You'll want to focus on font combinations and the graphic look of the words, letters and numbers. They aren't going to look like much at this point, but I promise it gets so much better.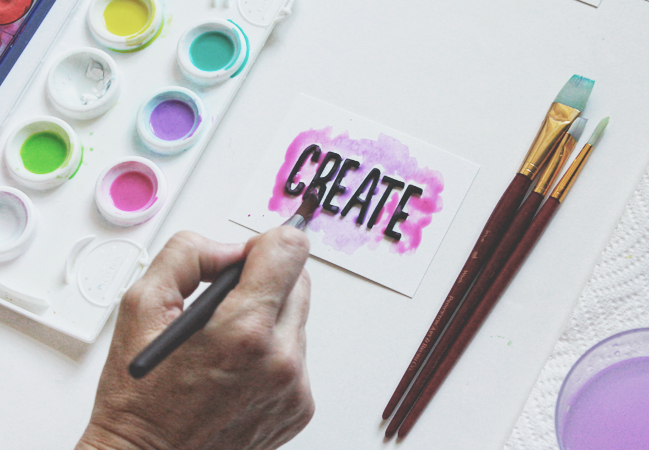 Now you want to get your watercolors set up and your colors mixed. Once you start applying the paint, you'll want to move fast so it's best to have your colors ready to go. Pick your brush and start painting. This is where things get really fun. You can be painterly with splashes and splatter…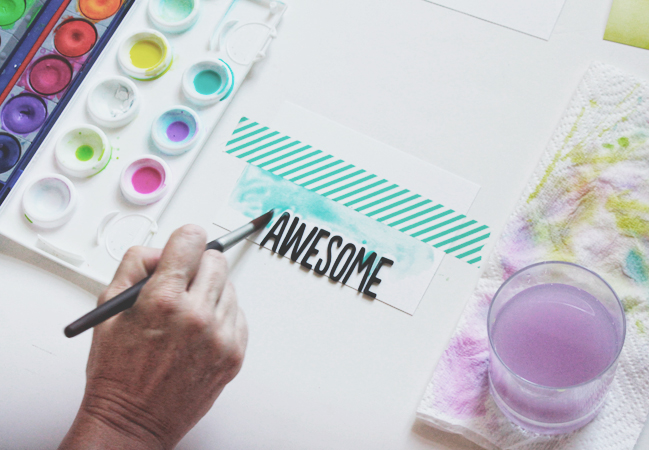 …or you can keep things very linear by doing some further masking with washi tape.
There are a couple important things to remember at this stage:
1. The more saturated your colors, the more the words will pop. Start strong with your colors, they lighten as they dry.
2. Apply a lot of paint right up along the edges of your Thickers. You want that defined edge and you won't accomplish that without really jamming your brush into the letter's edges. Also, watch for bubbles that may form along the edge. These will result in a white spot, so pop 'em if you see 'em.
3. You can remove excess water and paint by drying your brush on the paper towel and placing it gently onto spots where too much water has collected. If you leave too much water on your paper you'll achieve the "bloom" look.
4. Let your cards dry completely! This is a very important step and one that almost none of you will follow, at least I never can, but trust me, you'll have much better results if you do.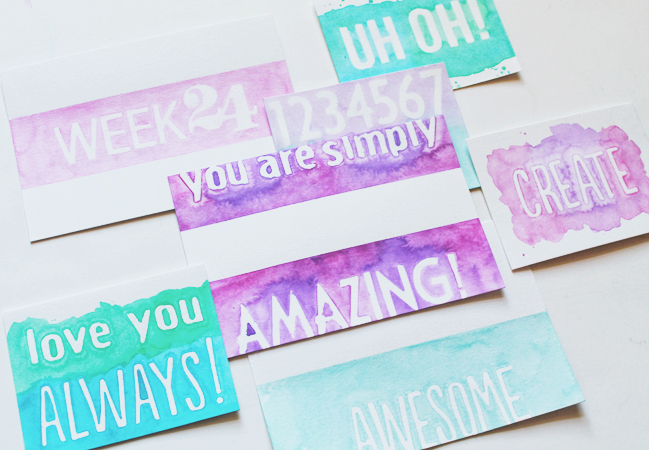 Once your cards are dry, peel off your Thickers and marvel at your creations! At this point, depending on your PL style, you can use the cards as they are, add a few more layers of watercolor or embellish with stamps, washi, enamel dots, etc. You name it!
This technique is perfect for all kinds of papercrafting. I've used it in my PL album, but it would also be perfect for a layout background or a card front. Make it your own! Thank you so much for reading today, it was truly a pleasure crafting with you.
| | | |
| --- | --- | --- |
| Carson Riutta is one crafty lady! She is a card-maker, a Project Lifer and most recently an art Journaler. She has been crafting with a vengeance since she was introduced to the wonderful world of paper crafts in 2008 when she quit her job as an environmental scientist and decided to develop the other side of her brain. You can see her latest endeavours on her blog Pine & Plum and her past creations over at her Studio Calico gallery. She spends her days running after her two littles, taking too many Instagram photos, and perpetually organising her craft room… Occasionally she does the dishes. | | |

Read more about:
29 July 2014

Next post: A Project Life layout fom the Shimelle collection
Previous post: The Shimelle collection from American Crafts is now available at...