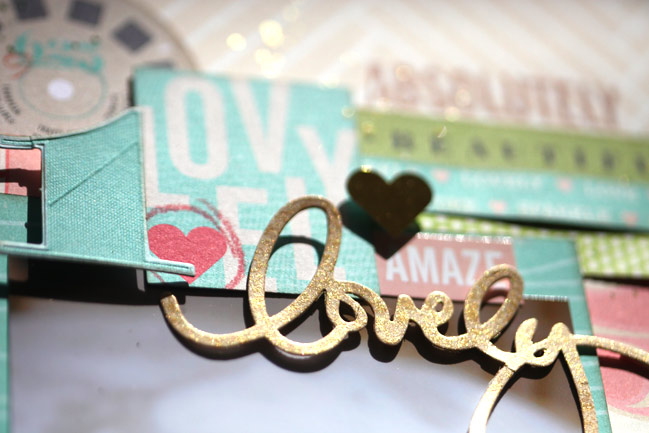 The situation was incredibly surreal. Wonder Boy was sound asleep in bed, which was surreal enough, and I was staring at a desk full of papers, embellishments, and tools with my own name on them. Exactly where does one start in this scenario? I figured I had to just start cutting paper or I might stand there paralysed by fear, and I know that is never a wise decision in those short windows of time in which a baby sleeps contently!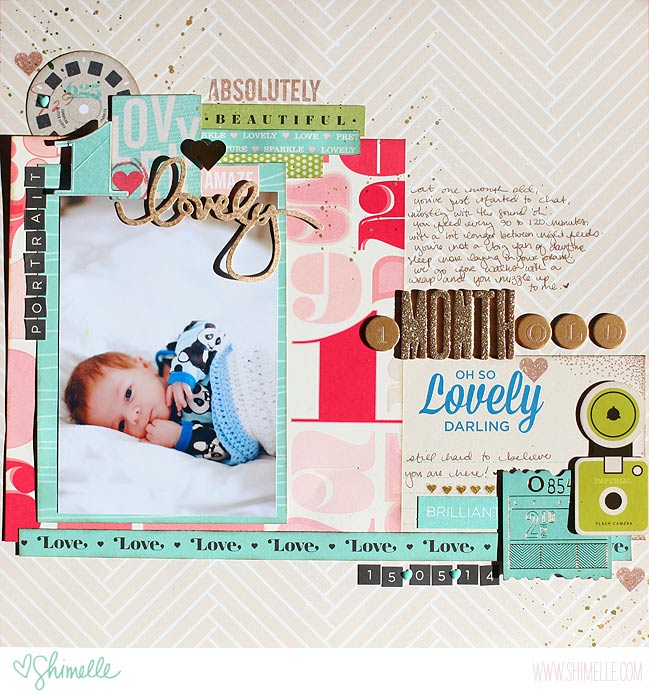 And so, I've done it: one completed scrapbook page to get me started using my own supplies! Nearly everything here is from my collection, with the exception of three aqua enamel dots, Mister Huey's green mist and gold Color Shine mist. There are five patterned papers (one cut-apart and one branding strip), some of the die-cuts and stickers, three designs from the stamp set, glitter hearts from the rub-ons, the 'lovely' steel die, and all three lettering options – two kinds of gold Thickers plus a small tile alphabet in grey.
I know Wonder Boy has a Project Life album and then I go and scrap him on 12×12 pages. I promise there is method to my madness: the Project Life album is a baby book made for him; the 12×12 pages are for my chronological albums. I would call those family albums but I make them for me, most of all. When others enjoy looking at them, that's a definite bonus, but I create them for my own wellbeing first and foremost. Plus I don't like choosing one extreme or the other. Having both album options keeps me happy, no matter how much time I have or what mood I'm in. Sometimes more is more, right?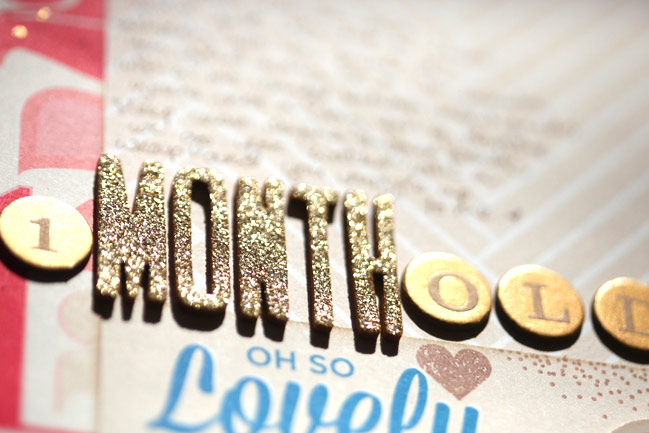 It's been gloriously sunny, which is lovely but does produce some rather extreme shadows!
To answer a couple product questions, the collection is shipping to stores imminently, and when it arrives I will post links here to a variety of places where you can purchase what you like. (Thanks so much to anyone considering a purchase!)
I'm looking forward to making more with these now that I'm past the fear factor of it all! And even more excited to see what you make with it. Cannot wait for that!

Read more about: american-crafts
14 July 2014

Next post: Another week in the Project Life Baby Book
Previous post: Return to the Collection :: Sign up now!