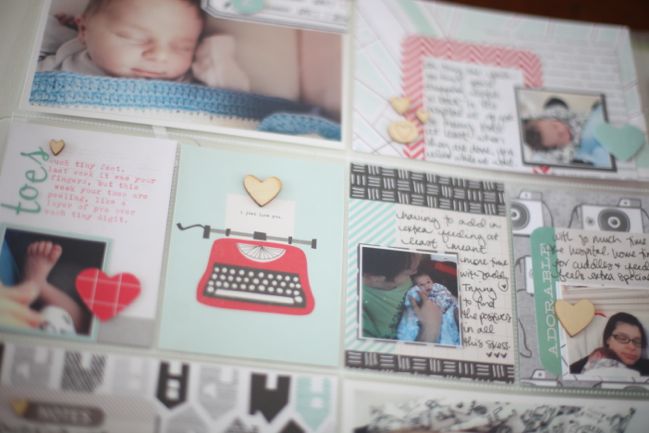 Over the past few months, you may have seen pages from my '40 weeks' album documenting my pregnancy. It used a format of one 12×12 page opposite a divided page protector, and some weeks are completed and other weeks are works in progress. But Wonder Boy is getting bigger every day so it is high time I got started on a book all his own, and for that I'm using Project Life and an all-divided-page-protector format.
Several years ago I led a project called Document:2010 that was not far from the concept you often see in Project Life albums now – it was a way to document the everyday of life for a full year. It started brilliantly but went pear-shaped for me when 2010 proved to be a very challenging year. So many sad, earth-shattering-to-me things happened in 2010. If you ask me about the hardest parts of my life, I will tell you just surviving seventh grade and 2010 are in my biggest accomplishments. I wouldn't want an album retelling the daily struggles of seventh grade and by midway through the year, I didn't want a permanent record of 2010 either. It put me off the idea of any sort of year-long documentation project, because stopping that album in 2010 was good for my sanity but also made me feel like a failure. Making one page at a time let me pick the things I wanted to scrapbook without any obligation to a certain time. I could leave out the bad and the sad and focus on the happy, or I could come back and write extended entries working through those life challenges on the days when I felt it was helpful.
But all that said, the one thing that has always struck me in looking at Project Life albums from a variety of scrapbookers is how amazing that format would be for a baby book, when you feel like you can basically see them getting bigger if you concentrate on not blinking. So I knew I wanted that format, but the caveats I am setting myself are there is no obligation to be working on last week this week or anything sort of 'on time' or 'caught up' notion and that I can stop this album at any point that feels right. It does not need to be exactly one year of documentation. It can be more or less, and both are fine.
All that said, I am having to make some changes to how I work with a tiny baby in the house! Gone are the days when I could spend all day scrapping with no interruptions, so I've found a few things that are helping me with this project so far. I'm sure there will be more tricks I'll find over the coming months, but these are the things that made a big difference to me from the beginning.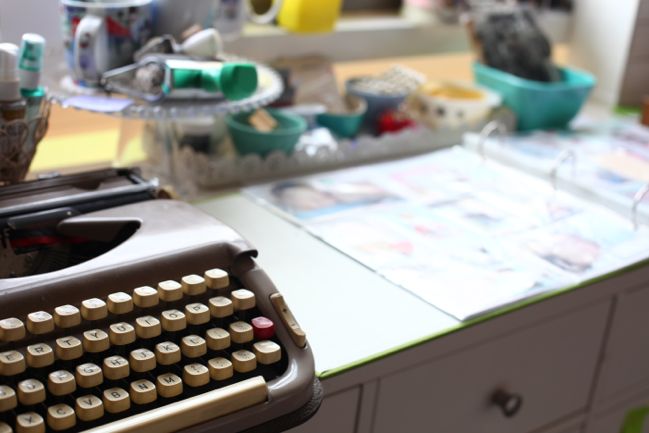 Finding a dedicated place to work on just this project. Aside from the video below, I am not working on this project in my usual space. I cleared a countertop that usually held tools like my die cutter and arranged it so I can leave the full 12×12 album open on the top all the time. This way there is no desk clearing or finding things to give me a road block. I can just walk there, add a few words, and walk away again without worry.
I don't have a huge amount of space to work with, so this did take some compromise and I still have a few things I need to rearrange elsewhere to get it to its best. I am very lucky to have a room for all this, but it is not huge and it holds a great deal, and I try very hard to stick to our household rule of 'scrapbooking stays in the scrapbooking room' for all our sanity.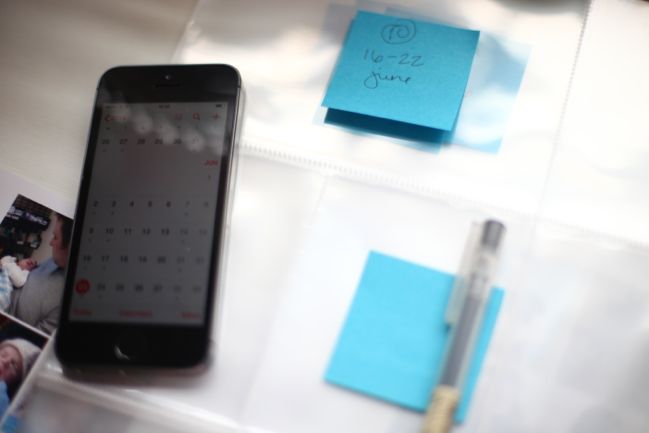 Labelling the weeks with dates on the page protectors. This was key to me because I'm working at a delay. When I print a photo, I want to put it straight into the right week, even if I'm not going to embellish that week just now. I've always found I'm better at getting my pages straight into albums if I put the page protectors in from the moment I take the plastic off the album. So this is filled with Project Life Design A page protectors, and then I added the dates and week numbers with post-it notes so everything is easy to find and I don't need to repeat that job each time.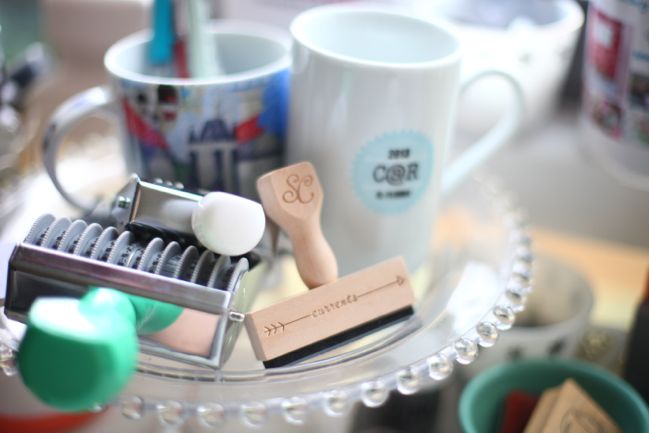 Keeping certain supplies within reach. I've selected a few things I'll be using on every spread in the album, including the Pebbles rolling stamp, a date stamp, and a 'currents' stamp that is handy for journaling cards. Instead of putting them away, I've given them a spot on that counter top so I can work quickly. (Admittedly this tactic may work great now with a tiny baby and may be a terrible idea for a five year old. So it goes!) Other supplies I use often are here too, including having an extra set of scissors, adhesive roller, and journaling pens so I'm not transferring them from my main desk each time. Having fewer things nearby also helps me make decisions quicker, as I'm not all that tempted to dig in a basket for five minutes looking for something that's perfect when I have something that will do just fine right in front of me. As a result, you'll probably see less product variety in this album, but I think that will add to the consistency in style when it has plenty of pages with so much going on.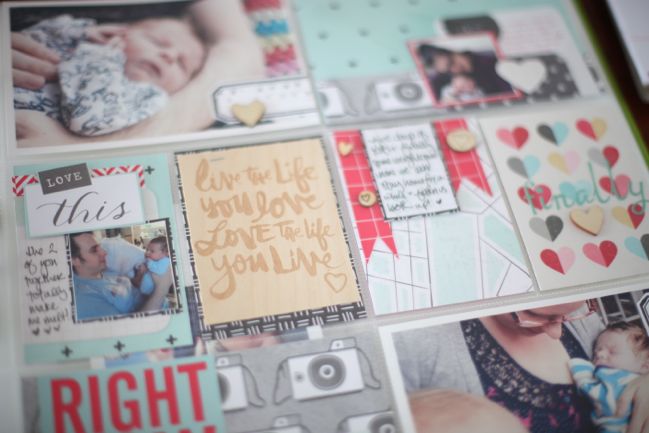 Making some design choices. I've selected the same page protectors for the whole album (though I may use smaller insert pages for particularly busy weeks). I'm printing many of the photos with a wireless Canon Selphy CP910 printer, which I must admit I am currently leaving on all the time so when Wonder Boy falls asleep in my lap, I can use my phone to select and print the images without moving. I also decided after the experience from the 40 Weeks album that I'm (gasp) not really all that keen on the rounded corners of the Project Life brand cards. I love the designs on the cards themselves, but I prefer the look in the pockets of everything with clean, square corners. I decided I would use patterned paper instead of the Project Life cards for the base layer of everything, and when I do use the Project Life cards, it will be as a layer, so you'll see in this first example that the rounded corners exist within the card but the outside edges of each pocket have square corners. I also decided from the beginning that I will aim for four 4×6 landscape images with white borders on each double page spread and use an Amy Tangerine label stamp to caption each of those. That's four pockets done straight away each week, and that helps!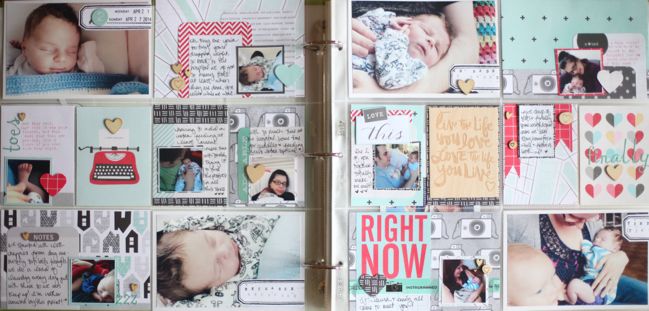 This is week two in Wonder Boy's album, and I already had to confront the 'do I scrapbook the sad stuff' because the first couple weeks here were hard mentally and physically. (Every baby has something that just wrenches your heart, right?) But I actually found it quite helpful to write about in this case, and it let me see the bigger picture that all that heartache and time going back and forth to the hospital was worth it, and I'll never forget the amazing feeling of finally being set free from all that and sent home knowing we didn't have another day of tests when we woke up the next morning. Hence that 'finally' card there on the far right!

Viewing on a blog reader? Click through to the full post to watch the video!
Here's a look at how this double page spread came together, including further notes on how I'm making this work by scrapping in just tiny amounts of time rather than doing everything at once!
(And yes, this video is on my own YouTube channel!)
Now… I know many of you have FAR more experience in making your albums work when your hands are full! I'd love to hear from you. What are your secrets to making projects like this work with your unique and overfilled schedule?

Read more about: scrapbooking-videos
01 July 2014

Next post: Introducing... the Shimelle collection from American Crafts
Previous post: Last day to submit your scrapbook pages