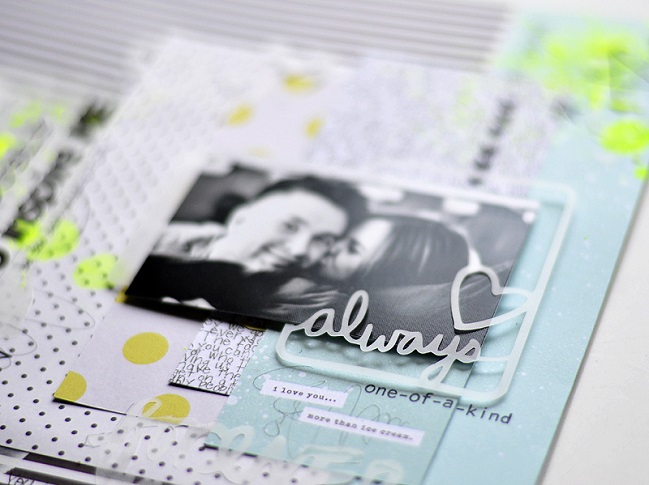 Welcome back for our second challenge of this online scrapbooking weekend: scrapbook your significant other! It seemed a good balance after Corrie started us off with a round of scrapbooking ourselves! You can scrapbook whomever you like in any style you love, but we have three special guests who have created scrapbook pages to share with you today.
First up, Kasia Tomaszewska.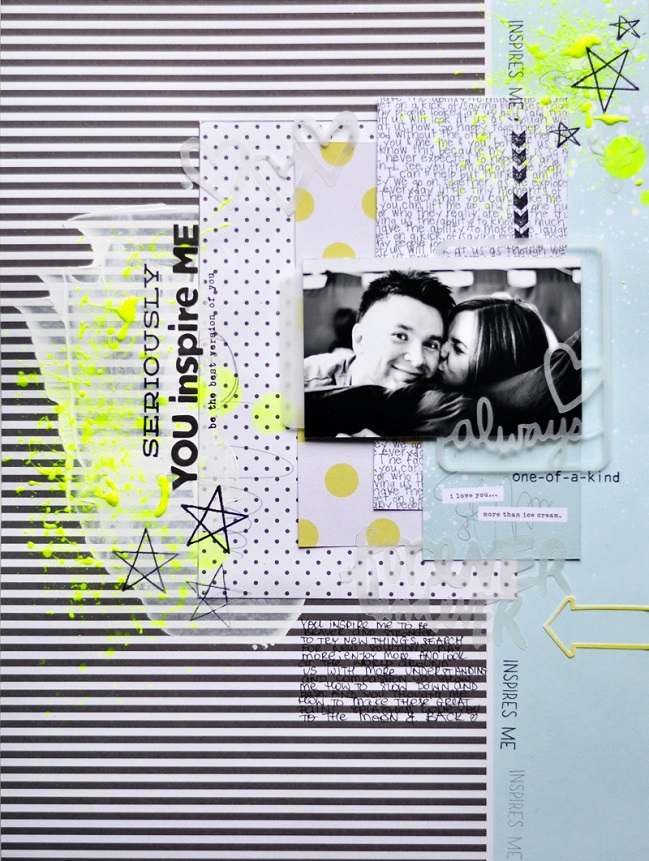 _My boyfriend is such an inspiring person- he is creative, he paints, draws, takes photographs and creates adverts for living. He motivates me to be a better person: to look at things with more distance,to exercise more, to focus on the good things in life. He really inspires me and I decided to focus my today's layout on this part of our relation. The color combination- neutrals with a bit of neon- is so him! Also if you like the paint splashes on the page, I can tell you he was the one who taught me to play with paint like this! I cut the vellum shapes on my Silhouette with two cut files: Love Words and Love Cards -Kasia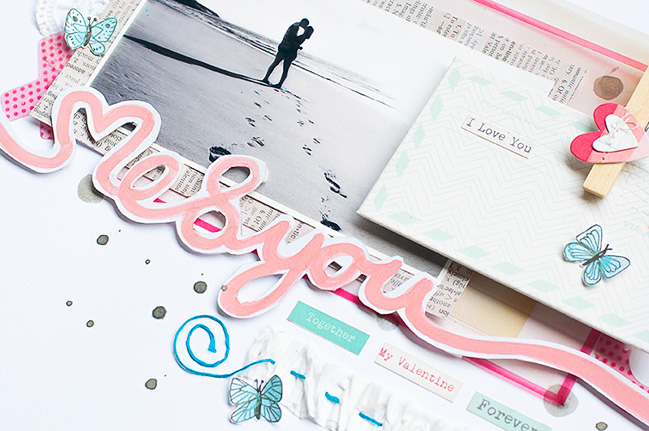 Jessica Lohof makes me want to try something new with my title work!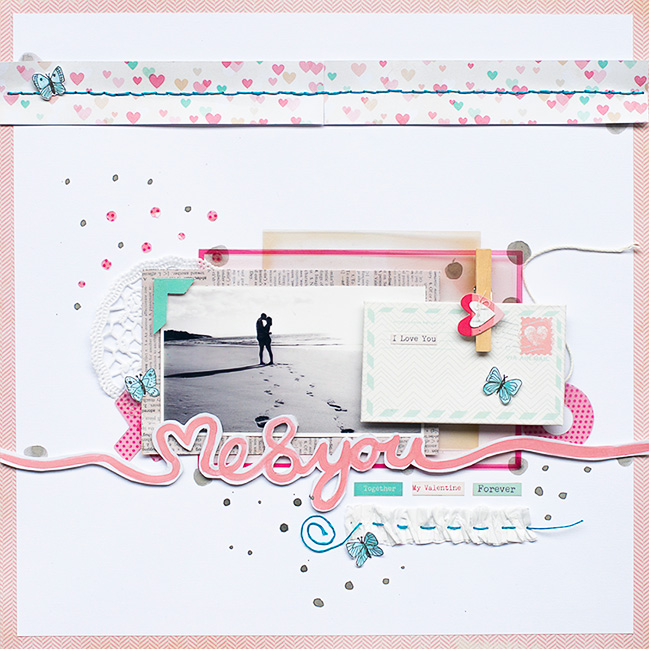 The first thing that came to my mind when I thought about 'my significant other' was, of course, my boyfriend. I've used a picture of a summer vacation showing both of us, even though the pictures are a bit older now, I love using them again. My starting point for this layout was the 'me & you' title. I wrote it with a pencil on cardstock and cut it bold enough to write the title again with watercolors. The rest came together quickly. I used a lot of Crate Paper's Love Notes collection – because I think pink is never wrong for a love themed page – and added a bit of turquoise. The butterflies are also sketched on cardstock, cut out, and watercolored. -Jessica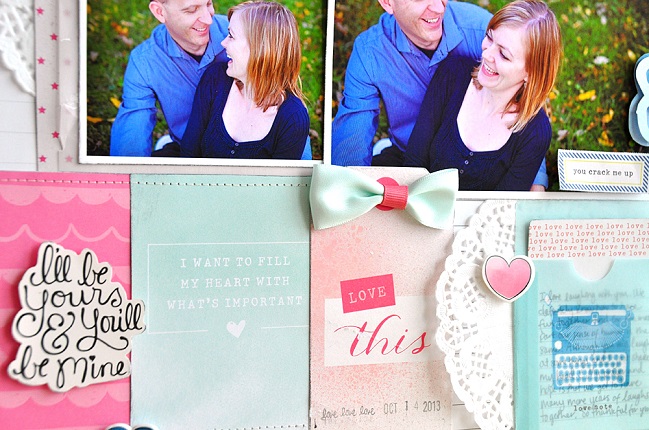 And this page by Jill Cornell is a great design for using some of those 3×4 cards that seem to multiply in our stash when we're not looking!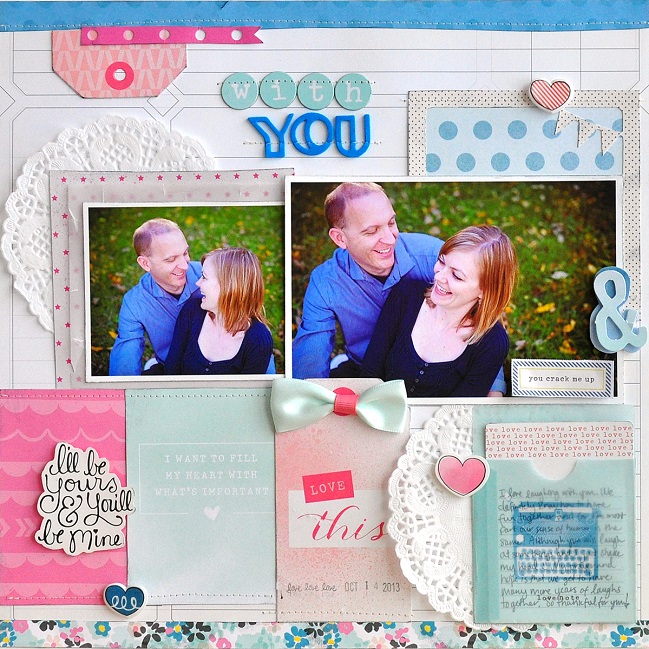 I have been married for ten years and one of the things I love the most about my relationship with my husband is how much we laugh together. We have nearly the same sense of humor and know how to have fun with each other. This fall we had a family photo session and our photographer captured these photos of just the two of us laughing. I created this layout using a mix of Dear Lizzy Daydreamer and Dear Lizzy Polka Dot Party – two gorgeous collections from American Crafts.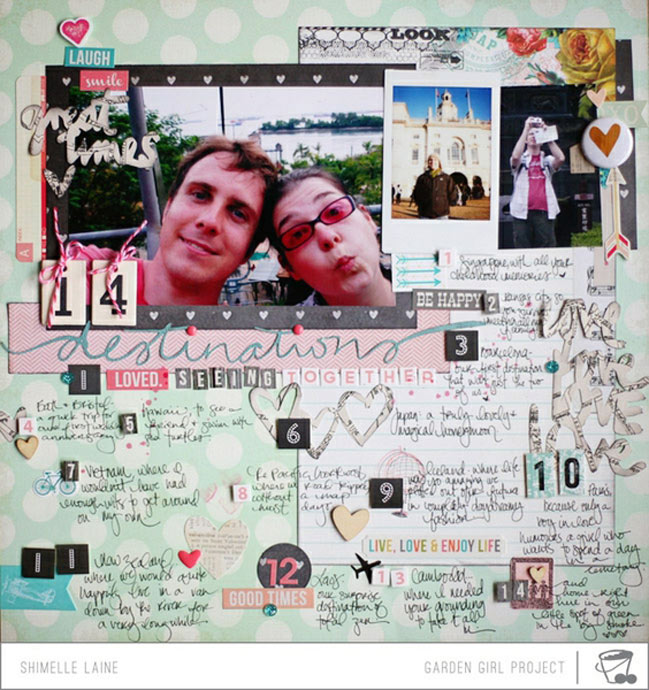 If you're looking for an angle to get you started on your significant other storytelling, this page from the Glitter Girl archives may come in useful: write a love list. (That link also takes you to the PNG for that 'destinations' title if you'd like to cut it with your Silhouette. It's a free download.)
By the way, that random tic in my hand and arm has gone now, like magic! File it under 'weird stuff your body does when pregnant' indeed. But now the little blips in my writing just tell me when I made the page which isn't a bad thing at all.
Those two challenges will get us started, and challenge three will carry on with the scrapping on Saturday morning. See you then!
| | |
| --- | --- |
| Kasia Tomaszewska works in fashion business by day and as a scrapbooker by night. She loves colorful patterned papers, paints and stamps the most and recently she really got into playing with her Silhouette Cameo! Scrapbooking is for her both- a way to document memories and an excuse to be creative! She designs for Citrus Twist Kits, Prima Marketing and Lemon Owl. She lives in Istanbul together with her soon to be husband, apart of scrapbooking she loves running and cooking! See more of her work on her blog. | |



Jessica Lohof loves all things creative and started to document daily life stories with scrapbooking in 2011. She is a German girl living in a small town in the middle of the country. If she is not making a huge mess on her crafting table, she enjoys improving her skills in taking pictures and spending quality time with friends and family.
Jessica is currently proud to design for Gossamer Blue, Color Hills and Color Conspiracy.
She shares her love for scrapbooking on her blog Talk About Priceless and through Instagram Facebook and Pinterest.



| | |
| --- | --- |
| Jill Cornell lives with her husband of 10 years and 4-year-old twin daughters in Windsor Heights, Iowa. She has a degree and career experience in public relations and broadcasting but is now a stay-at-home mom. Jill has been scrapbooking and papercrafting for 10 years and has a soft, shabby chic style that incorporates linear design elements. She loves having girls to scrapbook because it gives her an excuse to use pink and feminine details on her work. Jill is currently designing for American Crafts, Webster's Pages and Gossamer Blue. Visit Jill at her blog, Blessed Scrapper. | |

Read more about: inspiration-party
20 June 2014

Next post: Sketch to Scrapbook Page:: Grid Collage
Previous post: Sketch to Scrapbook Page :: A photo and a banner (Welcome to a weekend of online scrapbooking!)