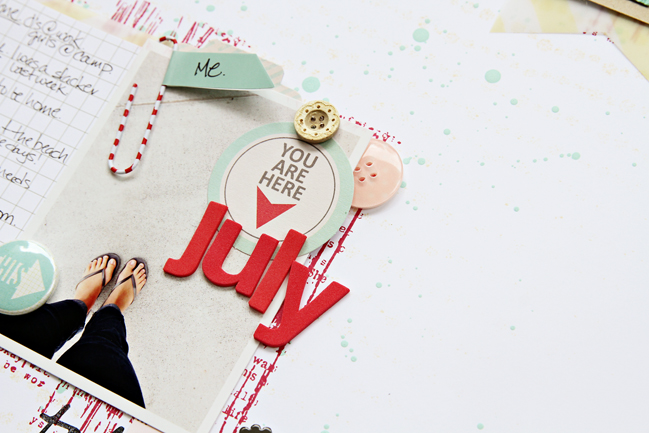 Happy Friday scrapping friends! This weekend, I'm delighted to bring you a series of scrapbooking challenges so you can join in our online crop and scrapbook right along with us. You'll see quite a few sketches as well as some theme and technique challenges, and you can work with any supplies, any photos, and any pace you fancy – no pressure, just inspiration and ideas from a group of lovely guest artists! There are couple challenges tonight then more throughout Saturday and Sunday, so please check back whenever you need a boost. For now, Corrie Jones starts us off with a sketch and layout!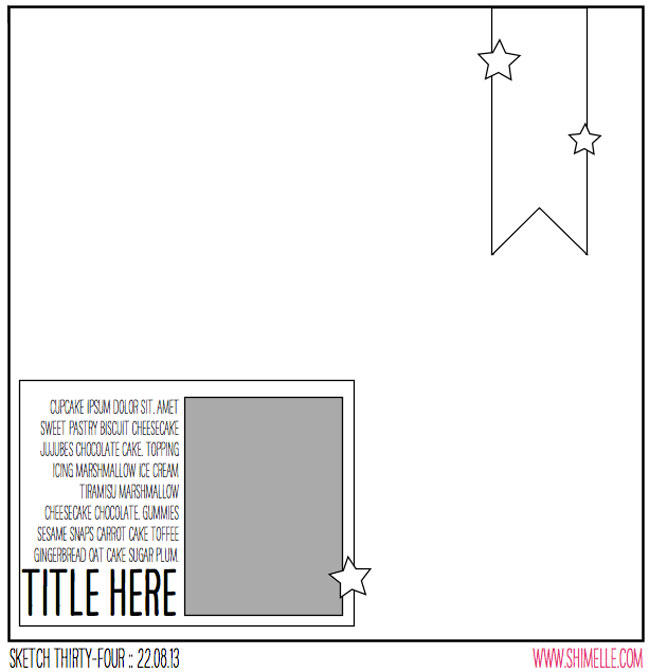 When I plotted out this page sketch, I imagined it as a design that would work well with a sheet of patterned paper you really liked and didn't want to cover (something I also covered in this week's Glitter Girl Adventure actually), but Corrie made me realise it can work just as well with something simply and airy too. With one block for photos and writing then some banners in the opposite corner, this is a design that can be made with just one full sheet for the background and everything else made from scraps.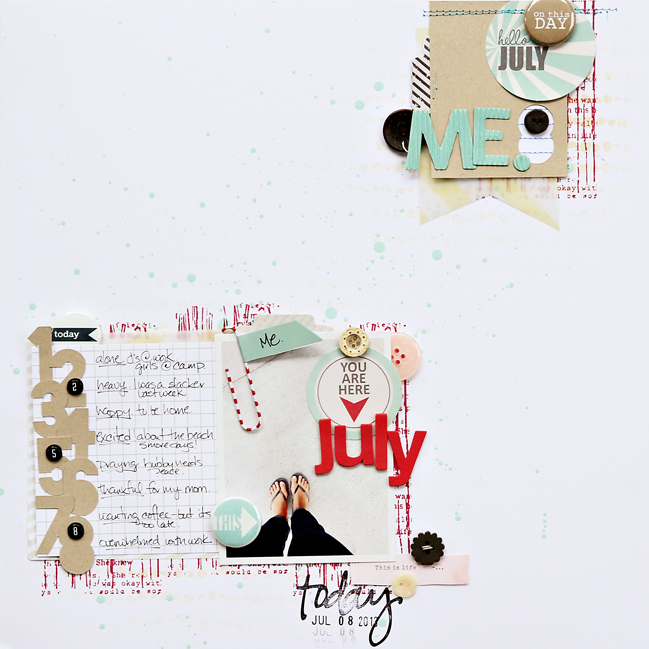 I love creating with sketches. I find that I can be incredibly creative with a sketch as a jumping off point. Instead of trying to come up with a design, I can just play with supplies. Sometimes, I will take one or two things that I am inspired by from a sketch and other times, like with this sketch, I will be more true to the overall layout. With this sketch, how was I not supposed to be more true. I just love the design with the white space and two elements. Totally my kind of page. This page is the continuation of my personal pages about me. I rarely scrapbooked about myself and honestly, except for these monthly pages journaling about myself each month on the 8th, I still rarely scrapbook about myself. But I like these. I like that I have a few pages that are more than what my kids are doing or what event we have going on. These pages are a glimpse of inside me that I am sure one day I will really be happy I have.
To share what you create with this sketch, upload it to a page gallery like Two Peas or UKScrappers, or your Instagram account, then link us up here. (If you'd like to start using Instagram for your sharing, you can find info on that here at Inlinkz, but it's easy and just look for the Instagram logo, really!)
| | |
| --- | --- |
| Corrie Jones lives with her dear hubby and three active girls in the 'burbs of Atlanta, Georgia. She has been scrapbooking for four years, ever since two large plastic tubs jammed full of photos started laughing at her. Four sheets of paper, blue Thickers, some double-sided tape, and a scrapbook magazine later and she hasn't looked back since! Now scrapbooking is her way to relax, to stretch her creative side of her brain, and a great reason to spend my time with her friends. Other than scrapbooking, Corrie enjoys being at the beach, photography, and reading. | |

Read more about: sketch-of-the-week inspiration-party
20 June 2014

Next post: Scrapbooking your Significant Other
Previous post: Using that Inspiration:: A Scrapbook Tutorial by Paige Evans