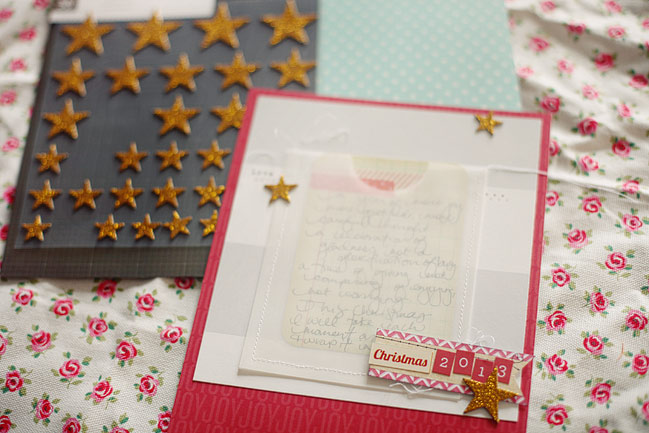 I always start my Christmas journal with a manifesto of sorts. It's a declaration that tends to lead me in two directions – both in how I go through life through the holiday season and to remind me to finish what I start when it comes to keeping my journal. When I first started writing these, they were more about the book itself. Now they tend to be more about the life side of things, and I'm happy with that natural evolution. Part of my personal process with Journal your Christmas over the years has been to realise the book is secondary for me. In a way I suppose that could be seen as a teensy bit too radical, but I don't want to make plans and do things just so I have something to scrapbook. I want to do the things I'm inspired to do… and then feel they were worth the time of taking photographs and writing words and gluing bits of paper to other bits of paper in an aesthetically pleasing manner. Live first, scrapbook second.
So yesterday December arrived on the doorstep and since that is the first day of class, it's always a work day for me even if it falls on a Sunday this year. I don't mind that. The less fun part of starting the class like spreadsheets and data entry and jumping through hoops of spam filters is always far, far outweighed by all the good parts, like seeing familiar faces pop up who have done this project several times or seeing all sorts of happy photos turn up on online, thanks to the ease of tags like #JYC2013 and #ChristmasJournal and modern day fanciness like Instagram. (We use two different tags – the former for all sorts of Christmas activities and the latter specifically for the pages in our books.) But the truth is that even though I write my manifesto for the year before the first of December, I don't like making the actual page before December hits. I tried making all my entries early one year and it just didn't work – it's far more fun to be in the actual moment than guessing the moment days ahead! All that stuff added together means I very, very rarely actually finish a manifesto page on the first of December.
What you see above is what I've done so far. For me, the important thing is there: I've written the words I want to live by this year and they are there in ink for me to remember. The rest is all icing. There's a bit of icing, but not enough to call this done. I guess I am very pro-icing once I know the cake is good cake. My December first reality check looks something like
Missions Accomplished
Class started.
Supplies collected.
Manifesto written in ink.
Tree retrieved from hallway cupboard of mystery.
Missions Nowhere Near Completion
Papers cut to size for album.
Balanced embellishment and title for first entry.
Fabric photo backdrop ironed.
Tree removed from duct-taped cardboard box, assembled, and decorated.
Maybe in some years I would have powered through and done all those things in one day. I think I have. This time I took it all a bit slower – just a bit. But I am okay with all that. Yesterday was only the first. Today is the second. There is still time for everything that is truly important. We'll see if that includes the ironing or not. With a bit of luck, eh?
With that in mind, my Christmas Manifesto for 2013…
a year of more joy, more gratitude, more careful thought.
a celebration of gladness, not a glorification of busy.
a time of giving, not comparing. of enjoying, not worrying.
This Christmas, I will take each moment as it comes and wrap it in my own holiday spirit.
I will seek out beauty in simple things and choose time with loved ones over most anything else.
All this will lead me to a holiday season of nothing short of true sparkle.
You can find previous Christmas manifestos here and here. Those were probably a bit more poetic, but every year leads to its own natural focus so sometimes poetic just isn't what wins out for me. But we all create our own manifesto for the year, so perhaps some of the JYC participants will also share their words and pages for 2013?

Read more about: classes
02 December 2013

Next post: Showcasing Patterned Paper:: A Scrapbooking Tutorial by Paige Evans
Previous post: Preparing for a December scrapbooking project like Journal your Christmas