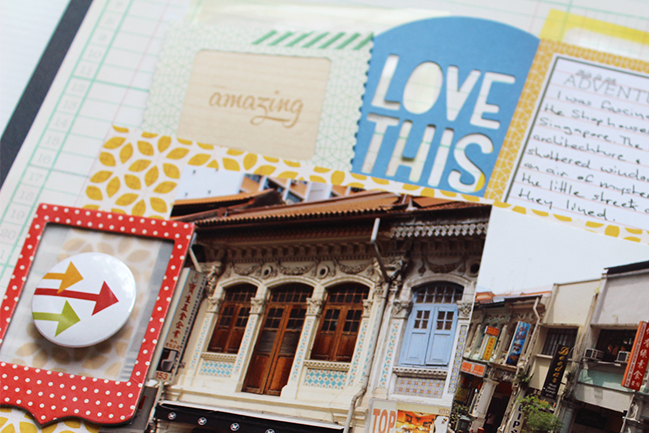 The sun has set on Sunday evening here and that leads me to post this final challenge of this weekend's online adventure! Just one last sketch for today, of a page design I must have used more than a dozen times and still love. It works so perfectly as a way for me to remember how to make a page when I've had to take a little time away. I usually feel I've forgotten how to scrapbook after three days or so – which I realise is a scarily short window of time. It was seven weeks, I think, that I didn't even walk into my studio this spring, and I wasn't sure I'd even remember how to work the paper trimmer. Thankfully muscle memory seems to have sorted that one out!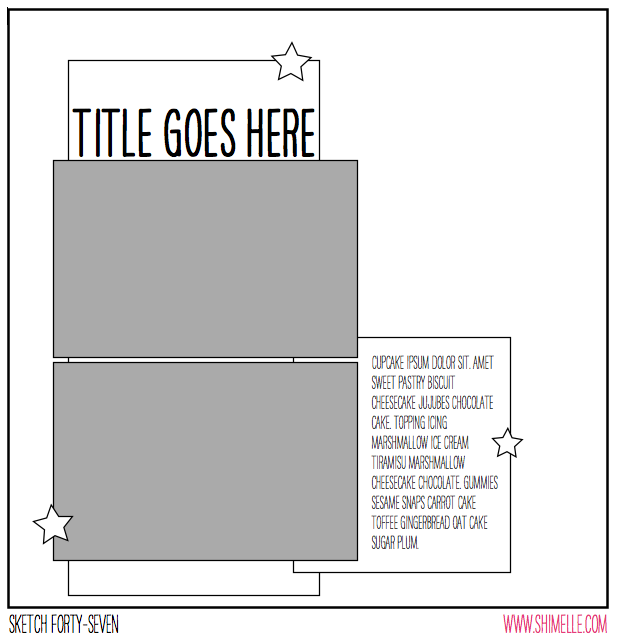 So here we are: two 4×6 photos, use of the rule of thirds, a triangle of embellishments to surround the important stuff, and a balance of vertical and horizontal flow across the page. It's all my favourite design elements right there together.
Our final guest of the weekend is Manda Moore, who stepped up to give the sketch a spin in her own style!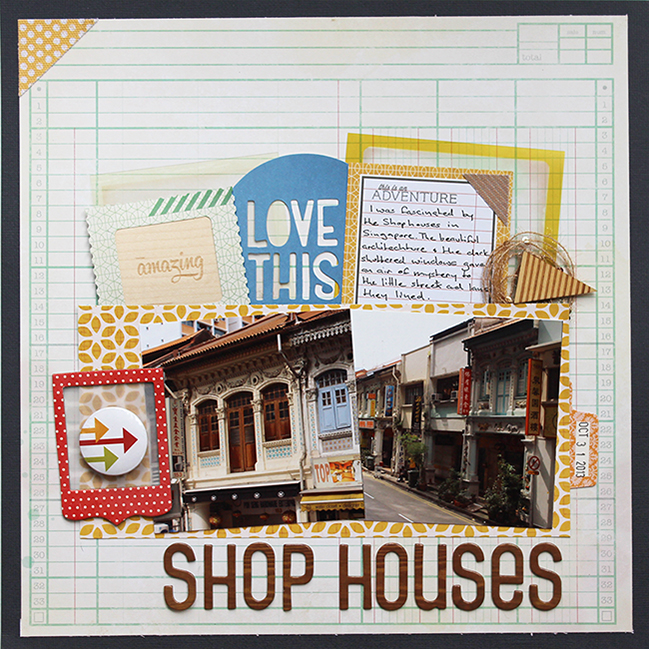 I love working with sketches as a starting point for a layout especially as you can adapt them to suit your photos or your style. Because of the composition of my photos (of Shop Houses in Singapore), having one picture above the other did not look right so I flipped the sketch onto it's side. This also meant the title had to be moved but I kept the journaling spot in the same place. I am a huge fan of layering and because I had quite a bit of white space above the photos I used some ephemera and photo overlays to fill in that area. (I find that a couple of ephemera packs can stretch over quite a few layouts so they are a great investment). This was a very versatile sketch to work with and I can see myself adapting it to use for a few other layouts. -Manda
Thank you so much for joining me this weekend! All the challenges remain open until the 30th of June – and the little countdown timer on the link ups should help you figure out what time in your part of the world. Of course you can follow them any time, but I'm going to try to work through them by the thirtieth, so if you want to see how many you can get done too, it would be lovely to see your work! Happy scrapping!
| | | |
| --- | --- | --- |
| Manda Moore is a graphic designer living in a small country town in Victoria, Australia. She is the Creative Director of Life.Paper.Scrapbook a free online magazine that is published quarterly, a project she started to share her love of scrapbooking with other designers from around the world. She has always loved art and craft and has been making a crafty mess of paper, glue, paint, glitter and anything else she can use as long as she can remember! When she is not creating something with paper and glue she loves to cook, take photos, travel and spend time with her two kitties, Harry & Winston. You can find her at her blog Mandalika Designs, Facebook page or on Instagram | | |

Read more about: sketch-of-the-week inspiration-party
22 June 2014

Next post: Goodbye, Two Peas
Previous post: Sketch to Scrapbook Page :: More is More