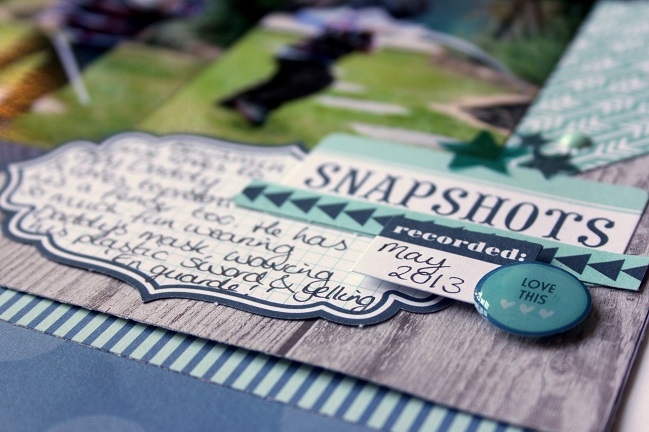 Moving right along: it's challenge five and we're back to another scrapbook page sketch. Two fabulous scrappers have given it a whirl, and now it's your turn!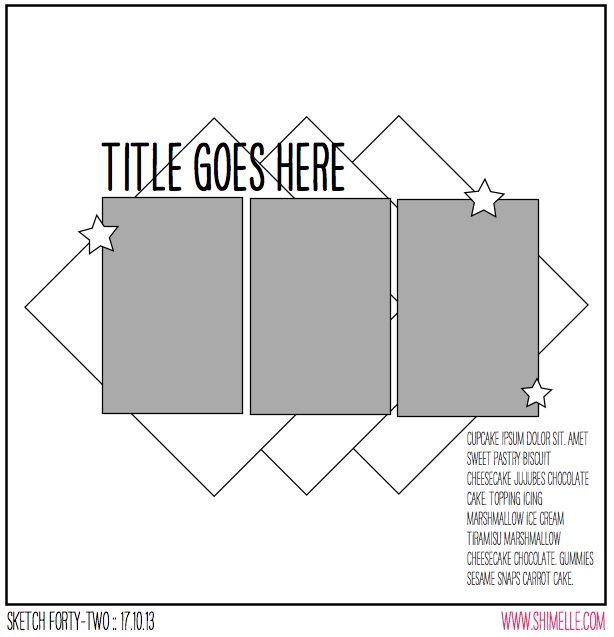 This sketch may make you reach straight for your favourite 6×6 papers, since three boxes from a coordinating collection would look lovely lined up across the middle of the page, but of course it could also work with scraps to stretch your favourite papers to more pages. In fact, there's much about three in this design, with three paper blocks, three photos, and a triangle of three embellishments to frame it all.
Our first guest to take on this design is Jen Naulls.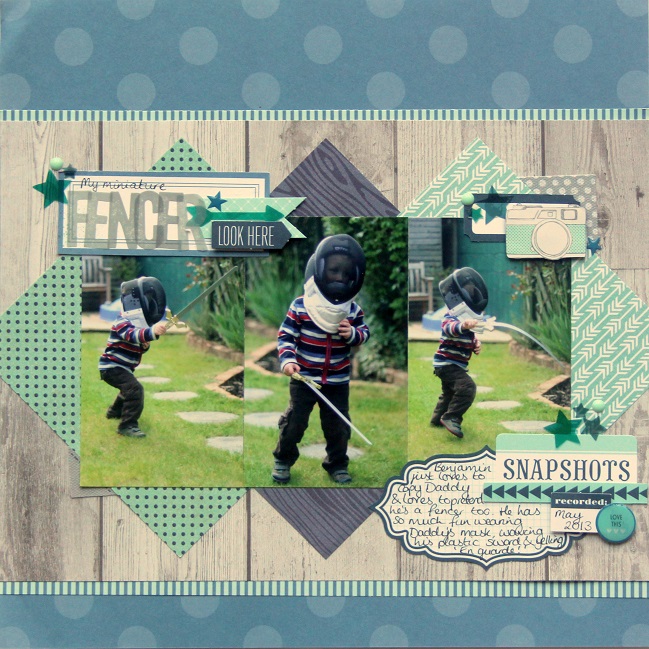 I was so pleased to see a sketch that featured multiple photos, as I often find I have several similar photos from one occasion and whilst I love that huge memory cards on my camera allow me to do that, it can be difficult choosing which photos to include on a page. My husband's hobby is fencing, and our son loves to "be like daddy" and race around the garden shouting "En Guarde!" at the top of his voice. On this particular day he had found the fencing mask and put it on, and he looked so funny wearing it that I took quite a lot of photos. I pulled out a selection of supplies in blues and greys and started layering the papers up. I adore patterned papers so I like to include several on a page, and rarely use plain cardstock these days. I stuck pretty closely to the sketch, adding a couple of extra layers to the background to help separate the heavier patterns a bit, and combined my embellishments with my title and journalling blocks. This sketch is perfect for 6×6 paper pads (I love the smaller scale patterns you get at that size), and I would never have thought to place them at such an angle but I love how it has turned out! -Jen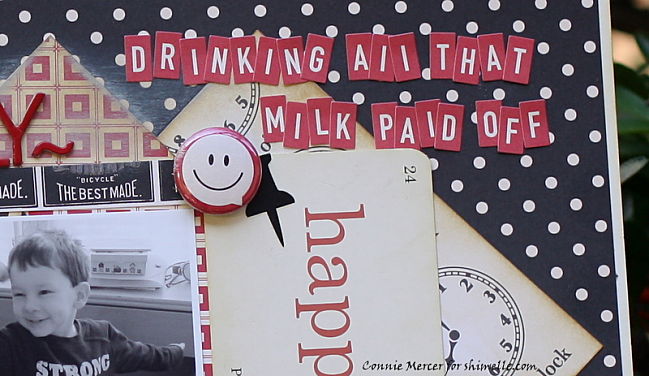 For another look at this sketch, let me introduce Connie Mercer with her lovely Christmas interpretation.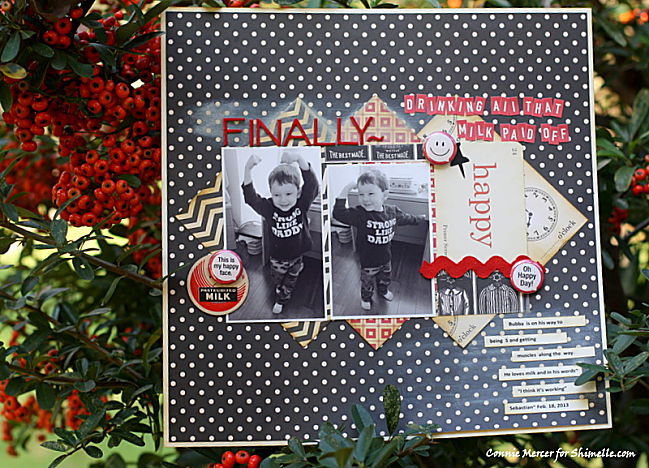 _I stayed pretty much true to the sketch. I didn't have three pictures so I used that third space for embellishments. I flipped the focal spots and put two on bottom and one on top. Such a fun sketch and so easy to change it up. The paper and embellishments are by Jenni Bowlin Studios. The small letters are by October Afternoon and American Crafts -Connie
Now it's your turn. I'd love to see you you interpret this sketch with your own style and stories. As always, this sketch is just for fun and everyone is welcome.

| | |
| --- | --- |
| Jen Naulls lives in a cottage in Suffolk, England with her husband, son, daughter, and the family cat. She works as a hospital doctor but is currently enjoying a period of maternity leave and spends most of her time looking after the kids! Jen always has lots of projects on the go, and has turned her hand to quilting, knitting, crochet and cross stitch as well as papercrafts. She discovered scrapbooking in 2005 whilst at university, and loved it straight away. More recently Jen has been enjoying Project Life style memory keeping alongside her usual 12×12 layouts, and she designs for Sarah's Cards Ltd. | |
| | |
| --- | --- |
| Connie Mercer has enjoyed crafting for as long as she can remember. Working with her hands and creating have always been a big part of her life. She has been scrapbooking for 13 years and has served on several manufacturing design teams. Currently Connie serves on Clear Scraps, Darkroom Door, Avocado Arts and The Curtsey Boutique design teams. She has five fabulous 'grands' as she calls them. Her and her husband Randy live on a ranch in Texas. Connie enjoys junkin' almost as much as she does craftin'!! You can find more of Connie's work on her blog Crafty Goodies. | |

Read more about: sketch-of-the-week inspiration-party
21 June 2014

Next post: Sketch to Scrapbook Page :: All Lined Up
Previous post: Scrapbooking with Mist or Ink