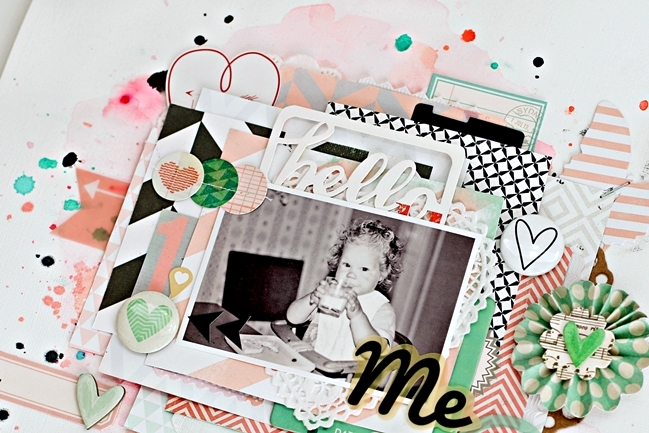 Ready for your next challenge? This time we're heading to technique land and challenging you to scrapbook with mist or ink on your next page! Four lovely ladies have stepped up to inspire you with their beautifully inked pages.
First to share with us today is Christin Goslett.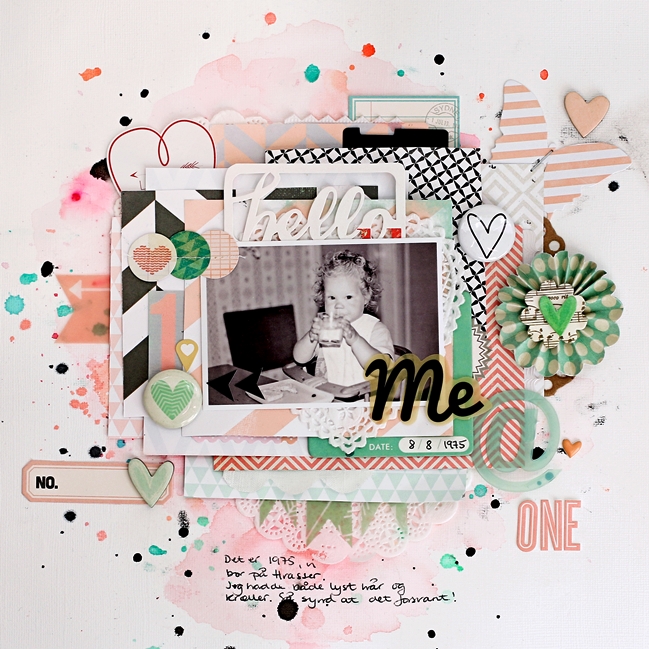 I love to use mist when I scrap, but you will hardly ever find a page where I actually use it to spray. The first way I use it is almost as I would use watercolors. I start with adding a layer of clear gesso. The clear gesso give a very different texture than white gesso and it doesn't give the white cardstock a yellow tint. While mist almost runs off white gesso – the clear gesso sucks the color right in. I used a water brush to add water and spread out the mists to a wash. When it all dried, I added drops of mist. If you add drops of mist before it has dried, you will get an ice crystal effect – the color will spread out like an ice crystal. Then my tons of layers were added, in the same colors as the mist. I actually picked out a lot of the papers and embellishments after I picked out the Mister Huey mists. My biggest secret when it comes to scrapping is to staple the layers. That is what gives me the freedom to add small pieces in between here and there. -Christin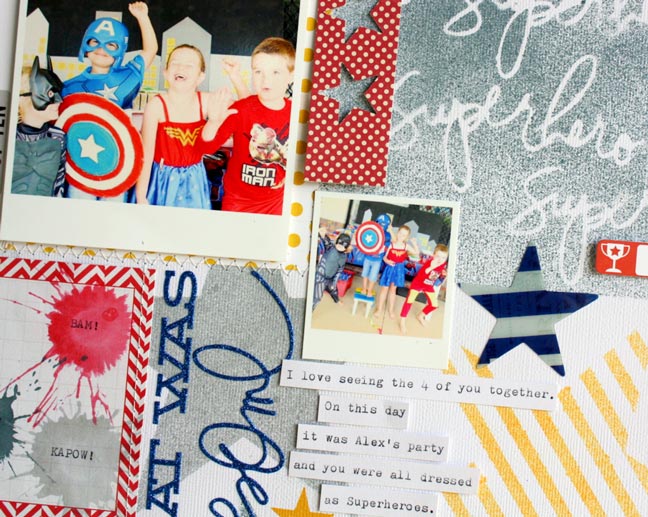 Next up: Kim Jeffress with her fun, superhero inspired layout.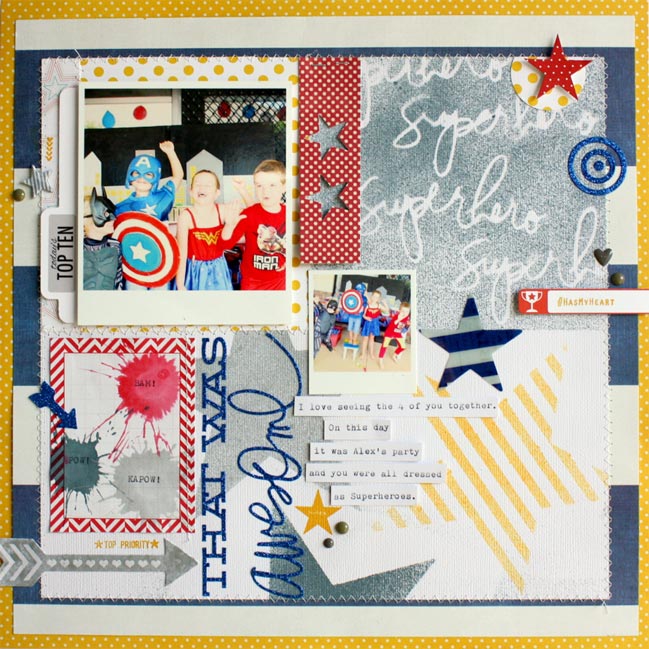 First use a word cut from your Silhouette Cameo. I cut out the Superhero word several times and then laid it on my white cardstock. I used some scrap paper to mask off the area I wanted to mist and then sprayed over the words with Color Shine mist, then removed the words to reveal the white underneath. You can also use a stencil with your mists. Here I used the same stencil (in my case a star) and misted it in one colour then moved it to another area of my cardstock and misted it with a new colour. This can be repeated as many times as you like. Next I grabbed some empty paint dauber tubes that I bought at my local craft store and poured a few colours of Color Shine mist into them. I then grabbed a journaling card and slammed the tube down onto the card to create a splatter effect with the mist. Once dry I used my typewriter to add the words over the splats. Finally I have misted over some resist shapes also from Heidi Swapp. The shapes are coated with a special resist material so once misted parts of the shape remains white while the other takes on the colour of the mist! -Kim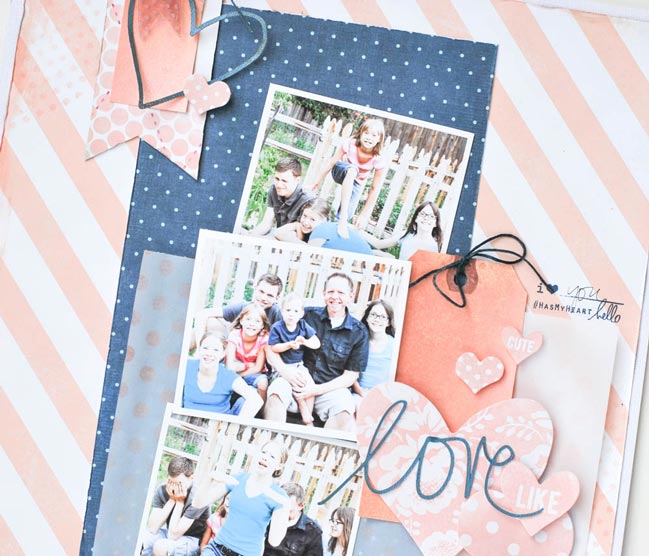 Jamie Pate shows how only using two colours can work perfectly.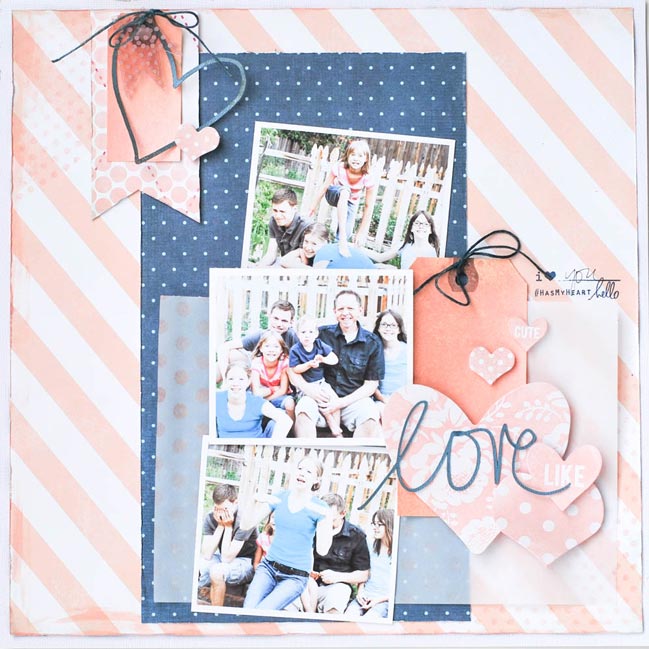 Something found on my studio table almost all the time are mists. I am most partial to the Heidi Swapp Color Shine. The little ball at the bottom really helps mix up the shine that adds such a fabulous sheen to my paper projects. For this layout, I had to share the photos leading up to the photo. It's not easy trying to take a decent shot of five kids and their dad. Mist can be found all over this page. I often mix it with acrylic paint and swipe along the distress edges. Stencils are used to add interest to pattern paper, as well as vellum. Resist embellishments are easy with mists. Die cutting white card stock and spraying with mist adds great effect. A misted manila tag can be found on here to help it fit the colors of the pages, oh, and don't forget the string. Yep, a little bit of mist love found here is not hard at all. -Jamie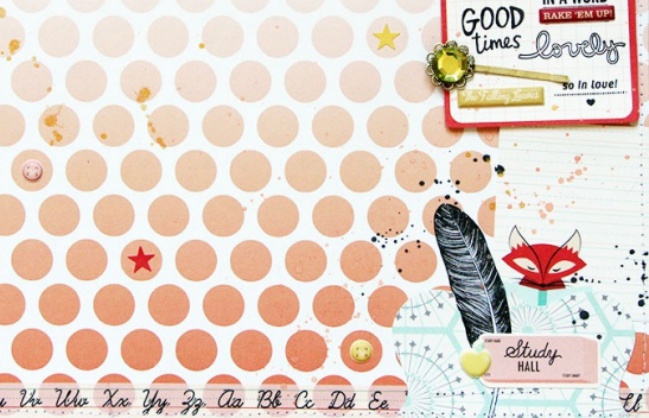 And a beautiful project by Celine Navarro.
For this layout, I use dome Studio Tekturek products, which is a Polish company that I love, some October Afternoon embellishments, and the brand new Brother ScanNCut cutting machine to create my title and some die-cuts I have on this layout. I simply wrote my title, 'Hello Life', on a piece of white cardtock with a big black pen (such as a Posca pen), scanned it with the Scan'n'Cut machine, outlined the outside and inside of the words and made the machine cut my title in two different patterned papers! Isn't that fun?! -Celine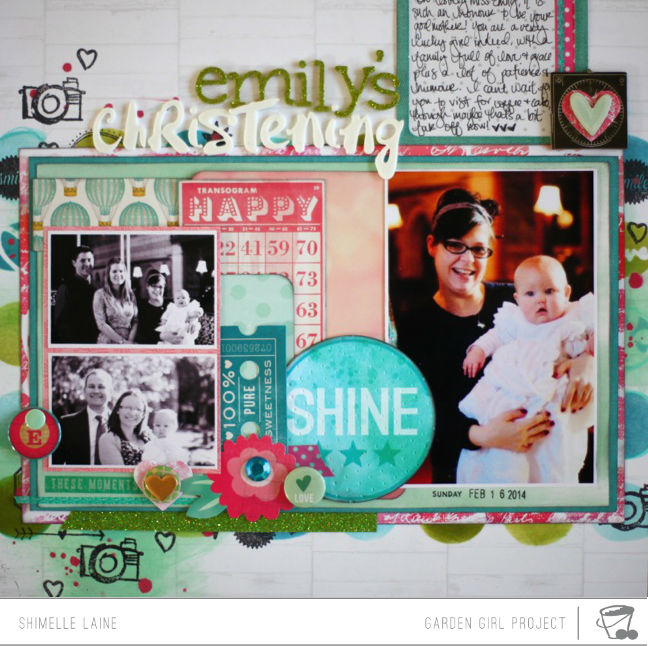 Glitter Girl uses mist and ink at least every few weeks, but there are two adventures that come to mind for this challenge. If you're brand new to mists and want a rundown of brands and basic tips, then Mists of Magnitude is a resource video to get you started. If you're ready for something a bit more involved, then this adventure includes masks, stamps and sprays:

Find the supplies and further details here at Two Peas.
| | |
| --- | --- |
| Christin Grønnslett lives in Røyken, Norway with two kids and a husband. When the kids are tucked in bed she escapes down to her scrap cave in the basement. Christin currently serves on the Design Teams for My Creative Scrapbook, Papirdesign, Inzpira magazine, Scrap around the world and Paper Issues. You can find her blog here and follow her on Instagram. | |
| | |
| --- | --- |
| Kim Jeffress lives in Brisbane, Australia with her husband and two sons, who are her inspiration for scrapbooking. Kim likes to capture the everyday memories of my family. She designs for Heidi Swapp, Jillibean Soup , Pebbles Inc, Scraptastic kit club and Jot magazine. | |
| | |
| --- | --- |
| Jamie Pate lives on the Front Range in Colorado. She has five kids who fuel many of her creative story telling. Jamie has a love for all things paper and most especially love using it to document her every day and not so everyday life. The community of creatives she is lucky to be apart of blesses her everyday. Jamie is on Instagram as 'jamiepate' and she'd would love for you to drop in and say hi on her blog. | |

Read more about: inspiration-party
21 June 2014

Next post: Sketch to Scrapbook Page :: Repeating simple shapes
Previous post: Sketch to Scrapbook Page:: Grid Collage