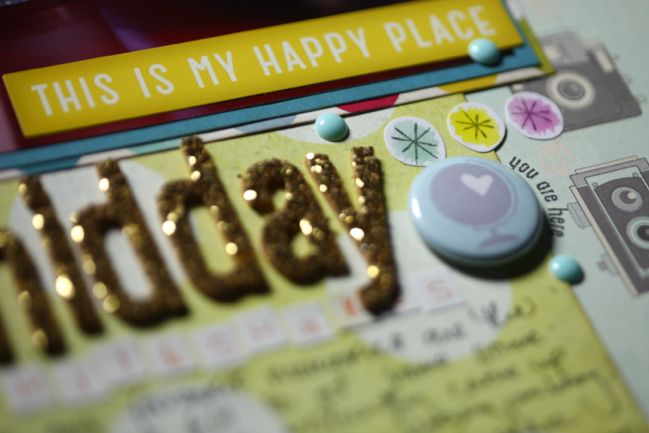 Moving right along then with the August kit and some long overdue sketches, I came up to a design for a single photo and knew just the thing I had in mind, filed away under 'somewhat random but still important' as a story I wanted to include in my backpacking album, all about our midday routine while in Luang Prabang, Laos, which included milkshakes while sitting on the riverside. Yes, I'm scrapping about milkshakes. You're right, I probably have lost the plot a bit.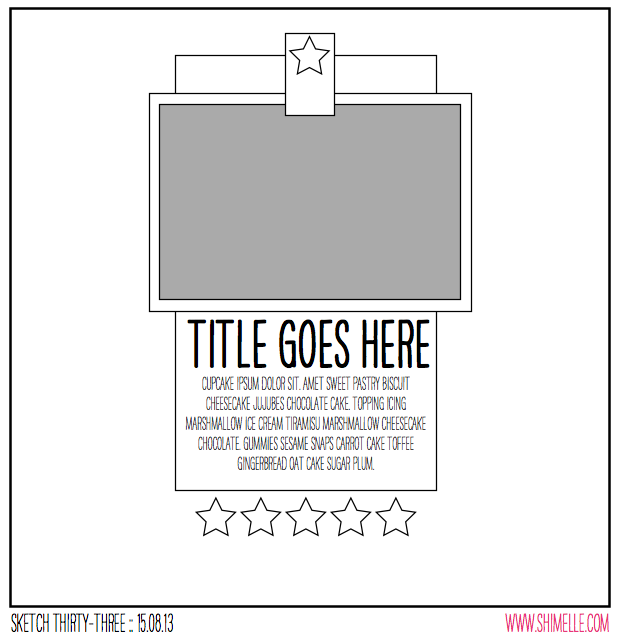 This sketch is designed for a single 4×6 landscape photo with an accompanying story. It's another design that is purposely meant for those patterned papers you love but don't want to cover entirely – there is plenty of open space to let a pattern breathe.

Pretty much everything for this page comes from the August Best of Both Worlds kit. I know, I know: it is far from August. I can but move forward! The good news is most of that kit is still in stock and 25% off until Sunday the 5th of January too. I added a sheet of 12×12 kraft cardstock for the background and then the black ink pad of course.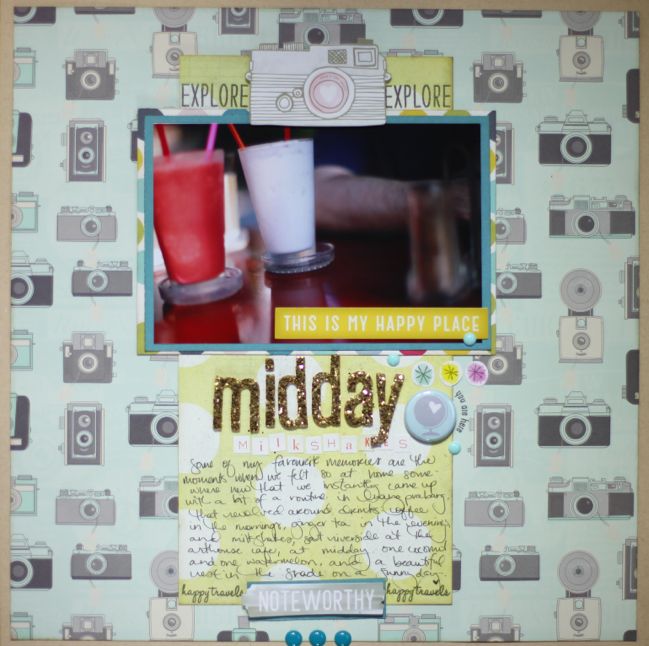 I know it may seem strange to devote an entire page to one seemingly random 4×6 photo – it's hardly a beautiful portrait or an amazing bit of scenery. It's milkshakes of all things. But for me, it makes sense to take the space when there is a particular memory that is important, even if it's not a traditional milestone. This image represents something that was very important for me to get written down in my backpacking album. There is quite a bit of open space on the page (in the form of the patterned paper) and that gives me two things that will work well for those sorts of important stories: one, if the story hadn't fit in the space that it did, there is the potential to add more elsewhere, and two, using one pattern with relatively few colours and a repeating design can help direct your eye to the writing and emphasise its importance. It's not a story tucked away in a corner of a page with lots going on – it has a space all its own.
That said, I had some more random memories and photos that went alongside this story in the form of a divided page protector for the facing page. I'll share that next so you can see the balance between this more minimal and that one with more stuff in the same space.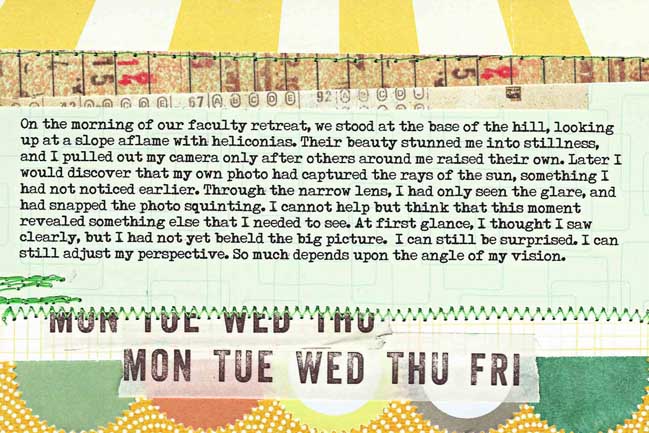 For a second look at this sketch, let me introduce Jill Sprott with her interpretation in beautiful yellow.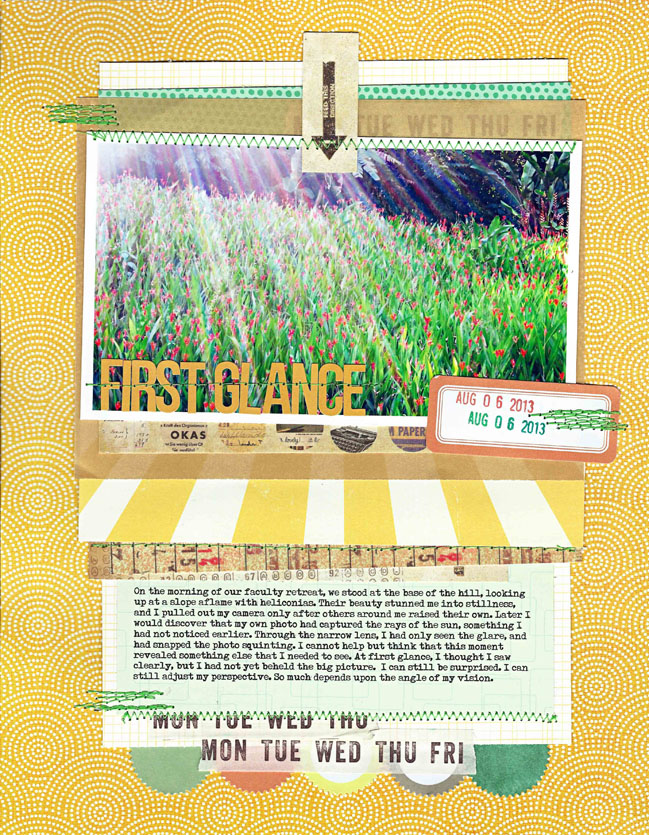 This is my kind of sketch! It emphasizes the basics — a photo, some journaling, and a few accents — while also allowing room for interpretation. I sized down the sketch to work with an 8.5" x 11" layout, and reduced the margins around the photo and journaling block a bit. Since there is so much open space in the photo, I added the title to the photo itself rather than below it, and replaced the title block on the sketch with a sunburst pattern (from October Afternoon) that parallels the rays of sunlight in the photo. I built on the blocks in the sketch by adding layers and strips of patterned paper (from American Crafts, October Afternoon, Farmhouse Paper Company, and Studio Calico). Some of the patterns repeat the colors in the photo, while others serve to reinforce the theme of the layout. I also backed the photo with a rectangle of vellum, to add a shimmery quality to the sun-centered layout.
The most important aspect of this page, in my view, is the journaling. It begins with a 'surface' view, commenting on the photo itself, but it starts to move beyond that, commenting on the photo as a metaphor for the mindset that I wish to embrace as another school year begins. I usually try to avoid talking about the act of taking a photo in my journaling, since I would rather focus on telling stories or sharing my thoughts and feelings. I want to say more than, 'So-and-so took the time to smile for the camera.' In this case, however, the act of taking the photo and what followed from that is part of the story, contributing to the overall meaning of this page.
| | |
| --- | --- |
| Jill Sprott lives on Oahu, Hawaii, with her husband, daughter, and their menagerie of pets. She is a high school English teacher, which makes for pretty busy days, but on the weekends, when not grading papers, Jill shifts from working with words to playing with words and pictures, surrounded by patterned paper. Like teaching, scrapbooking is a creative, challenging, colorful, and rewarding endeavor. Jill is currently on the design teams for October Afternoon and Jenni Bowlin Studio, and is a Garden Girl at Two Peas in a Bucket. You can follow Jill on her blog, Use Your Words. | |
Now it's your turn. I'd love to see you you interpret this sketch with your own style and stories. As always, this sketch is just for fun and everyone is welcome.


Read more about: sketch-of-the-week best-of-both-worlds-kit
04 January 2014

Next post: A Pocket Page to Coordinate
Previous post: Sketch to Scrapbook Page :: Working with two smaller photos