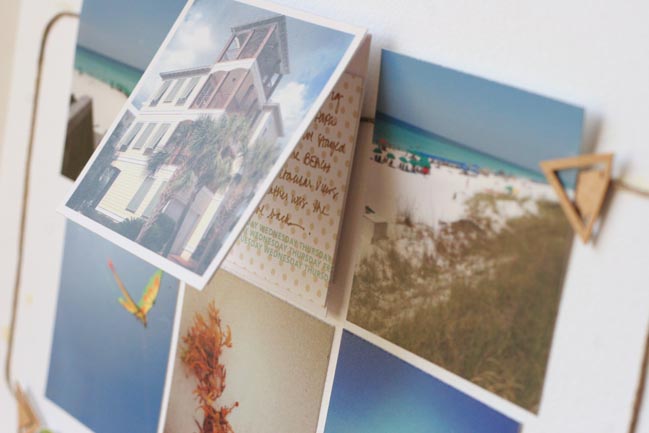 Happy Saturday, and welcome to our third scrapbooking challenge of this online cropping weekend: a simple sketch for three or more photos to start the day.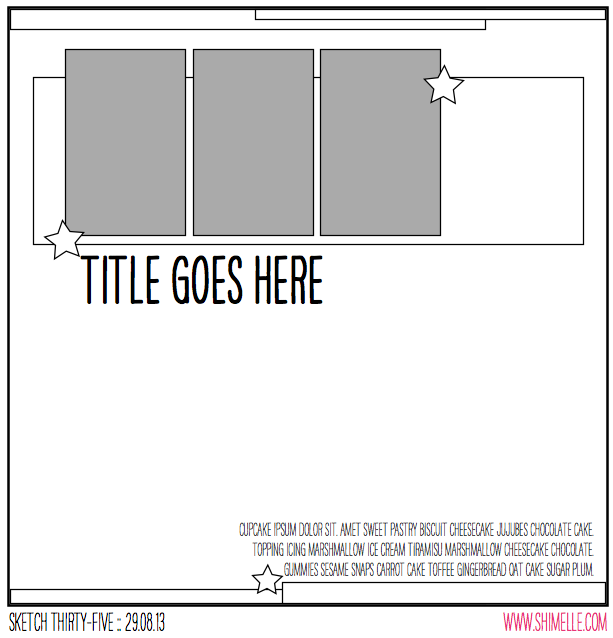 Again, it's a design that can really feature a sheet of patterned paper! When I was drawing these, I was hitting a wall with papers I loved that ended up mostly covered by other elements, and yet coincidentally Suz made it work with white card stock again! She also demonstrated how it could easily work with twice as many photos as I originally imagined.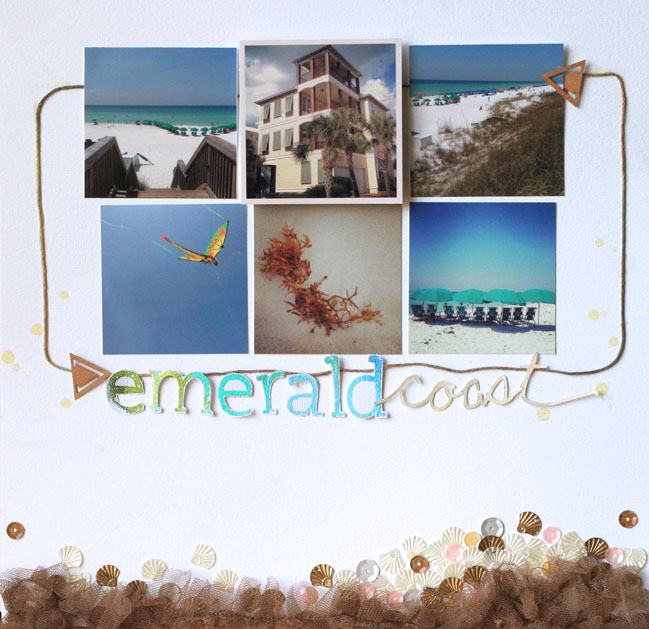 I decided not to rotate the design for my take on this sketch but did opt for a two by three grid collage photo arrangement instead of the row of three photos. I placed the triangle wood veneer clips where the stars were surrounding the photo arrangement. In place of the journaling at the bottom right of sketch, I grouped a large cluster of sequins and trim to mimic the gorgeous Florida Emerald Coast. For the outline around the photos, I initially thought I would machine or hand stitch this area, but instead used hemp cord which I think added to the organic feel of my design. I placed my journaling in a "flip up" located beneath my main photo which I adhered with pop dots for added dimension. As for my title work, I applied a wet embossing ombre technique using several Zing powders and then created a handwritten Silhouette cut 'coast' which I colored with metallic watercolors and watercolor pencils. I enjoyed creating with this sketch and hope you do too! -Suz



Suz Mannecke lives with her husband of 18 years and two sons in the Ozark Mountains of southwest Missouri. She is an optometric physician who turned

SAHM

after the birth of her second son. Suz has been scrapbooking for several years and enjoys documenting the

EXTRA

ordinary in everyday life with photos + words + an eclectic mix of scrapbooking products. She likes trying new techniques and trends while staying true to her own design aesthetic. Her creations have been published in several issues of Scrapbook Trends, Create, and Cards magazines and she currently designs for Elle's Studio and Come On Get Crafty . More of Suz's designs can be found on her personal blog, as well as online at Studio Calico, Two Peas, Twitter, and Instagram; User ID "SuzMannecke".




Read more about: sketch-of-the-week inspiration-party
21 June 2014

Next post: Scrapbooking with Mist or Ink
Previous post: Scrapbooking your Significant Other