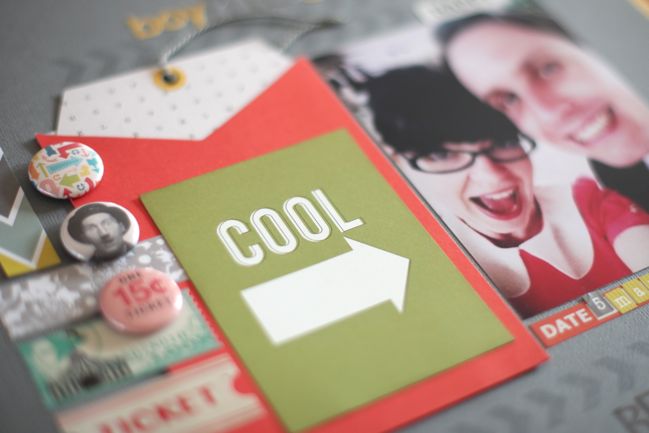 I always run out of paper in a kit before I run out of embellishments. I think somewhere along the line I tell myself to ration the embellishments, but I don't say that about paper, so there I go, layering it all up, when I get to a point where I have a few measly scraps of patterned paper and a preserved cache of badges, die-cuts, sparkles, and stickers. Time to redress the balance.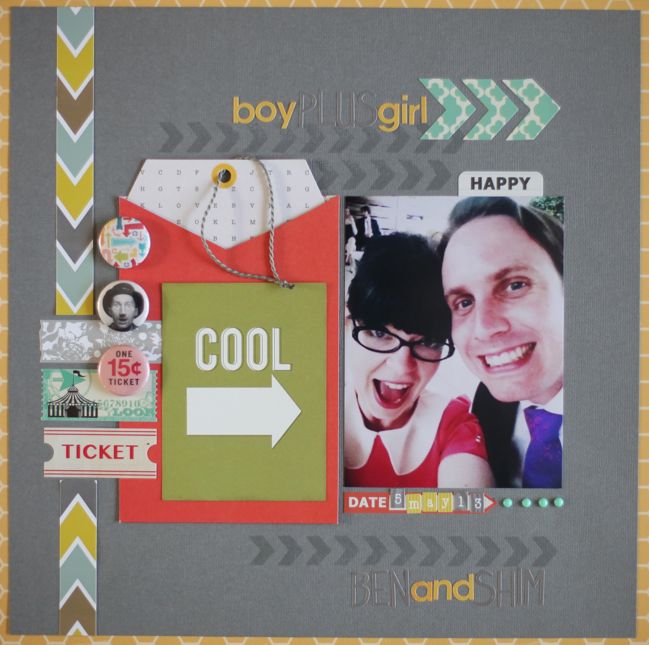 At this point with my June kit, I started with an additional sheet of grey cardstock then just moved around all the different elements I had remaining. I cut the part-used sticker sheets into pieces so I could try different placements without commitment, and eventually something started to come together, so I started by adhering the largest elements (the pocket and the photo) and built the page out from there. There are quite a few different colours going on here, but I tried to give them a bit of rhyme and reason, like three shots of turquoise arranged in a triangle around the photo (chevron stickers at top right, ticket at the left, enamel dots below right of the picture). I almost always find it designs like this there will be more groups of three than I even did on purpose – the balance of threes just seems to happen once you have a few (!) in place. Three tickets (well, one is a tape sticker but it's the same size), three badges, three words in the title and subtitle, three chevron pieces, the same chevron stamped three times (that is the stamp from the May kit, by the way). Of course there are a few things that are not threes, I promise – one photo, one journaling box, one 3×4 die-cut, four enamel dots, two pieces to the border at the left – but there is plenty of triplicate happening too. And that helps go from a giant stack of embellishments on the desk to a somewhat more depleted stash to go with the last few scraps of paper.
Again I got to the end and wished for some colour and pattern around the outside edge, so this yellow honeycomb pattern from Simple Stories is an addition, as were the enamel dots. The title is a running theme that goes throughout our albums. You know those sorts of things you say so often you don't really remember how it started? It's one of those. At some point we were playing a game in teams or something and the numbers didn't work out right with the group so there were teams of girls and teams of boys and then the team of the two of us, so we called ourselves Team Boy Plus Girl, and it stuck. The funny thing is that neither of us remember what the game was or who was on the other teams and we can't really pinpoint when all this happened more than a vague six month window of time. But every so often I use it as a title on pages with a picture of us both, and it's almost always a very silly picture like this, because that is a bit of a Team Boy Plus Girl ethos on life, really.
Your challenge is to put your embellishments to work and see how many groups of three you can include on your next project! When you're finished, upload it to your blog or a scrapbooking gallery, and share a link here.
PS: I was quite tempted to make this challenge 'be kind to yourself', because yes, I did just use a 3×4 card that says 'cool' with an arrow pointing to us making ridiculous faces. I figure photos like this will eventually be the equivalent of looking at my photos from the eighties and wondering why I felt it necessary to deplete the ozone layer with so much Aquanet every day, but we did think that was cool then too, so I'm just going with it.

Read more about: best-of-both-worlds-kit
03 August 2013

Next post: Scrapbooking with a favourite design
Previous post: Scrapbooking with a supply you've been saving