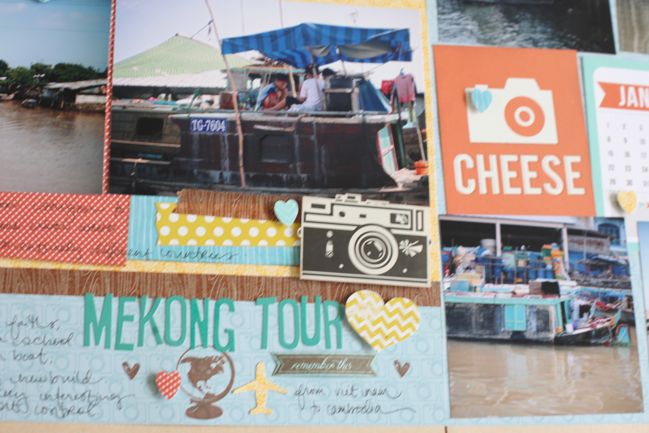 This week I was guest on the Paperclipping Roundtable podcast, in an episode all about ways to start a page, like sketches, starting points, and flexible templates. (You can listen to the episode here, or find it on iTunes. It's free.) Allison Davis also joined the panel and if you know Allison's work, you'll know our sketches are quite different: she often does double pages, she tends to include many photographs, and her sketches include lots of little details and measurements for making it all fit together. Noell, the PRT host, uses a system she calls Flexible Templates, which is something different yet again: there is no sketch drawn on paper or screen, and instead she keeps a general idea of page structure in her mind as she works, then makes changes as she goes to make each page unique. So in preparation for recording the show, I decided to do a little homework: I tried one of Allison's sketches and one of Noell's flexible templates and filmed both so I could share how those concepts worked when combined with my own scrapbooking process.
You can find this sketch in Allison's post on the Simple Stories blog. There is a link right under the image of the sketch that takes you to a full PDF with all the measurements and details, which scarily means you can also see all the extra photos and details I didn't include on my page!

The supplies for this layout are mostly from the June Best of Both Worlds kit, plus a few extras from the supplies I've used several times throughout my backpacking albums, to help add a little continuity. I added a second sheet of the camera patterned paper from the kit to make a double page layout, but in the end there is so little of it showing that I think you could omit that sheet of paper without any trouble if whatever paper you wanted on the left didn't have a twin in your collection. (Of course, you can also create the right side with a divided page protector and forego the 12×12 background completely.)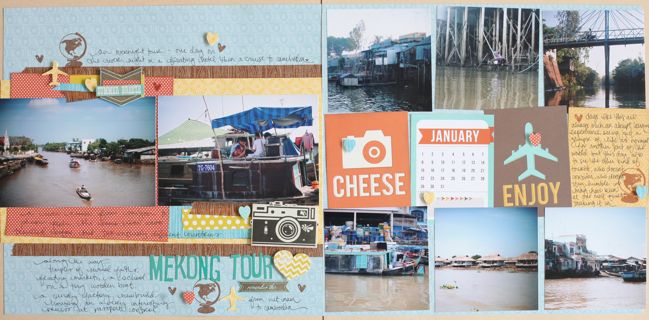 The original sketch includes nineteen photographs, and that's just a bit too far for me, so I went with eight in the end. Six of these are just shy of 4×4 and two are 4×6, and it's those 4×6 images that led me to make some bigger changes on the left side of the layout than I first imagined, but it worked its way out I think! Neither of those photos were images I wanted to crop, and that led to my first big realisation with working with this sketch: I prefer the composition of photos in the 4×6 set up. I certainly have square photos! But they tend to be just an image or two of any given event, as I will always use my traditional camera, not my phone, for the more photogenic stuff of life. I've spent years trying to improve my composition in that format, especially trying to find a good shot quickly, as all the photos on this layout were taken from the side of a relatively speedy boat. I looked at several different sets of photos trying to find images that would be improved by cropping to a square, and they were hard to find, so in the end I kept two of the images at their full size. I felt bad that I was cheating Allison's sketch in what was supposed to be my homework, but at least it came with a little caveat that I was happy with how my photos were coming out, straight from the camera. I know that when I put a sketch together, I'd always be okay with changes like photo size or number, so I hoped Allison would be the same, knowing the sketch was still tremendously useful in putting everything together! (If you listen to the show, I think we're on the same path with that one. Fabulous!)
One thing I really liked from this sketch that I don't think I would have put together without it was the balance of the large, simple motifs on the cards on the right side with the smaller, more detailed embellishments on the left side. It's the kind of balance that depends on something being the same but different, and also that several small somethings can add up to equal one big something. That's definitely something I want to remember for future designs, as this is a bit different to the double pages I tend to create without a sketch, and I really like this look. Plus I have plenty of 3×4 cards, especially for a scrapper who doesn't keep a regular Project Life album or anything! I'm all for bookmarking different ways to include 3×4 cards on a 12×12 (or 24×12) page.
As this sketch isn't my own, there's no guest or link up here, but you can find Allison's interpretation of the sketch, complete with thorough notes, on the Simple Stories blog, and if you give this sketch a go, I know Allison would love to hear from your in the comments there. And see more of Allison's work on her blog.
Next up, I give one of Noell's templates a try! And you can hear us all talk about this entire process on PRT episode 166. I hope you enjoy!

Read more about: best-of-both-worlds-kit paperclipping-roundtable
14 July 2013

Next post: Mixed Media Light:: A Scrapbook Tutorial by Christin Grønnslett
Previous post: Sketch to Scrapbook Page :: Starting with mist