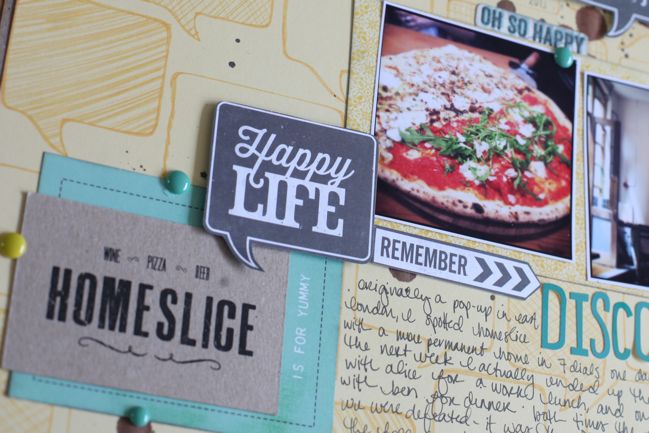 After a few sketches that focused on bringing square and rectangular photos together on the same scrapbook page, it was time to move on to something else, and the next four sketches all have something in common: they start with mist.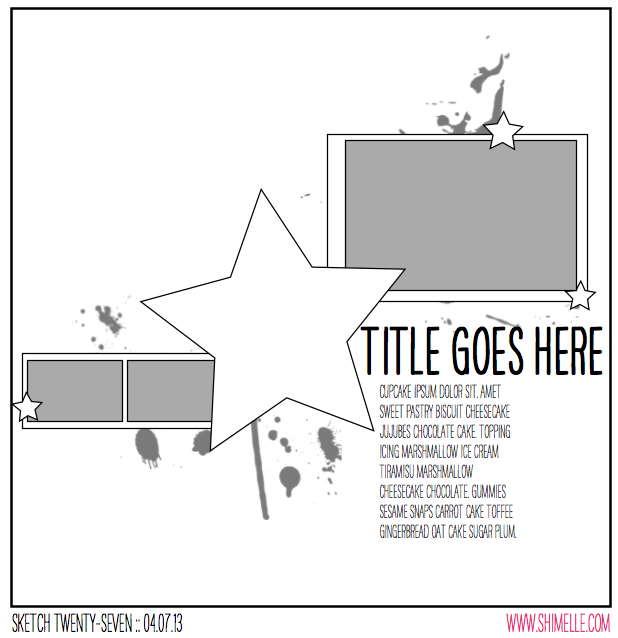 Of course there is no way to accurately depict the random splatters of mist on a sketch! So do please excuse my artistic limitations when it comes to drawing things like this, but the general idea of where to aim with droplets of mist is there somewhere! In this case, it also comes with a large embellishment in the middle of the page as a bit of a different design to what we've tried so far.

The supplies for this page came from the June Best of Both Worlds product picks, plus two shades of mist, some enamel dots, and a date stamp.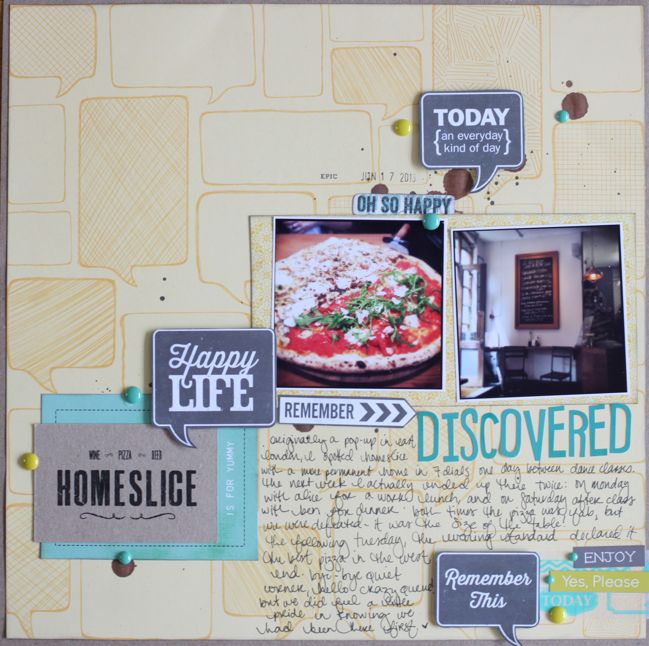 Early in 2013, I made a conscious decision to start scrapbooking more about the places we eat. I've photographed food off and on for quite a while, but one thing I liked seeing pop up in friends' Project Life albums was the record of going out to eat somewhere lovely. I don't necessarily want to record every place like that, and if I tried to make a page from everywhere I've photographed the food, I would be looking at a very long to do list. Instead I wanted to focus on the stories of these places, and I've found this to be quite a rewarding addition to my albums this year. I've recorded our appreciation for the unique flavour choices at our favourite ice cream gelato place, documented my habit of going to three specific places nearby whenever I decide to make the trip to the far side of town to visit my favourite coffee shop, and on this page I wanted to tell the story of a place we discovered just before it was discovered by the media, and how we managed to go there and walk right up to a table, no problem, and a week later there was an hour long wait because it had been featured with great reviews in all the papers. I read a lot of those reviews, and it's a pretty rare occasion to just stumble upon a great find before it's well and truly found by everyone. So that seemed story enough!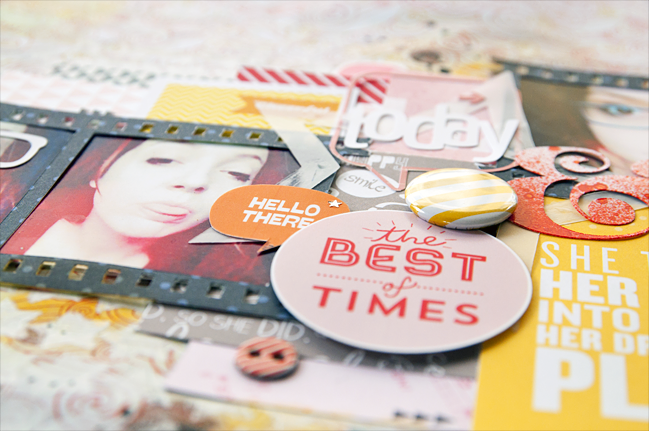 Please welcome a very talented lady who goes by just one name! Ewa comes to us from Norway, and I love her bold and artistic style, perfect for showing us what we can really do with a sketch that starts with mist.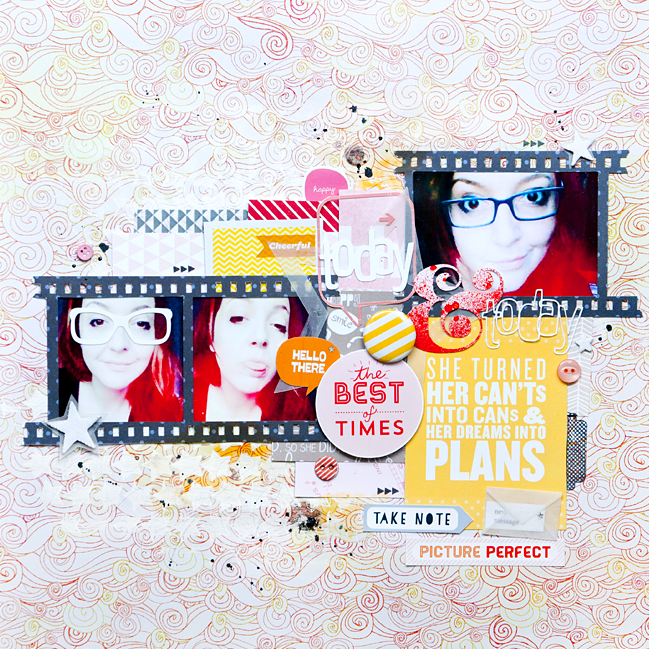 When I start to work with a sketch I like to take it seriously. I try to imitate what I see in the sketch with what I see on my work. I also love to throw in a lot of embellishments, tags, and additives, so I usually go beyond what is in the sketch. These photos allude to my first glasses, which I started wearing a few days ago so I tried to make this theme in different ways.
I started working on this scrapbook page by making a choice of photos and paper background. Then I chose the rest of the papers, which I looked through making sure that the colors fit together. When I have selected all the papers which I wanted to use on my work and I had the initial composition I prepared a background. In this work I used gesso and star mask from The Crafter's Workshop. I cut the title, film strip frame, and the ampersand with a Silhouette Cameo, which I splashed with Overdue Mister Huey's mist. I decided to gently cover up the main star from the sketch so that it was not the main element of the layout and I decided to do that with vellum. When I glued all the papers I looked through all my embellishments and chose anything to fit. I tried to create a lot of interesting places on the page which catch the eye – including My Mind's Eye's buttons, star-shaped mistable Thickers, flair badges and printable journaling cards from Studio Calico, and washi tape. At the end I splashed the whole page with different shades of Mister Huey's mist, and added some yellow paints and stamps from Scrapperin, called 'Form & Feder'.
I encourage you to experiment with the amount of additives – do not be afraid of extra embellishments – they look much better at work than on the bottom of your drawer!
| | |
| --- | --- |
| Ewa currently living in Oslo, Norway with her husband. She is a kindergarten teacher who loves all things crafty but scrapbooking forever stole her heart. She began scrapbooks in 2011 because of her love for paper and cute embellishments. She creates mainly layouts, and 12 × 12 inch is an ideal working size for her. Ewa's style is bright with lots of colors and embellishments. She has been on several design teams and now she currently serves on teams at Sketchbook365 and Scrap It Now. You will find her at her blog. | |

Read more about: best-of-both-worlds-kit sketch-of-the-week
14 July 2013

Next post: Sketch to Scrapbook Page, featuring a sketch by Allison Davis
Previous post: Sketch to Scrapbook Page :: Scrapbooking with a favourite patterned paper